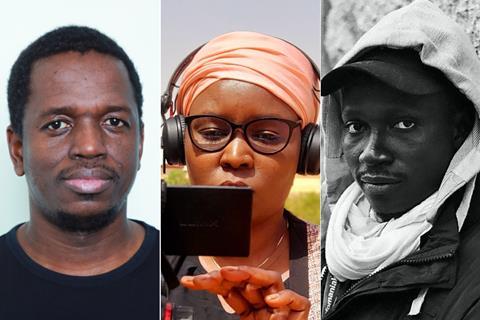 Directors Seydou Cissé, Ousmane Samassékou, and Aïcha Macky have been in IDFA this week with their new films made under the ground-breaking Generation Africa series of documentaries.
The 25 films in the series are being backed by South African media outfit, Social Transformation and Empowerment Projects (STEPS). Festivals including IDFA, through its IDFA Bertha Fund, Hot Docs and Sundance have all supported the series. Seven films have been completed so far, all creating a stir on the festival circuit, winning awards and sparking strong debate. They share a theme of migration, in particular its impact on the youth of the continent.
Three of the films are screening at IDFA this week. Taamaden (Traveler), by Malian artist and filmmaker Cissé, is a world premiere in the international competition. The film features both travellers preparing for their epic and perilous journeys to Europe and also looks at the lives of migrants who've already arrived in Spain.
Also from Mali, Samassékou's The Last Shelter is screening in the Best of Fests section. It was developed at the IDFA Summer School and the IDFAcademy and went on to win the main prize at CPH:DOX earlier this year. The film is set in a shelter for migrants in the Sahara desert.
Niger's Macky is in Amsterdam with her feature,Zinder, which premiered in the prestigious Swiss documentary festival Visions du Reel earlier this year is now also screening as part of Best of Fests. Zinder looks at the lives of gang members in Kara-Kara, one of the most violent and impoverished areas in Zinder. Andana films is handling sales.
All of the films in the Generation Africa series will be distributed throughout Africa through VoD platform, Afri-Docs, created by STEPS in partnership with the Bertha Foundation. European broadcasters including ARTE will also be showing the films next year.
Screen talked to the IDFA directors to find out more how they all work together.
How do you describe what links each of your films?
Macky: Ousmane [director of The Last Shelter] is the African producer of my film. We are 25 directors from African countries and we are thinking about how we can change the narrative of immigration in our countries with interior views. This is the link between the three films [at IDFA]. Now, I think it is a community that we are building around STEPS in order to have a voice that will be heard all over the world and to talk about our stories and issues.
Cissé: Even if migration is a very wide and diverse topic, each filmmaker has been choosing to look at it from a different angle. All the films are different.
Samassékou: We [three directors] are from the same generation.We all want to talk about this theme we have in common, which is migration. This is the strength behind our work and what creates a united family.
Ousmane, can you explain the influence on your film of your uncle, who migrated and whom you never saw again?
Samassékou: Once my uncle left, he left his wife, his children, his family. I wanted to understand why his family still expected his return. But the film started to look at wider angle rather than staying on a personal story. It might be personal but it's also common. A lot of people leave without leaving a sign of life and they don't return. When I went to Burkina Faso for one of the Generation Africa workshops, I discovered the migrant house in Gao [Mali]. It was not in the original project. When I was preparing to shoot, I met with Natasha who had stayed in this migrant house for five years and had no idea about going home. This was a parallel story to the one of my uncle.
Aïcha, in your film, you're dealing some very tough gang members. How did you win their trust?
Macky: Even though I come from the same town, I am kind of a stranger in their neighbourhood. Because I took time to be close, the guys understood that I wasn't just coming to steal their story but to make a film with them. If they have the chance to talk about their problems and their neighbourhood, it can be a kind of solution for them.
When I started going into the neighbourhood, sometimes there were problems. Because I was a woman. They thought I was a policewoman and that I was going to snitch on them. And sometimes they said 'we think this woman is a dealer who has come [here] to see how we deal with drugs.' After that they understood I was a director. When they saw my last movie, The Fruitless Tree, they understood the kind of work I am making.
Seydou, what inspired the mythical elements in your documentary, the sacrifices and fortune telling?
Cissé: My film is a spiritual journey around migration. When I was studying in Spain, I met some migrants and was fascinated by the stories they had to share about their crossing. It's a side which is not really shared, the spiritual aspect of the story. I chose to focus on rituals. What remains when you lose everything? Well, religion and spirituality. When they are doing their rituals, they believe they can avoid policemen and actually make it somewhere. This is a very poetic side of migration and it's actually a secret side that people are not talking about.
Are you getting involved in the distribution of your films?
Mack: For Zinder, we are making an impact campaign in Niger and Europe. When you make a movie, I am making it first for my country, for my [own] population. We have a lot of buses and in all these buses, there is a television. I want to put this movie in the buses. During travelling, the buses will become a kind of cinema. And I want to have screenings on the streets.