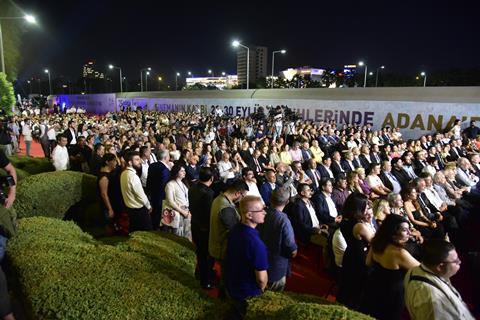 The International Antalya Film Festival, Turkey's oldest and traditionally most prestigious film festival, wrapped last weekend with prizes for Three Faces, Shoplifters and Capernaum. To the outside world, it looked like business as usual as an array of international directors and stars – including Asghar Farhadi, Bela Tarr, Ferzan Ozpetek and Vincent Cassel – touched down in the festival's Mediterranean beach resort home during its week-long run (Sept 29-Oct 5).
Behind the scenes, however, the festival continued to be embroiled in a two-year dispute with Turkey's independent filmmaking community over its decision last year to ditch its 53-year-old national competition, which had been at the heart of the event since its launch in 1963.
The festival is now centred on an international competition in which two or three new Turkish features compete alongside Cannes-calibre productions for the festival's historic Golden Orange awards (this year, Mustafa Karadeniz's Planetree and Sefa Ozturk's Trust played in the main competition).
For the past two years, this selection has been overseen by the liked and respected UK-Irish producer and festival expert Mike Downey in the role of artistic director, but he does not set the overall structure of the event and had no part in the decision to drop the national competition.
According to Downey, his focus has been on pulling together a world-class international selection with a regional flavour. "We are not just global, we are also proudly regional," he said. "Over 75% of the films in official selection are from the region. As well as two competition films from Turkey, we also had cinema from Lebanon, France, Italy, Spain, Russia and Iran."
Censorship or strategic move?
Some in the Turkish film industry regard the removal of the national competition as an act of censorship, set in motion by Antalya's mayor Menderes Türel, a member of President Recep Tayyip Erdogan's Justice and Development Party (AKP).
Throughout its history, the festival has regularly found itself at the heart of censorship controversies – including in 2014, when the documentary Until The Earth's Face Becomes Love's Face, about the 2013 Taksim Gezi Park protests in Istanbul, was removed from the festival – as well as being used as a platform for political protests by filmmakers.
The final straw for Türel, according to some, was director Tolga Karacelik's dedication, during a live, televised awards ceremony in 2015, of his best screenplay prize for second feature Sarmasik to journalists Can Dundar and Erdem Gul, who were facing trial at the time on charges of espionage and terrorism after breaking a story about Turkish arm shipments to Syrian rebels.
Pulling the plug on the national competition has effectively brought an end to the controversies and reduced the risk of political dissenters and protestors airing their views on live TV, suggest a number of Turkish industry professionals.
Sources close to the festival dismiss these claims, saying the removal of the national competition was simply a strategic move to make the event more internationally-focused. City mayor Türel has ambitions to transform Antalya into a shooting hub for local and international productions – complete with a studio complex – and internationalising the festival was part of this intention.
At worst, the removal of the national competition was a cultural misstep, underestimating the importance of the event and its lucrative cash prizes for Turkish filmmakers, but there was no sinister or political motive at play, these sources insist.
Whatever the reason, much of Turkey's independent filmmaking community is up in arms. "The older filmmakers are simply offended that a traditional competition has been cancelled after 53 years without any explanation. Nobody believes in the 'better chances for Turkish films in the international competition' nonsense," said one local cinema industry veteran, who preferred to remain anonymous. "The younger ones are angry because of censorship. They think they do not have the freedom of expression."
Against this backdrop, a large chunk of the industry has been boycotting the festival since its 2017 edition.
"Nobody goes there anymore. In the last two years, Antalya has become an uninteresting small event with some 30 to 40 films. To organise an international competition with a handful of Turkish films was not a good idea. In this year's selection, there were two Turkish films competing with films from Cannes. Even the Palme d'Or winner was in competition although it is against Cannes rules," added the industry veteran.
Interestingly, this boycott has not extended to the festival's industry-focused Antalya Film Forum, run by respected producer Zeynep Atakan. She reports that 520 local professionals attended this year, marking a 15% year-on-year rise.
Rebel screenings in Istanbul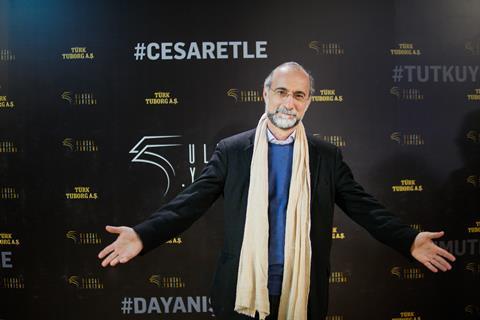 A number of the festival boycotters headed instead to Istanbul for the second edition of a rebel national competition, taking place around the same dates as Antalya (Sept 30-Oct 4) and bannered simply as the 55th National Competition (Ulusal Yarisma).
The good-natured event unfolded mainly at the Beyoglu Sinemasi cinema theatre, which was decked out with fake palm trees, beach-scene photo-call sets, beach-balls and deck-chairs for an "Antalya beach club"-themed opening-night party.
A total of seven recent Turkish productions – selected by a 74-member event committee including directors, producers, editors, art directors, sound designers and actors – screened in competition for a symbolic prize.
Contenders included Ali Kemal Cinar's Arada, Huseyin Karabey's Insiders, Tarik Aktas's Dead Horse Nebula, Rojda Akbayir's Fragments, Mehmet Ali Konar's Colorless Dream, Cagla Zencirci and Guillaume Giovanetti's Sibel and Tayfun Pirselimoglu's Sideway.
The latter title won best film as well as best actor for Tansu Bicer for his performance as a stranger who arrives in a small coastal community that believes the apocalypse is imminent. Konar won best director for Colorless Dream about a child coming to terms with his mother's death against a backdrop of political turmoil.
Sibel took the screenplay prize and the film's star Damla Sönmez won best actress for her performance as a mute young woman living in a remote mountain community.
Political boycott
Filmmaker Kaan Mujdeci – who is best known internationally for his debut feature Sivas, which won the Special Jury Prize in Venice in 2015 and was Turkey's foreign-language Oscar submission that year – is a driving force behind the breakaway competition. He says the boycott of Antalya is not against the festival or its current organisers but a protest against Türel's interference in the event and a nationwide system under which film festivals are financed and controlled by city municipalities, making them prone to changes to fit the political designs of the mayor of the day.
"The boycott is basically due to a mayor who does not know the industry and the way he behaves according to his daily political needs in order to design the festival," said Mujdeci, in a written response to Screen. "I'd like to highlight it is not because he is from the AKP. There were still the same issues when the CHP (Republican People's Party) or MHP (Nationalist Movement Party) were in power."
According to Mujdeci, 21 Turkish cinema organisations have been involved in the boycott, which he describes as "quiet" and "determined".
"The Ministry of Culture and Tourism, industry bodies and the mayor were in a very civilised communication throughout the process. I do believe a solution will be reached in the end," he said. "To lift the boycott, the National Competition has to be restored in Antalya and the festival director needs to be someone first of all from the industry who understands cinema and carries the festival forward. With these, there is no need for a boycott."
Adana stakes its claim
Against this backdrop, Turkey's second oldest festival, the International Adana Film Festival (IAFF), has been positioning itself as the country's top event for Turkish cinema. With cash prizes totalling $145,000 (TRY 900,000), it is now the most generous competitive film festival in Turkey. It also softened its rules so that films that had already been released domestically could still compete.
"We wanted to embrace Turkish cinema's various productions because Antalya cancelled the competition," commented Adana's de-facto artistic director Kerem Akca, whose official title is international programme director.
Situated along the banks of the Seyhan River, some 50km upstream from the Mediterranean Sea, Adana is a bustling, friendly city, which is home to Turkey's largest mosque and an ancient, still-functioning bridge believed to have been commissioned by the Roman Emperor Hadrian.
The festival's main prizes are called the Golden Boll, or Golden Cocoon, awards – representing the seed pod of a cotton plant, in reference to the city's days as a major cotton production hub. The city was also the birthplace of late dissident director Yilmaz Guney, the first Turkish director to win the Palme d'Or in 1982 with the drama Yol, following the destinies of political prisoners in the immediate aftermath of Turkey's 1980 military coup.
Like Antalya, IAFF is also financed and managed by the local city council, which is currently headed by Mayor Hüseyin Sözlü, a member of the nationalist, far-right MHP party.
Founded in 1969, but mothballed for nearly two decades amid Turkey's political turmoil of the 1970s and 1980s, the festival was feting its 25th edition this year. This celebratory edition ran September 22-30, overlapping with rival Antalya by two days.
Adana's national competition this year featured a selection of 15 recent Turkish productions, mixing new faces and established names. Titles included Mahmut Fazil Coskun's Venice Horizons jury prize-winner The Announcement, Locarno debut Sibel and Sundance award-winner Butterflies as well as feature debuts The Pigeon Thieves, The Pillar Of Salt and The Pigeon. Sibel, The Announcement and Butterflies swept the awards.
Akca – who is a respected film critic and Fipresci member – also pulled together an impressive selection of 54 international titles, topped by awards-season contender BlacKkKlansman as opening film. The nine-title International Competition featured Ash Is Purest White, Non-Fiction, I Do Not Care If We Go Down In History As Barbarians and Burning, which scooped the top prize.
Avid cinephile Akca says the festival wants to rise above political concerns in its selection. "The festival isn't interested in a filmmaker's ethnicity or political beliefs. It tries to embrace everyone: Kurdish, rightist, leftist, Marxist, it doesn't matter for the festival. The focus is on the cinema and that is all," he told Screen, ahead of the festival.
But that is a complicated ambition in Erdogan's Turkey, which has seen a crackdown on free speech and dissident voices in the wake of a failed military coup in July 2016 as well as a flare-up in the long-running conflict with Kurdish separatists. As Antalya kicked off, for example, news broke that Kurdish filmmaker Giyasettin Sehir, who won the festival's Golden Orange prize for best director in 2011 for his film The Walk (Mes), had been arrested as part of a round-up of some 140 people with suspected links to outlawed Kurdistan Workers' Party (PKK) rebels.
"The country is a mess, and so is the film industry," said the industry veteran. "There is an invisible wall dividing us: pro-government filmmakers, oppositional ones, the Kurds. As you know, filmmakers mostly hate each other but what we experience nowadays is more than that. I, for myself, want to stay out of it. I do not talk to anyone and make no comments."
What next?
Looking to the future, the jury is out on what will happen on Turkey's festival scene. In Antalya, city mayor Türel has announced plans to launch a prestigious Turkish Film Awards event – in the vein of the UK's Baftas or France's Césars – at next year's edition.
This year's edition also saw the introduction of a Turkish Panorama, aimed at showcasing productions supported by the industry-focused Forum programme. The first titles to screen in the new sidebar were Debt, Adem's Hand and Brothers Of Silence. "The section will expand as more and more Turkish films are funded by the Forum," said producer and Antalya industry chief Atakan.
It remains to be seen whether these moves will placate the boycotters or whether they will stand fast for a full resumption of Antalya's national competition.
Question marks also hang over the Istanbul Film Festival, Turkey's oldest festival with an international focus, which has also weathered its fair share of censorship controversies and leadership changes in recent years.
Antalya's international plans and Adana's hopes of becoming Turkey's top event for national cinema could also be impacted by two other key factors. The Turkish Lira crisis, which has seen the country's currency lose more than 45% of its value against the US dollar since the beginning of 2018, means the costs of inviting international titles, related to sales agents' festival screening fees, shipping and travel, as well as for promotion, have skyrocketed for both festivals.
Upcoming local elections in March 2019 could bring about changes of mayor in both municipalities, which in turn could prompt a change in strategy for the festivals.
"Türel should be safe but it's not certain; Adana's mayor is not the favourite to win; and there will certainly be changes in Istanbul," one Adana attendee observed. "If the mayors change, the festivals are likely to change too."