When Vanessa Kirby learned her Pieces Of A Woman director Kornel Mundruczo was planning to shoot the film's pivotal scene in one unbroken take, lasting just over 20 minutes, her first reaction was, "'Oh my God.' Then I thought, 'Actually, thank God.'"
The scene in question follows her pregnant character, Martha, from the early stages of labour, through a gruelling home delivery, to the devastating loss of her newborn baby. Compressing something like eight hours of labour into a restless, fretful single shot, which takes in multiple rooms in the apartment that Martha shares with her partner Sean (Shia LaBeouf), and the street outside, presented a technical challenge. But for Kirby, it proved to be a gift. "I wouldn't have to have a break, go to lunch, have make-up checks or whatever, and then go back into the throes of an eight-hour labour."
As part of her preparation for the role, Kirby was able to watch a woman giving birth — "God, what a remarkable thing to do for someone. To allow a stranger to be there watching her very sacred moment" — and witnessed the way the woman's body took over during labour. "I saw the primal animal of her," she says. "I knew that I had to trust that, even though I hadn't given birth before, my body would kind of know, as a woman. That primal thing that I had to access, that wouldn't have been there if we had cut it up."
Pieces Of A Woman, which is Mundruczo's English-language debut, premiered at Venice Film Festival, where Kirby took home the Volpi Cup for best actress. She also had another film in the festival's Competition section: Mona Fastvold's Queer Lion-winning lesbian period drama, The World To Come, for which she earned plaudits for her magnetic supporting performance opposite Katherine Waterston. By any standards, it is a career moment, albeit one that has been slightly muted by the ongoing pandemic.
"Venice, that week feels like a bit of a miracle now," she recalls. "I remember at the very beginning, I was sitting with Tilda Swinton having a drink, and she said, 'Oh darling, this is not what Venice is usually like.' But I'd never been to Venice, so I don't know any different. I just feel intensely grateful that I'm part of both [films] and that they might get seen."
Rolling release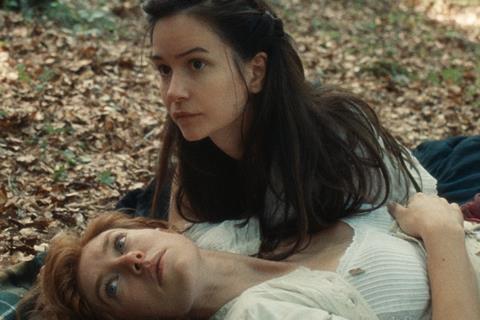 The World To Come and Pieces Of A Woman are currently scheduled for release in the first quarter of 2021. Sony holds international rights to The World To Come and is eyeing a March release in the UK. Bleecker Street has US rights and is looking at a February 12 release, following the film's US premiere at Sundance 2020.
Meanwhile, Netflix snapped up worldwide rights to Pieces Of A Woman; a limited release was followed by a launch on the streaming platform on January 7.
Of the two performances, it is the journey of the bereaved and traumatised Martha in Pieces Of A Woman that currently has the most awards traction. But it was a role Kirby initially approached with a degree of uncertainty. "I had doubts," she says.
"She is incredibly different to me. The thing I struggle with is that she is so internal. I think the shame and the fear of failure is so great that she turns in on herself. She doesn't want anyone near her. She is guarded and is therefore brittle and armoured. And I am way too expressive and often overshare." But ultimately, Kirby described the experience of playing Martha as "life-changing".
In order to better understand the aftermath of neonatal death, Kirby prepared extensively, talking to many mothers who had been through similar tragedies. The research brought with it, she says, a sense of responsibility.
"But weirdly, I felt really grateful for it. All the way through I thought, 'How can I service them?' Because the more women I spoke to that had been affected by something like this, the more I realised there is not an open conversation about it. So many women feel they have to be silent on it, not able to talk about it because society just finds it too difficult."
She argues, too, that the film has a broader relevance to the current climate. "I know the film is quite difficult to watch, quite unrelenting. But it's that feeling we all have when we have any kind of loss in our lives. Our world falls apart and suddenly reality is completely changed, forever.
"There has been lots of loss this year," she continues, "in so many ways, collectively. How do we piece ourselves back together after that kind of thing? I feel that the movie is an exploration of that."
The past year has seen Kirby film scenes for Mission: Impossible 7, on the rigorously Covid-compliant set in the UK. But she is still looking for the next project: "I have read a lot of things, but nothing has felt right yet."
She cites her Pieces Of A Woman co-star Ellen Burstyn as an inspiration. "She, like Gena Rowlands, has this thing that lights me up as an actor and which I aspire to — this intense vulnerability, combined with absolute fierceness and fire.
"On stage I found roles like that, with Three Sisters and Uncle Vanya," she adds, "those kinds of women who were an intense life force, as well as dealing with things restricting that life force. I love the actresses that really lean into that."