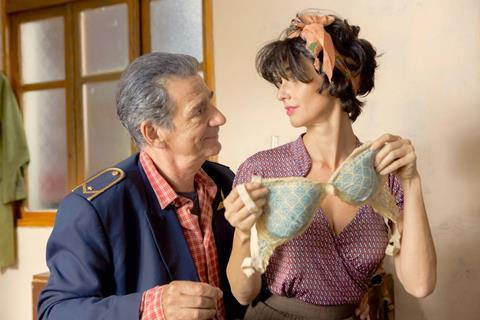 "Cinderella with a bra – instead of a shoe" is how German director Veit Helmer describes his sixth feature The Bra, which sales agent Pluto Film will screen as a market premiere at this year's EFM on Monday (Feb 11).
The inspiration for his new comedy, says the Berlin-based Helmer, came from following events in Azerbaijan after he'd shot romantic comedy Absurdistan there in 2007. When he came across a report by Radio Free Europe/Radio Liberty about the so-called Shanghai district in the capital of Baku, the location inspired him to write a script about train driver Nurlan (played by Serbian actor Miki Manojlovic) on his last day before retirement, whose chance encounter with the titular item of lingerie sets him off on an adventurous journey to track down its owner.
After shooting scenes in the mountain village of Khinaliq, the production moved back to its main location of Shanghai in Baku. There, it attracted the attention of local authorities who were less than keen to see a film being made in the rundown district, which had been earmarked for redevelopment and where railway tracks passed within centimetres of the houses.
"Most producers would have suggested that I look for an alternative rather than have the police keep turning up at the set," admits Helmer, who served as his own producer. "But the crew and cast were prepared to forgive me all of the excitement.
"It might have seemed threatening when 10 policemen suddenly appeared, but I kept my cool because we weren't making a political film, so there weren't any worries that we'd be locked up. I always kept a letter of recommendation from the German embassy in my pocket for every eventuality."
"When the authorities started pulling the houses down," he continues, "we decided to move to locations in Georgia which stood in for Azerbaijan."
Helmer had been in touch with Simon Gross, co-director of the 2017 Sundance breakout hit My Happy Family, who recommended Tsiako Abeladze as a service producer to organise shooting permits in Georgia and bring some cast and crew from Baku for the shoot in Tbilisi.
Sounds of silence
The Bra is as offbeat and unusual as Helmer's previous films including Absurdistan, Baikonur and Tuvalu, but it stands out even further due to the fact that not a single word of dialogue is uttered.
"Telling a story without dialogue is the purest form of film art for me," Helmer says. "After all, language is what separates us from other people and countries."
Adopting this narrative strategy also meant that he was able to cast in ten countries – often when he was visiting film festivals with his previous feature Fiddlesticks or giving filmmaking workshops for the Goethe Institut.
The result was what Helmer describes as "a dream cast", headed up by Manojlovic and including Spain's Paz Vega (Spanglish), Romania's Maia Morgenstern (The Passion Of The Christ), Bulgaria's Irmena Chichikova (Touch Me Not), Georgia's Ia Shugliashvili (My Happy Family) and up-and-coming French actress Manal Issa (Nocturama).
The Bra also gave him a chance to work again with French actor Denis Lavant and Russia's Chulpan Khamatova, the stars of his 1999 feature debut Tuvalu.
Helmer also gained the services of award-winning French composer Cyril Morin to score his dialogue-free film; Morin has previously worked on the soundtracks for films including Zaytoun, Samsara, The Syrian Bride and Angry Indian Goddesses.
The film had its world premiere at Tokyo International Film Festival last October and has since screened at Germany's Hof Film Days, Goa International Film Festival, Tallinn Black Nights Film Festival and the first edition of the Italian-Azerbaijani Film Festival in Baku, where it won the award for best international film.
Ahead of EFM, Pluto Film sealed territory deals with Greece (Filmtrade) and India (Alliance Media). Neue Visionen will release The Bra in Germany on March 7.