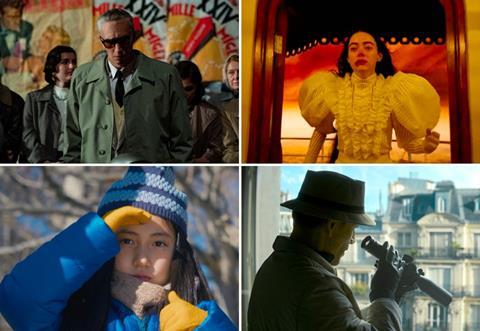 Venice showcased awards-season pace-setters Tár, The Whale and The Banshees Of Inisherin last year. Now the festival's 80th edition (August 30-September 9) presents a who's-who of directing talent, including Ryusuke Hamaguchi, Agnieszka Holland, David Fincher, Sofia Coppola and more. Screen explores the stellar line-up.
Adagio (It)
Dir. Stefano Sollima
Back on home turf after two US features — Sicario: Day Of The Soldado and Without Remorse — Sollima brings to Venice the final part of what he has described as his "Rome trilogy". Since releasing the first of the trio A.C.A.B. — All Cops Are Bastards in 2012, Sollima has become the go-to Italian crime genre director, thanks also to his involvement with TV series Gomorrah and ZeroZeroZero. Co-produced by Sollima and Lorenzo Mieli of Fremantle offshoot The Apartment, this revenge yarn pairs Italian A-listers Pierfrancesco Favino and Toni Servillo.
Contact: Vision Distribution
The Beast (Fr-Can)

Dir. Bertrand Bonello
The Beast (La Bête) is the 10th narrative feature from Bonello, who has been selected six times for Cannes and was most recently in Berlin with Coma in 2022; this marks his Venice debut. The France-Canada sci-fi romance is liberally inspired by Henry James' novella The Beast In The Jungle and set in the near future between Paris and California in a world where emotions have become a threat. Léa Seydoux stars as a woman who decides to purify her DNA in a machine to rid her of any strong feelings, but a powerful connection is formed when she meets George MacKay's character.
Contact: Kinology
Comandante (It)
Dir. Edoardo De Angelis
Moved into Venice's opening film slot at the last minute to replace Luca Guadagnino's Challengers, which was torpedoed by the SAG-AFTRA strike, De Angelis's naval saga casts Pierfrancesco Favino as the real-life commander of a Second World War Italian submarine who earned the reputation of a maritime Good Samaritan. Featuring a full-size replica submarine built in an Italian shipyard, Comandante represents a leap of scale for a Neapolitan director known for indie dramas such as Indivisible (2016) and for Netflix's miniseries adaptation of Elena Ferrante's 2019 novel The Lying Life Of Adults. Comandante is one of four Rai Cinema co-productions in this year's Competition lineup.
Contact: True Colours — Glorious Films
DogMan (Fr)
Dir. Luc Besson
Besson, the French writer/director/producer of The Big Blue, The Fifth Element and La Femme Nikita fame, returns to the director's chair and the public spotlight with his first film since 2019 action thriller Anna; it also marks his first time competing in Venice. The character-driven drama stars US actor Caleb Landry Jones as a man bruised by life who finds salvation through his love of dogs. Besson also wrote and produced DogMan and the title has been attracting buzz since it screened for select buyers at EFM.
Contact: Kinology
El Conde (Chile)
Dir. Pablo Larrain
In this dark comedy, the prominent Chilean filmmaker brings a unique approach to the figure of dictator Augusto Pinochet, presenting him as a 250-year-old vampire hiding in a ruined mansion in Antarctica. Co-written with his regular collaborator Guillermo Calderon, El Conde is the fifth of Larrain's 10 films to premiere in Venice's Competition, following Spencer, Ema, Jackie and Post Mortem. Produced by Larrain's brother Juan de Dios for their label Fabula, El Conde hits Netflix on September 15 and stars Jaime Vadell as Pinochet. Gloria Münchmeyer and Alfredo Castro are also in the cast.
Contact: Netflix
Enea (It)
Dir. Pietro Castellitto
Youngest of the six Italian directors in this year's Competition, Castellitto will direct his father, actor Sergio, in a Rome-set misspent youth story, prompting festival director Alberto Barbera to riff on Paolo Sorrentino, describing Enea as "a kind of 'Grande Bruttezza' ['Great Ugliness']about a city cloaked in cynicism and hypocrisy". Luca Guadagnino produces through his Frenesy company alongside the seemingly ubiquitous Lorenzo Mieli of Fremantle offshoot The Apartment. Castellitto's 2020 debut The Predators picked up a best screenplay award when it screened in Venice's Horizons section.
Contact: Vision Distribution
Evil Does Not Exist (Jap)
Dir. Ryusuke Hamaguchi
Japan's Hamaguchi makes his Venice debut with his first feature since Drive My Car, which won three prizes at Cannes in 2021 before scooping the Oscar for best international feature. His latest follows a father and daughter in a village close to Tokyo who learn of a plan to build a glamping site near their home, endangering the ecological balance of their environment. It marks Hamaguchi's second collaboration with Drive My Car composer Eiko Ishibashi, whose music was the starting point for this film. Sideshow and Janus Films have acquired all North American rights.
Contact: M-Appeal
Ferrari (US)
Dir. Michael Mann
Mann's long-in-the-works biographical drama — his first feature as a director since 2015's Blackhat — follows motor racing icon Enzo Ferrari through the personally and professionally tempestuous summer of 1957. The awards contender, starring Adam Driver, Penelope Cruz, Shailene Woodley and Jack O'Connell, was written by Troy Kennedy Martin and backed by STX Entertainment, which is distributing internationally through its partners. North American rights were recently bought by Neon. Mann won Venice's Future Film Festival Digital Award in 2004 for Collateral and headed the international jury in 2012.
Contact: Black Bear International
Finally Dawn (It)
Dir. Saverio Costanzo
One of three Italian films in this year's Competition that feature the city of Rome in a lead role, Finally Dawn is set in the Cinecitta Studios of the 1950s. It tells the story of an innocent aspiring actress (newcomer Rebecca Antonaci) whose life is turned around in the course of one intense night. Lily James, Joe Keery, Rachel Sennott and Willem Dafoe also feature in a film that is in part inspired by the 1953 Wilma Montesi murder case. It is the first feature since Hungry Hearts (2014) for the director and creator of HBO-Rai TV series My Brilliant Friend.
Contact: FilmNation
The Green Border (Pol-Czech-Fr-Belg-US)
Dir. Agnieszka Holland
Veteran Polish filmmaker Holland's awards shelf includes a 2017 Berlin Silver Bear for Spoor through to the Oscar-nominated Europa Europa (1992), In Darkness (2012) and Angry Harvest (1986). Long a social and political campaigner, Holland's latest is a timely refugee story set on the Poland-Belarus border, with a screenplay inspired by real events. Marcin Wierzchoslawski (Metro Films), Holland, Fred Bernstein (Astute Films) and Sarka Cimbalova (Marlene Film Production) produce in association with France's Blick Productions and Belgium's Beluga Tree. Berlin-based Films Boutique has already closed multiple deals in Europe for the film.
Contact: Films Boutique
Holly (Belg-Neth-Lux-Fr)
Dir. Fien Troch
Belgian filmmaker Troch returns to Venice with Holly, seven years after winning the best director award in the festival's Horizon section for her previous film Home. Troch's latest feature is set in the aftermath of a school fire, as a 15-year-old girl is treated by a community in mourning as a saviour with a special talent to heal. Executive produced by Jean-Pierre and Luc Dardenne and shot by Frank van den Eeden — whose credits include Lukas Dhont's Close and Troch's Home — Holly features what is described as a breakthrough performance by Catalina Geerarts. Cinéart will release the film in the Benelux.
Contact: mk2 Films
Io Capitano (It-Belg)
Dir. Matteo Garrone
Pivoting back from Pinocchio to the immigrant themes of his first two films (1996's Land In Between and 1998's Ospiti), Italian filmmaker Garrone follows the odyssey of two Senegalese migrants and, in the words of festival director Barbera, "renouncing the Baroque visual style of his recent films in favour of a simple, direct story told entirely from the point of view of its two protagonists". Produced by Garrone's Archimede with Rai Cinema and Belgium's Tarantula Film, Io Capitano (the English title is Me Captain ) will be released in Italy by 01 Distribution on September 7.
Contact: Pathé International
The Killer (US)
Dir. David Fincher
After earning honours including an Oscar nomination in 2021 for Mank, Fincher changes gear with this action thriller — adapted from a French graphic novel by the director's Se7en writer Andrew Kevin Walker and starring Michael Fassbender — following an assassin on an international manhunt. Originally set up at Paramount, the project was eventually made under Fincher's deal with Netflix, which launches the film in November. Fincher was previously at Venice in 1999, when his Fight Club got a special screening — and a reportedly mixed reception — at the festival.
Contact: Netflix
Lubo (It-Switz)
Dir. Giorgio Diritti
In his third major festival appearance of 2023 after Passages (Sundance) and Disco Boy (Berlin), Franz Rogowski plays a musician and traveller in a period film set against the background of the Swiss federation's policy of forced removal of children from parents who belonged to the country's itinerant Yenish community. This is arthouse director Diritti's fifth feature but first appearance at Venice, a fact perhaps explained by festival director Barbera's press-conference confession that up to now he "wasn't a great fan of the director's [work] — but this film fully convinced me". Based on Mario Cavatore's novel The Sower, the almost three-hour drama will be released by 01 Distribution in Italy.
Contact: True Colours — Glorious Films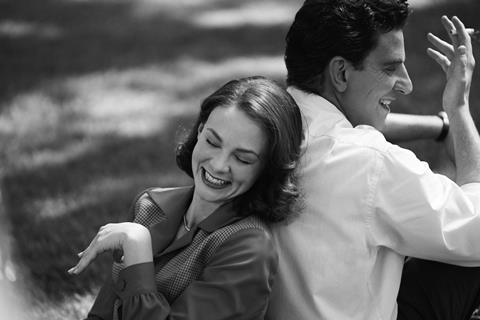 Maestro (US)
Dir. Bradley Cooper
Cooper is on both sides of the camera for this biographical drama — a potential awards frontrunner for Net­flix — starring as Leonard Bernstein in the story of the famed US conductor, composer and activist's 30-year relationship with his wife Felicia, played by Carey Mulligan. The multi-hyphenate also co-wrote, with Spotlight Oscar-winner Josh Singer, while Martin Scorsese and Steven Spielberg are included on the roster of producers. Cooper's directing debut, the most recent version of A Star Is Born, premiered out of competition in Venice five years ago, and he was a producer on 2019 Golden Lion winner Joker.
Contact: Netflix
Memory (US-Mex)
Dir. Michel Franco
It is the third time in Competition for Mexico's enfant terrible Franco, who won the Silver Lion in 2020 with disaster parable New Order and whose Sundown competed in 2021. Elsie Fisher, Peter Sarsgaard and Jessica Chastain are among the cast for Memory, which turns on a couple seeking to restructure a relationship while visiting New York. The film is co-produced by High Frequency Entertainment, Teorema, Case Study Films, MUBI and Screen Capital.
Contact: The Match Factory
Origin (US)
Dir. Ava DuVernay
For her first directing project since 2018's A Wrinkle In Time, writer/producer/director DuVernay has used Isabel Wilkerson's non-fiction book Caste: The Origins Of Our Discontents as the inspiration for a drama about the unspoken hierarchy shaping the US. Aunjanue Ellis-Taylor, Vera Farmiga, Jon Bernthal and Niecy Nash-Betts lead an ensemble cast in multiple stories reportedly shot in the US, Germany and India. DuVernay's Array Filmworks produced and social-justice private equity fund J4A funded the project (originally announced for Netflix, though the streamer is not now involved).
Contact: CAA Media Finance
Out Of Season (Fr)
Dir. Stéphane Brizé
Brizé is Lido-bound once again after competing in 2021 with Another World and in 2016 with A Woman's Life. Out Of Season (Hors-Saison) stars Guillaume Canet and Alba Rohrwacher as former lovers — he a famous actor in Paris, she a piano teacher — who cross paths years later at a seaside resort. The romantic drama, set in Brittany, was written by the director alongside Marie Drucker and produced by Gaumont.
Contact: Manuel Pereira, Gaumont
Poor Things (UK)
Dir. Yorgos Lanthimos
Lanthimos returns to the Lido after Golden Lion winner The Favourite and Alps bowed in 2018 and 2011 respectively. This fantasy sees him reteam with regular producing partner Element Pictures and The Favourite star Emma Stone. Further cast includes Willem Dafoe, Mark Ruffalo and Suzy Bemba for the story of a young woman in Victorian times brought back to life by an eccentric scientist. Lanthimos produces alongside Stone and Element's Ed Guiney and Andrew Lowe, with funding from Film4 and Searchlight Pictures. The latter is distributing worldwide.
Contact: Searchlight Pictures
Priscilla (US-It)
Dir. Sofia Coppola
Coppola — whose Somewhere won the Golden Lion in 2010 — returns to Venice with a biographical drama telling the story of Priscilla Presley's marriage to Elvis Presley. Rising talents Cailee Spaeny and Jacob Elordi star, with a script by Coppola and Sandra Harmon based on Priscilla's memoir Elvis And Me. American Zoetrope, the UK's Standalone Pictures and Italy's Fremantle-owned The Apartment produced (Fremantle financed the film). A24 is releasing in North America, Vision Distribution for Italy and Mubi for the rest of the world.
Contact: Match Factory
The Promised Land (Den-Ger-Swe)
Dir. Nikolaj Arcel
Previously known under the working titles The King's Land and The Bastard, The Promised Land reunites Mads Mikkelsen with A Royal Affair director Arcel. The $8.8m (€8m) historical drama is Arcel's Venice debut and the first time a Danish lead production has played in Competition since 2014. Anders Thomas Jensen co-wrote the script with Arcel, about a bold 18th-century soldier who tries to tame a brutal land. TrustNordisk has pre-sold to 50 territories including the US (Magnolia Pictures), Germany (Plaion) and France (The Jokers). Louise Vesth, who launched Lars von Trier's The Kingdom Exodus at Venice last year, produces for Zentropa.
Contact: Nicolai Korsgaard, TrustNordisk
The Theory Of Everything (Ger-Austria-Switz)
Dir. Timm Kröger
German filmmaker Kröger came to attention with his debut The Council Of Birds, which premiered in Venice Critics' Week in 2014. He returns to the Lido in a Competition slot with black-and-white thriller The Theory Of Everything. Set in 1962, it focuses on a soon-to-be doctor of physics embroiled in bizarre and sinister events after being invited to a conference in the Swiss Alps, where an Iranian scientist is set to reveal a groundbreaking theory of quantum mechanics. The film is produced through Germany's Ma.ja.de. Fiction and The Barricades, Austria's Panama Film and Switzerland's Catpics. Neue Visionen Filmverleih is releasing in Germany.
Contact: Charades
Woman Of (Pol-Swe)
Dirs. Malgorzata Szumowska, Michal Englert
Polish directors Szumowska and Englert's Never Gonna Snow Again played in Competition in 2020, before they collaborated on Naomi Watts-starrer Infinite Storm. The duo have paired up again for Woman Of, which centres on Adam, who is trying to be a good husband and father in a small town in Poland but starting to feel increasingly uncomfortable in his body, one that does not reflect his true identity. Malgorzata Hajewska-Krzysztofik and Cold War breakout Joanna Kulig star; both previously worked with Szumowska on her Berlinale 2015 Silver Bear winner Body. Nomad Films and Plio head the production, alongside co-producers Film i Väst and Common Ground Pictures.
Contact: Madness Distribution
Profiles by Ben Dalton, Tim Dams, Patricia Dobson, John Hazelton, Rebecca Leffler, Lee Marshall, Emilio Mayorga, Wendy Mitchell, Michael Rosser, Mona Tabbara, Silvia Wong.