All The Beauty And The Bloodshed sees Laura Poitras move away from verité filmmaking with a documentary enriched by close collaboration with its activist artist subject. The director tells Screen why this story needed a fresh approach.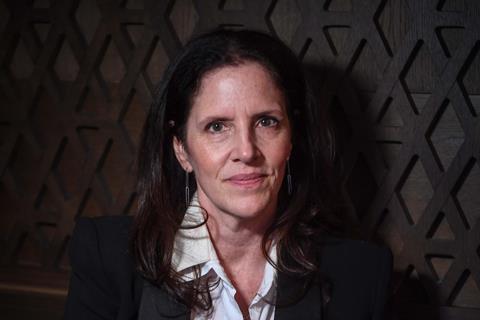 For Laura Poitras, All The Beauty And The Bloodshed is something of a departure from the taut, verité-style films — like 2015 best documentary feature Oscar winner Citizenfour — that have made her name in the documentary world.
While she insists it is no less political than her earlier work, the new film, Poitras concedes, is her most collaborative to date and a work with "a certain emotional depth".
This comes, Poitras suggests, courtesy of collaborator Nan Goldin, the US artist and activist whose striking and often moving photographs exploring sexuality and gender have been exhibited in museums and galleries around the world from the 1980s into the present century.
Written and directed by Poitras, with Goldin as producer, director of photography and on-screen subject, the film interweaves examples of Goldin's art with an intimate telling of her life story and contemporary footage of protest actions by her activist group Pain (Prescription Addiction Intervention Now). Goldin founded the group — after living through her own opioid addiction — to shame museums and art institutions into rejecting donations from the Sackler family, whose company Purdue Pharma is widely blamed for helping spark the US opioid epidemic through its aggressive marketing of painkiller OxyContin.
The documentary, produced by Citizenfour backer Participant, has earned rave reviews, won Venice Film Festival's Golden Lion this year (only the second documentary ever to take the prize) and is even being tipped as a possible best picture — as well as best documentary feature — Oscar nominee.
Goldin's plan for a film chronicling Pain's flash-mob-style protests was the hook that first got Poitras invovled. The director is best known for her '9/11 trilogy' comprising Oscar nominee My Country, My Country, Sundance prize-winner The Oath and Citizenfour.
At first, Goldin was simply looking for advice on possible producers for the Pain project. But after giving her input, Poitras found that the proposed film "was just rattling in my head, and at some point I reached out to Howard Gertler" — the producer Goldin had picked — "and said, 'Are you guys thinking of bringing on a director?'"
As she explains, "I was really interested in that story — the story of such a prominent artist using her power within the art world to call for accountability. It had overlaps with a lot of my past work."
Building the story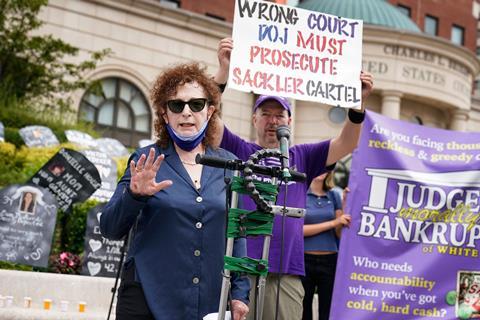 Gathering the other elements of what Poitras describes as the film's "compounding narrative" took years. A series of audio-only interviews between the filmmaker and Goldin at the artist's home in Brooklyn under strict Covid protocols yielded material, some of it heard in the film, that was "so raw and emotional", Poitras recalls.
Goldin's work itself — seen in excerpts from pieces including 1986's 'The Ballad Of Sexual Dependency' and censored 1989 Aids exhibition 'Witness: Against Our Vanishing' — became another strand. In particular, Goldin's 2004 multi-screen slide and video presentation 'Sisters, Saints And Sibyls' led Poitras to make the story of the artist's sister Barbara, who died by suicide when Goldin was a child but remained a key influence on her younger sibling, central to the film's effect as well as the source of its evocative title.
Archive material, used only sparingly in Poitras's previous work, added another thread to the film, which incorporates rare footage of late-1970s art-scene figures such as underground director John Waters, his frequent star Cookie Mueller and New York artist and Aids activist David Wojnarowicz.
"These miracles would happen," says Poitras of the work done by the film's archive producers, Shanti Avirgan and Olivia Streisand. "All of a sudden this footage would come in and it opened up new possibilities of how we could tell the story."
Put together, the various threads created opportunities for what Poitras calls "hand-offs between the past and the present. For me, those juxtapositions are exciting from a narrative perspective — you're in the present, then you're going into these trapdoors of the past and then you re-emerge and see the present differently because of what you've learned."
All The Beauty And The Bloodshed arrives at a time when documentary filmmaking business is booming — thanks largely to an influx of funding from deep-pocketed streaming services — but also facing changes that some filmmakers fear could lead to more commercial subject matter and less hard-hitting journalism.
Poitras says she is grateful that in recent years "there's been support for journalistic-based documentary filmmaking" that, after the attacks of 9/11, filled a gap left by a mainstream press which "really failed the public".
In the current documentary landscape, she goes on, "There's a lot of innovative storytelling that I'm excited to see." She adds, though, that "there are some things to be nervous about, in terms of what stories can and can't get told or where they can and can't be distributed. I think we all have to be vigilant about that."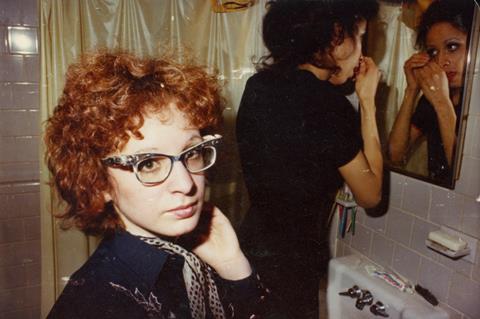 One cause for concern is getting theatrical exposure for documentary features, an issue that has been a factor in some of Poitras's conversations with potential project backers (All The Beauty And The Bloodshed began its US theatrical run through Neon in late November, and is set to open in the UK in January through Altitude).
Streaming services may offer theatrical exposure to high-profile directors with clout, but "it's really important that that filters down to other filmmakers", Poitras argues. "I care deeply about cinema and I want an ecosystem that includes smaller distributors, a landscape in which it's possible for them to thrive and survive. And the streamers should use their substantial resources to keep that ecosystem alive.
"Not every film is going to be able to play in a theatre," she allows, "but I feel passionately that documentary is cinema and should be treated as cinema. That's why it was so meaningful that at Venice [All The Beauty And The Bloodshed] was recognised as cinema alongside narrative scripted work."
While making her three 9/11-themed features, Poitras was, she says, targeted and put on a secret terrorist watchlist by the US government. Perhaps for that reason, she will not give any clues about future projects, or even areas of interest. What she does say is that going forward she will not be involved in as many projects as she was over her decade or so as one of the most prolific documentarians in the field.
Her prominence on the scene arguably peaked around 2015 after she co-founded First Look Media with eBay founder Pierre Omidyar and others. Under the banner of First Look's visual journalism unit Field of Vision, Poitras produced or directed more than 100 short films over the second half of the 2010s — until she was, as she puts it, fired for speaking out about the operation's "source protection failures".
Now Poitras works under the umbrella of her own New York-based Praxis Films with producer Yoni Golijov, fundraising and staffing up as necessary for feature documentaries and occasional art exhibitions.
The Field of Vision venture was, she says, "an amazing experience. But I'm happy to have more time to focus on my own work, because it was hard to do both. There are still some projects I'm working on producing or advising or executive producing, but I'm doing much, much less. There are some filmmakers who can work on half-a-dozen films at once; I'm not one of them."