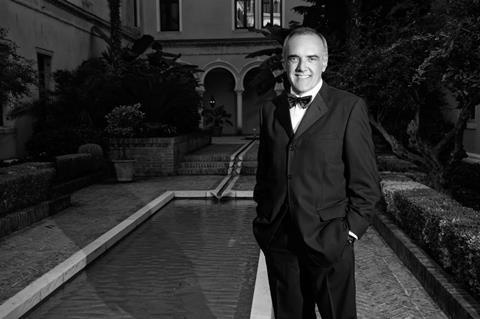 A little over one year since the Venice Film Festival presented what many hailed as the gold standard of pandemic-era festivals, the Biennale is preparing its follow-up in-person edition that runs September 1-11.
Though it is too early for a Covid-free festival, the scenario has changed since 2020. The Lido has added new regulations on top of those enforced last year as it tries to preserve the experience for what promises to be a larger crowd. Like last year (and unlike Cannes earlier this month), theatre capacities will be restricted to 50% and mask-wearing will be mandatory.
Screen spoke to artistic director Alberto Barbera about designing a safe 78th edition, what changes are coming in, the decline in proportion of films directed by women, the return of Hollywood… and the enduring rivalries with Toronto, Telluride and Cannes.
What will be required to attend the festival?
We will ask for an EU Green Pass [proof of vaccination] or for [proof of vaccination] for the international visitors. We have to decide what to do with vaccines not recognised in Italy such as the Sputnik. A negative test will work as well and to guarantee testing throughout the festival Covid-test hubs will be placed in the festival area. Both proof of vaccination and negative test results will be inserted in the system's database. This means that it will all be verifiable by scanning the badge or the ticket, no need to show anything else. Of course numbered seat reservation will be back the same as last year.
What about attendees coming from non-EU countries? Will they have to quarantine?
Not necessarily. Those who come for "work reasons" don't need to quarantine, they can stay in Italy for a 120-hour window (five days). We still have to resolve what will happen with those who want to stay for longer. We are talking about people coming from those countries from which a quarantine is required. At the moment entering Italy remains forbidden for people coming from countries like China. But please be aware that much can change in the month leading up to the festival and we are ready to adapt.
Will we see an increase in badge-holders compared to last year?
Requests are up 30% on 2020, when they were down 50% on 2019. There is a strong desire to go back to what life was before the pandemic.
What about the talent? How many of them are coming?
At the moment I can say we haven't received any declines, just confirmations, especially from the US, where all Hollywood now is vaccinated. Everybody is ready to go back to business as usual. We will have red carpets though we're not sure what rules will be in place in Italy in September regarding gatherings. We may build a wall [to block off the red carpet area] as the one we had last year, but we are also exploring more complicated hypotheses.
The selection of films directed by women has dropped in comparison to 2020. The reason given in the press conference was "an effect of the pandemic". How can that be?
It's not easy to be certain of the reasons. I can tell you that this drop was echoed in the total amount of movies we received, but the changes we are talking about are so small that it's difficult to understand what caused them. In 2020, 28% of the movies submitted were directed by women, in 2019 it was 25%, this year it was 26%. It's a small step back – and I see it was the same in Cannes. I'm sure it is not a trend. The process that is bringing more opportunities for women directors is unstoppable and will start back immediately after the pandemic. All signs point in that direction and I think the same goes for directors of colour.
A new section, Horizons Extra, has taken the place of Sconfini. They both have in common the idea of showing movies to an audience not only comprised of cinephiles. What is the difference?
Sconfini was not that comprehensible as a name, moreover the section never really matured an identity of its own. Now it's clear that it's more of an extension of Horizons that maintains a strong relationship with the audience thanks to the audience award. There you will find those movies that deserve to be in a festival but are able to establish a dialogue with the spectator.
Did the pandemic have any impact on the plans to renovate the Casino palace and expand its usage?
Not at all. Everything was renovated, from the roof to the elevators to the fourth-floor offices, that have never been used in the past. This will lead to a different use of the third floor, the one where the conference room and some offices are at the moment. In 2022 we will a have a new screening theatre there.
In 2020, Netflix decided not to bring its movies to the summer or autumn festivals, but now it's back in Venice. Did you come to understand what has guided this change?
Netflix is not different from the other major studios. Of course it's more rigid on windows but last year it didn't want to send its talent around the world during a pandemic as I suppose its lawyers advised them to do. Same as the other studios. This year, as with Warner Bros, Universal, Disney, Sony and the others, Netflix is eager to resume business as usual and promote its movies for an Oscar run. This time around talks with studios were smoother than ever.
In 2020 there was something akin to a truce between the autumn festivals. Now are you back in competition with Telluride and Toronto?
There were plenty of films for everybody this year and I can say we competed mainly with Cannes, in the usual correct and normal fashion. I've seen quite the same films Thierry Fremaux saw. For the others such as Toronto, they are uncertain of how the situation is going to evolve, the same as we are, although they've already announced in person screenings in two of their biggest venues."