Davis and Denzel Washington talk to Elbert Wyche about their lasting impressions of the Oscar-nominated Fences - first on stage and now on film.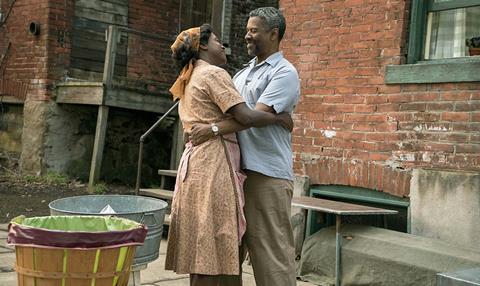 Denzel Washington and Viola Davis each received a Tony award for their performances in the 2010 Broadway revival of August Wilson's Pulitzer Prize winner Fences.
The play saw Washington as Troy Maxson, a disaffected sanitation worker in 1950s Pittsburgh, raising his teenage son with his devoted wife Rose (Davis).
The two actors reprised their roles in the feature adaptation, which Washington directed.
Washington, Scott Rudin and Todd Black produced the film, which is co-financed by Paramount, Macro and Bron Studios. It is distributed worldwide by Paramount Pictures, and opened on December 25 in the US, grossing nearly $50m to date.
It has gone on to grab Oscars nominations in the best picture, actor (Washington), supporting actress (Davis) and adapted screenplay categories.
How familiar were you with August Wilson's work prior to starring in Fences on stage?
Viola Davis: I got my equity card doing Joe Turner's Come And Gone in 1989. I've done three Wilson plays on Broadway: Seven Guitars in 1996, King Hedley II in 2001 and Fences in 2010. He was still alive when I did most of those plays. I got to work with him, be in his presence and watch him work.
Denzel Washington: The first time I saw [Fences] was in the '80s with James Earl Jones and Courtney Vance. I just thought it was a great play. I remember Mary Alice the most, who played Rose. I don't know if it was me thinking about my own mother at that time or something.
Denzel, what went through your mind the first time you read the play?
DW: [Laughs] Well, when I read it, it said, "Troy Maxson, 53." I was 55 at the time. I was like, "I better hurry up."
When did the idea of a Fences film adaptation start to enter the conversation for each of you?
VD: We already knew in 2010 the movie was going to come along, and we knew it was such a special experience when we did 114 performances. We knew it was a fine-tuned machine that we wanted to keep going. I'd heard about it for 35 years. I'd been in the August Wilson camp. I knew he wanted to make it into a movie.
So, when Denzel talked about it, I was just hoping it would happen. [Denzel] kept saying, "I've got to find the right time, I've got some other projects to do." But when we finally heard it was coming into fruition a little over a year ago, I knew the role was mine. We were just gonna keep the band intact.
DW: Scott Rudin brought me Wilson's screenplay seven years ago. He asked me what did I want to do? Act in it? Direct it? I asked him to let me read it. So, I read it and realised I hadn't read the play before, and I called Scott back and said, "I want to do the play."
So that's how that came about. It developed into what we have now. I figured I knew the material as well as, or better than, any other director would know it right now, because I'd just done the play.
What was it like pulling nearly the entire cast back together for the film?
DW: It was like a family reunion; getting the band back together. You start playing the music and you go, "Okay, we still got it." I did a movie years ago called A Soldier's Story, which was based on A Soldier's Play. There were two or three actors that were in the play who weren't used in the film, and I knew I wasn't going to do that this go around.
Viola, how did you adjust to the change in the dynamic between the two of you as Denzel became the director?
VD: It was simple because I trusted him as a director. He handled both roles very easily. I think it's because we did all those performances on Broadway that he knew it. Otherwise, I think I would have been nervous, and all the actors would have too.
Denzel, what are the special considerations you have to make when directing a film in which you also star?
DW: In this case, because we had done 114 performances of the play - not to say our performances were locked in - we had a tremendous amount of success. I knew we could do it and we'd done it well. It was a matter of not just repeating it, but taking it to another medium. And that's an unknown; you don't know how it's going to work. But I knew it was going to work after a day or two of looking at dailies.
Viola, in your acceptance speech at the Golden Globes you thanked Denzel for telling you to "remember the love". What did you mean?
VD: When you enter the narrative of Fences, you see people who love each other. You see people who have invested in each other. You see a family. A friendship. And you have to remember the love so that when the tragedy happens you really feel it. Invest in the joy, the love, the drinking, the laughing - all of that stuff - so that when the bad news hits, you really see the downward spiral.
DW: I told all the actors - especially the actors who had done the play - to make sure that we go to the beginning and not assume that we know anything. If we don't believe these people really love each other, then the betrayal doesn't mean anything. We have to start at the beginning with a loving family so that we have somewhere to go.
What do you think will be your lasting impressions of this experience?
VD: What I loved about Rose is she had a complete journey. [Wilson] introduced her and she's in the background and by the end she just steps into her life in a way that totally makes sense and is completely realistic and believable. This entire journey has been completely fulfilling and perfect.
To be able to sit with a character is truly what a journey should be like for an actor. The first scene is 33 pages. To be able to have that time to explore is wonderful, especially with a work that's this dense. It's like experiencing sitting with a friend for six months; going on a vacation with the best people in the world.
DW: I have been pleasantly surprised. I'm happy that people are responding like they did to the play. It shows that August Wilson is a genius. It shows he holds up on film just as well, or better, as he does on stage.
And I didn't mess it up [laughs]. It could have been a mess. I didn't feel that kind of a pressure, though, because I had the actors and I had August Wilson. All I really had to do was put the camera in the front and turn it on. You know, put it somewhere and let Viola go!