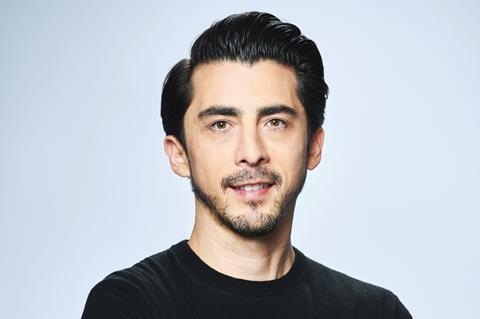 On launch day of the Spanish-language streaming service ViX+ in the US, Mexico and Spanish-speaking Latin America, EVP and general manager Rodrigo Mazon talks to Screen about what to expect and the streaming landscape.
The platform owned by US and Mexico-based entertainment giant TelevisaUnivision kicks off with more than 10,000 hours of entertainment, news and sports. More than 70 ViX+ Original series and films will stream in the first year.
ViX+ costs $6.99 a month in the US and MX$119 (around $5.80) in Mexico and is available as an app and can be found on select connected TV and digital subscription platforms.
US-based Mexican-American Mazon started at MGM in 2001 and has worked in streaming for the past decade. He was director of content at Hulu where he launched Hulu Latino and spent the last six years at Netflix, most recently as VP of content, where he and his team acquired or produced hit shows like Money Heist (La Casa de Papel) and El Chapo.
How long has ViX+ been in the planning?
We've done this in record time, about a year, maybe 18 months, but it's really been in the last 12 months that the team has been assembled… We've built the product from scratch to put together a slate of over 70 originals that will premiere in the first year of the service, a very large acquisition library, as well as all of the library from the TelevisaUnivision vault.
I've had the fortune of working in great places but for me this was very personal because as a Mexican-American, what I care most about without a doubt is elevating Latin storytelling and Latin creators here in the US and in Latin America and around the world.
What are some launch titles you're excited about?
We have a beautifully shot period bio series called Maria Felix, La Dońa about the icon of Mexican cinema in the 1940s and 1950s. We'll also be premiering La Mujer Del Diablo, which translates as The Devil's Woman and is a thriller starring Carolina Miranda and José Ron, who are two big stars in Mexico. We also have The Cartel Next Door [Mi Vecino El Cartel], which is a three-episode docuseries executive-produced by Selena Gomez that starts with the death of a person in a very safe small town near Dallas in Texas and starts a cross-border investigation.

For movies, TelevisaUnivision owns Videocine, the biggest studio of Mexican films, and we'll be premiering their entire slate from the last year exclusively on ViX+, starting with Mirreyes Contra Godinez 2, 'El Retiro', the sequel to the 2019 theatrical comedy hit Mirreyes Contra Godinez.
How often will we see original titles – film and TV?
On average we're definitely premiering an original title every week. Of those 70-plus original titles there's at least 25 movies, so a lot of movies.
Tell us about the sport offering
We're going to be the best destination for soccer, specifically Mexican soccer, but we'll have some other soccer depending on the country and some Champions League… We know how important sports are and that's another huge part of our value proposition.
How aggressive will you be as buyers on the market?
Our acquisition budget is very substantial [when pressed, Mazon confirmed the annual USD allocation "begins with a 'b'"]. We'll be launching with the TelevisaUnivision library and catch-up content from the [linear] networks themselves [Univision for US users, while Mexican members can watch select content from Las Estrellas channel on the same day]. We will launch with a substantial acquisition catalogue, and we will launch with original content.
Will your buyers search worldwide for content?
Yes we'll be going to the festivals and the markets because Spanish-speaking titles go to all those festivals. So we'll be on the hunt around the world, without a doubt.
What is the appetite for streaming in Latin America? Netflix just reported slight quarterly growth in the region to 39.62m.
Streaming entered Latin America over 10 years ago, similar to when it started here, and the adoption rate has been fast and encouraging. It continues to expand with the improvement of infrastructure and broadband. [People in Latin America] are some of the biggest consumers of content in general and across streaming. Latin America is no different to a lot of other parts of the world; people gravitate to content that reflects their culture, their language and their stories. So that's why we feel so confident about a Spanish-language streamer that unites Latin culture, even though we're going to be specific. We're going to have Mexican shows, we'll have Colombian content, Spanish content, Argentinian content, Peruvian content.
Our authenticity as the largest Spanish-language media company is a very unique advantage. Specificity is critical, because people can see through it if it's not there. And when it's done right it appeals to the core audience that it was made for, but it also resonates with other countries and other nationalities and cultures. The power of Spanish-speaking content has become a real thing and the industry and infrastructure in Latin America have been developing for decades. Streaming can realise the potential of all that and borders are being eliminated because of the internet.
What is the relationship between yourselves and your sister AVoD platform ViX, which launched in March?
Mike [Angus], my colleague who runs ViX, and I are close. The businesses live within the same app and we work hand-in-hand with regard to the overall streaming business of TelevisaUnivision and where we where we want to take it… ViX is the AVoD business and ViX+ the subscription service and they have entirely different content offerings… There are a lot of services out there, but this is the first time that you will have both [AVoD and SVoD] within a single app experience. Not only does it help us with respect to upselling people, but it's a single brand.
Will the platforms share content?
Our plan [at ViX+] is to have that content live exclusively on ViX+ but what we will do is allow people [on ViX] to sample it; so you watch the pilot episode of a series and you may get hooked and then you have to subscribe.
You've worked at streamers for many years. What are some of the key lessons you want to apply to ViX+?
There are a lot of choices for consumers and streaming itself has evolved, despite the fact that it's in infancy in terms of its growth potential. This is an iterative process to continually improve the product and take data that you're getting on a daily basis from consumers about what they like, what they love, what they don't like, what they want to see changed.
Great content that resonates always wins. So we have to find those hits by taking enough swings. One of the main reasons I came over was because I analysed the opportunity and the resources that were going to be put behind this venture and believe we have the opportunity to take enough swings to find those incredible hits.
As of today you're operational in the US, Mexico and Spanish-speaking Latin America excluding Brazil. Where next?
We plan to become a global service. We started with these key markets, the US and Mexico, where [TelevisaUnivision's] offices are located. Spanish-speaking Latin America makes sense as well out the gate. There are no announced plans but, yes, the plan would be to broaden the service over time.
Do you anticipate issues with password sharing? Netflix just launched its fee trial in five countries in Latin America and the Caribbean.
All streamers have to deal with that and are starting to deal with it to greater or lesser extents, but it's not a Latin America-specific issue; it is a challenge in general. It's about having clear guidelines and policies and consumers get used to that.
Is there guidance on subscription targets?
There is guidance internally. We're not sharing those numbers but suffice to say it's an aggressive target. We have big ambitions here. We do plan to grow and grow fast, even in 2022.
When will TelevisaUnivision or ViX+ executives discuss subscriber numbers publicly?
We're talking through that right now. We're developing the strategy about how to communicate certain progress along the way.