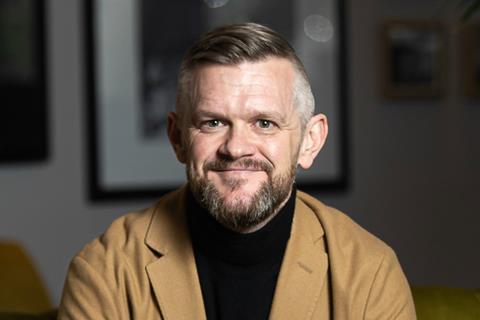 Ben Roberts, CEO of the British Film Institute (BFI), has outlined the need to "manage expectations" regarding the timeframe within which the urgent fiscal interventions recommneded by today's report on the "increasingly fragile" state of the independent film sector could be implemented.
The report, published today (July 20), is titled 'An economic review of UK independent film', and was commissioned by the BFI and conducted by UK analyst Alma Economics. It recommends boosting the UK's existing film tax relief (FTR) for indie producers and creating a new P&A tax relief for indie distributors. It is also calling for a zero rate of value-added tax (VAT) for independent film exhibitors and increasing streamer contributions to the sector.
Scroll down for the BFI's response to the economic review of film
Roberts confirmed the recommendations "need a lot of modelling work to be ready to take forward to the DCMS [Department for Digital, Culture, Media & Sport] and Treasury".
"DCMS are fully aware of the report, they've seen what's in it, but they'll want to see the work," he told Screen. "What we've learnt from some of the Covid recovery packages is just how important it is having robust data-led proposals. Just going in on a whim or an anecdote of anything that feels possibly catastrophising is not the way to put in a case for economic intervention. We've got to do the work properly."
Regarding a timeframe for implementation of the recommendations, Roberts is exhibiting caution. "These things take time, particularly anything that is looking at possible fiscal intervention. We may also have to time these to fiscal moments."
He is also aware of the complications that may arise from the current political instability in the UK, following Prime Minister Boris Johnson's resignation, a reshuffled cabinet and the likelihood of a new, currently undecided prime minister when Johnson's premiership ends on September 6.
"Realistically, this was always likely to be an autumn work package, because we're producing it moments before [the UK Parliament] summer recess," Roberts said. "There will be ramifications depending on how the cabinet forms itself, who is prime minister and what their economic policies are. We've got a government that has a serious growth agenda, and we are finding ourselves frequently making the case for why the screen sectors are making a significant contribution to the growth of the UK economy."
Roberts is also keen to continue dialogue with the streamers regarding increased contribution to the UK sector, as opposed to reaching for government mandates. "It should be considered what level of support and investment those businesses [streamers and major studios] are making to the cultural ecosystem, but it [the report] recognises that regulation might not be the way. That's somewhat beyond our gift.
"Whether or not we have an incoming regulatory government, we want to work with the streamers. The other difference between now and five years ago is these [the streamers] are people now that we know, they are becoming increasingly integrated into the fabric of how we work together.
"The report is not, and we [the BFI] is not endorsing a regulatory message, because these [streamers] are partners in the UK and they are doing a lot of good. I don't think we're saying out the gate that we're proposing something is mandated on everybody."
He concluded: "I hope everyone will recognise that we're aiming for significant interventions, and that we're empathetic to the challenges. As a public body we hear it, we feel part of the sector. We're a funder but we're also a distribution label and we're an exhibitor as well. We've got our own streaming platform. We're not removed from the challenges.
"I hope people will see this as a recognition of these challenges. We've moved from a place of anecdotal anxiety to really investing in the evidence and the data, and doing it from a very sober position, because that's our job. That's the way to have a conversation with government and industry.
"[Indie film] is not an optional part of the sector. The report is a signal to everyone that we're focused on it."
BFI's commitments
The BFI has published the following commitments to progressing the reviews from the report:
Measure A: increasing support directly for independent film producers
- The BFI commits to working with Film4 and BBC Film to review processes and support for independent film production, and publish our review and any changes made before the end of 2022
- The BFI will use the models and evidence revealed in this report in creating our 10 year Corporate and National Lottery strategies and, within funding limitations, seek to create ways to support better long-term sustainability for film producers and communicate these when the strategy is launched later this year
- In addition, industry trade body Pact has confirmed to the BFI that, based on the evidence within the Economic Review of UK Independent Film, it will undertake activity to model potential changes to tax relief
Measure B: increasing support for independent film distribution
- The BFI will open discussions with the Film Distributors' Association to explore how support for distribution could bolster independent film, including both public policy and industry-led measures
Measure C: increasing support for the exhibition of independent films
- The BFI will open discussions with UK Cinema Association to explore the best measures to support the exhibition of independent film, including, including both public policy and industry-led measures
- The BFI will, within funding limitations, consider measures to support exhibition of independent films, and communicate these when our 10 year Corporate and National Lottery strategies are launched later this year
Measure D: increasing the contribution to independent film from large streaming services
- Through our ongoing discussions with the streamers, the BFI will establish the intentions of the streamers in terms of their support for independent producers, question how the gaps identified in this report can be closed and discuss industry-led and policy solutions
- The BFI Skills Review 2022 proposes that industry commits 1% of production spend into training and workforce development. The BFI will ensure that as the response to the review is considered by government and industry, it includes appropriate and significant consideration for the needs of the independent sector