Led by indefatigable co-founder Nicolas Chartier, Voltage Pictures has scaled up its production activities in recent years, leading to five films at this year's Toronto International Film Festival.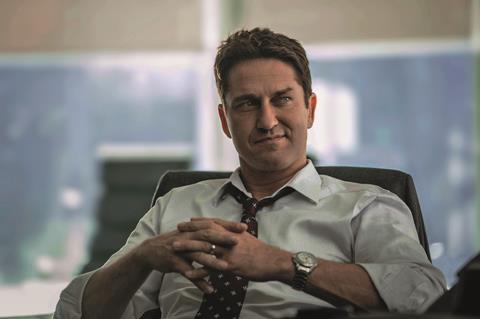 Voltage Pictures co-founder Nicolas Chartier has never been short on ambition. The workaholic French expat (and former janitor at Disneyland Paris), started out in Hollywood as a screenwriter, worked in international sales and went on to win a best picture Oscar.
While many people might view one Academy Award as a career-highlight laurel on which to bed down, it only served to whet Chartier's appetite. His indefatigable, behind-the-scenes work on The Hurt Locker in fact earned six Oscars in 2010, including the best picture accolade with Kathryn Bigelow, Mark Boal and Greg Shapiro — and marked the dawn of a new chapter.
Since then, Voltage, the privately funded venture that Chartier launched with Dean Devlin in 2005 before buying him out three years ago, has jumped into production with both feet. The company is disciplined on the financials but will take bets on eclectic work to complement the sales business in order to maintain volume flow for distribution partners.
The result is an unprecedented five films in Toronto that illustrate the kind of operation Chartier and Voltage COO and president Jonathan Deckter are building. Voltage fully financed drama The Headhunter's Calling starring Gerard Butler and co-financed, with Russell Levine's Route One, the genre mash-up Colossal starring Anne Hathaway. The company put up a minimum guarantee against international for Jim Sheridan's The Secret Scripture and Bronwen Hughes' drama The Journey Is The Destination, while it acts in a pure sales capacity on Rob Reiner's LBJ.
Still, Chartier, a restless, no-nonsense personality whose passion for cinema has unearthed gems such as Jean-Marc Vallée's Dallas Buyers Club and William Friedkin's Killer Joe, and seen him launch a crusade against online pirates, is not about to relax. Nor, it seems, is anybody else at Voltage. When asked to ponder which films have marked milestones for the company, Chartier replies in a way that seems evasive but in fact speaks volumes: "Every movie that gets made is a milestone."
Spreading out
Housed in the old New Line building in West Hollywood, Voltage has been scaling up operations — TV and merchandising are nascent businesses — while keeping a relatively low headcount of 20 staff. "There were fewer projects on the market after the 2008 financial crisis," says Chartier. "We needed movies to sell, so we had to start producing/financing to have films to sell at markets."
"We're just trying to do the movies we want to do," he adds, acknowledging a blend of passion projects and commercially robust 'programmers' for the sales slate. "We're more active on the production front than probably anybody in the independent space," says Deckter, who joined last year as a partner after serving as president of IM Global. He says the goal is to finance or co-finance 10 films a year and pick up another 10-15 to feed the distribution pipeline. "We're a high-volume business," Deckter says. "We see a need for content in the marketplace and a diverse slate. We strive to make cast-driven, upmarket movies that have wide release potential."
To do that, Voltage has to stay nimble. "We greenlight films as fast as anybody," says Deckter. Case in point is The Headhunter's Calling: "We got the script about a year ago, we read it over the weekend and immediately engaged. We had a deal done within the week, were in Toronto two weeks later launching the movie and were rolling cameras six weeks after that."
Crucial to the deal was producer Craig Flores, president of Voltage Productions, who had worked as an executive producer on 300 and knew Butler. "[Director] Mark Williams and Gerard came to myself and Nicolas with this Black List script they'd had for a while," Flores says. "That's where Nicolas and myself help these film-makers — very few of our competitors can greenlight a movie under $20m faster than us. The greenlight committee is very small and there's a lot of informed decision-making but a good appetite for risk on the right project. On a picture-by-picture basis, we [may] collaborate with other equity, but the initial greenlight comes internally."
The Voltage greenlight committee comprises Chartier, Deckter, Flores and Voltage Pictures president of production Zev Foreman. It runs projects by president of international sales and distribution John Fremes and his team. If the numbers work, they swing into action.
Strong producer voices at the company help shape an eclectic roster. Mike De Luca's former production lieutenant Alissa Phillips recently came on board and the team includes Voltage Pictures senior vice-president of production Dominic Rustam. "The idea is to get different tastes and different sensibilities," says Chartier. "If two people like this movie, maybe they're right and if somebody else doesn't like it, maybe they're wrong."
The terminal decline of DVD and the leisurely pace at which VoD is filling that gap, combined with the allure of TV and the wide array of entertainment options available to consumers, means diversity is key. "It's difficult," says Deckter, a sales veteran who understands the need to be proactive in a rapidly evolving climate. "Buyers are more and more looking for theatrical guarantees up-front, which is nothing new. There's a downturn on the sales side based on all the local productions, which we're competing against, but at the same time these distribution companies still need product."
Busy production slate
So the production mandate remains urgent. "We shot four movies in July," says Chartier, "and we have two in August and another two or three in September. It's busy between the ones we finance and co-finance and sell because we're trying to be open in genre and find the gems." The July shoots included Henry Rollins action film The Last Heist, Toni Collette comedy Fun Mom Dinner and Mermaid's Tale, while future productions will include The Professor And The Madman.
The latter is an example of the kind of project Voltage wants to board. Icon is producing the $20m-$30m feature and brought it to Voltage to fully finance. Mel Gibson and Sean Penn will star, and Gibson's Apocalypto screenwriter Farhad Safinia adapted the script from Simon Winchester's book about the creation of the Oxford English Dictionary; Safinia will also make his directorial debut. "I've worked on this for three years," says Foreman. "It's not your average British costume drama."
Voltage's swift response time and capital ties proved advantageous. Once Penn signed on in July, schedules were aligned and cameras are set to roll on September 26 in Ireland. Voltage will launch sales in Toronto. Looking ahead, there are new frontiers to cross. Voltage's young international television division can fully finance or co-finance original material or license the company's film properties. It will start sales in MIPCOM on the six-episode Age Of The Living Dead.
The core business, though, remains film and the core message will encourage buyers feeling the pressure from Netflix and Amazon Studios, both of which Chartier and Deckter view as important buyers who are here to stay. "There will always be a place for movies," says Deckter. "Going to the movies has always been a social experience that can't be recreated inside your home. No matter how big your television is, it can't be replaced."