PROMOTIONAL FEATURE: We Are UK Film, now in its second year, brings together all the leading national and regional film agencies. It is the perfect initiative for showing off everything the UK has to offer to the rest of the film world.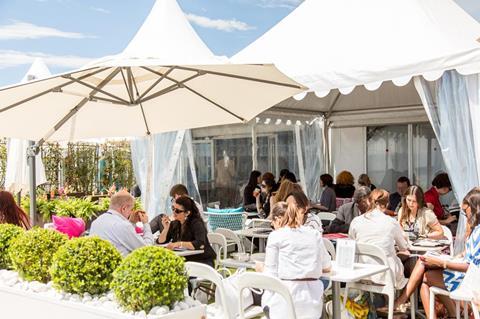 These are heady days for the UK film industry. Inward investment and export levels are at a record high, new UK films are more visible than ever at international festivals and UK talent continues to secure plenty of Bafta and Oscar nominations. UK studios attract high-budget US blockbusters while tweaks to the UK tax credit have made the country increasingly popular for high-end TV drama, co-productions and VFX. UK film culture and heritage are also visible — witness the sellout screenings of Hitchcock silent films from Rio and Shanghai to Havana.
Cannes provides the perfect opportunity to present to the rest of the world UK film in all its multiple guises. As Isabel Davis, head of international at the British Film Institute, points out, Cannes is one of the world's major film festivals, where projects will be announced and where the Brits can lay out policies and strike new alliances. "It is incredibly important that the UK is there in force. We [the BFI] believe that we need to have a very strong presence," Davis says.
The challenge for the UK film industry in Cannes is to provide an easy way for international producers, financiers, screen agencies and festival programmers to make sense of all the UK has to offer. That is why the UK's leading national and regional agencies came together two years ago to launch We Are UK Film.
The idea, hatched by Ben Roberts, director of the BFI Film Fund, is to provide "one front door" through which visitors can enter to find out everything they need about the UK film industry. Along with the BFI, the British Film Commission, British Council, Film Export UK, Creative England, Creative Scotland, Northern Ireland Screen, Ffilm Cymru Wales and Film London are partners in the initiative. "It makes us all stronger than the sum of our parts in having that working identity," Davis says.
All these agencies, as well as the other industry partners and sponsors, will be housed together in the UK Film Centre in the international film village in Cannes.
This is where you can go to learn about making films with the UK, from meeting potential co-producers, learning about how successful films were put together, the UK financing landscape and the latest changes to the UK film and TV tax credit system. It is also where you can spot new UK talent. During the festival fortnight, the centre will host events, panel discussions and Q&As, and be one of the festival's busiest networking hubs.
"We make it as accommodating as we can to British producers doing international business in Cannes through the programming of the events, having meeting space on the terrace and doubling our wi-fi capacity every year," Davis says.
"We aim to make the UK Film Centre a magnet for international visitors keen to explore working with the UK and be the kind of space where people make connections. At the same time, we are supporting those from the UK going to Cannes looking to maximise opportunities to do international business, to see international and take what they can in terms of learning and experience from the rest of the world."
Partner up
This year, the UK Film Centre will host several events aimed at matchmaking UK producers with potential co-producing partners. For example, there will be "a small targeted networking event, very light on public bodies and very strong on producers", with the Danish film industry.
Why Denmark? "Denmark has talent in spades and a lot of talent that could benefit from working with an English-language partner," Davis says. "Our funding fits together, our audience has similar tastes." It helps, she adds, that UK audiences seem to "welcome" Danish fare, as witnessed by their enthusiasm for TV series such as
Borgen, The Bridge and The Killing. "That makes us a more probable distribution partner than we might be for other territories," Davis notes, adding that both industries have several top producers moving from film into high-end TV drama. With the UK tax credit available for high-end TV drama as well as for film, there is a clear incentive for Danish companies such as Zentropa and DR to work with UK partners.
An event is also being held with the Netherlands. The two countries may not seem like natural co-production partners but they recently collaborated on Cannes Competition entry The Lobster and Davis notes the Netherlands recently put in place a new cash rebate programme to lure international production. "They [the Dutch] are keen to re-engage with the UK," she states. "They see us as a very key partner."
As a signatory to the European Convention and to 10 bilateral treaties, the UK is already in a position to make bilateral co-productions with more than 50 countries. Through its $1.5m (£1m) co-production fund, the BFI is also able to invest as a minority partner in foreign projects such as The Lobster.
"A key objective is getting the word out about the fund and making it clear we are very supportive at the development stage — we want to get more projects coming to our door," says Davis.
While acknowledging that $1.5m (£1m) is "not a huge amount of money", Davis points to the "creative acumen" UK producers bring to projects, including BFI-backed features such as John Crowley's Brooklyn (an Ireland-UK-Canada co-production) and John Maclean's Slow West (a UK-Australia-New Zealand co-production). Davis talks of the strong working relationship the BFI enjoys with its partners in We Are UK Film. In particular, the BFI works very closely with British Council. During Cannes, the two bodies will be combining to alert international festival selectors to the best UK talent emerging in the next year.
There won't be an official UK cocktail party or beachfront bash. Davis suggests such an event wouldn't be practical: "The simple reason is the UK in all its multi-faceted glory, with all its international relations, would struggle to find a venue big enough to accommodate everyone doing business in Cannes." Instead of a beachfront blowout, the UK Film Centre will offer a series of carefully targeted events.
Connecting talent
Creating the kind of opportunities that can help UK producers and executives interact with international colleagues and forge the kind of relationships that can lead to future collaborations is a key part of the We Are UK Film ethos. Davis points out the BFI's "cultural resources" have proved invaluable when it comes to "making friends in new territories". The British have courted the Chinese in assiduous fashion and recently signed a co-production treaty with China. "That cultural role has huge weight and huge benefits for the industry side of our strategy," she says.
Cannes is a perfect place for the UK to flag up its attractions as a co-production partner or location for shooting while allowing UK film-makers to engage with the international film industry. One of the best ways to encourage international film-makers to work with UK partners is to show them every aspect of the UK film "brand". That, suggests Davis, is what We Are UK Film is aiming to achieve.
"Enter the UK Film Centre," she says, "and they can connect with the major players from UK national and regional agencies, meet British producers bringing exciting projects to market, attend lively panel discussions and discover what's coming up from the UK."
For the UK film industry, meanwhile, the relationships struck and initiatives hatched during Cannes are bound to shape the way the rest of the film year unfolds.
» Sign up to weareukfilm.com to register with the UK Film Centre in Cannes and receive regular updates.
What's On: events at UK Film Centre
This year's UK Film Centre features panels on Carol, Brooklyn, Amy, The Lobster and UK incentives
Throughout this year's festival, the UK Film Centre is hosting a series of Talent Talks linked to films with British involvement. These include some high-profile titles, among them Todd Haynes' Carol, which is screening in Competition and will be the subject of a panel discussion with three of the film's producers — Elizabeth Karlsen and Stephen Woolley of Number 9 Films and Haynes' long-time collaborator Christine Vachon — expected to attend. The event is being organised in association with Women In Film & TV (UK).
There will be a case study of John Crowley's Brooklyn, which is showing in the market. Producer Finola Dwyer will be on hand to explain the financing of the film, put together as a three-way co-production involving the UK, Ireland and the US. Asif Kapadia's Amy Winehouse documentary Amy will be screening at the festival and the director is expected at the UK Film Centre along with his producer, James Gay-Rees, to discuss the film.
The team behind Yorgos Lanthimos's Competition entry The Lobster — one of the first films supported through the BFI's minority co-production fund — will be the subject of a panel session. Programmers and directors from leading film festivals will attend an event discussing how they spend their time in Cannes, with an opportunity for young British film-makers to meet them.
On the export side, the 'London Means Business' panel will flag up the opportunities for international film-makers and financiers during October, when the UK capital hosts the BFI London Film Festival, the Production Finance Market and a cross-media forum with Power To The Pixel. The British Film Commission is hosting 'A Perfect Match', which will help producers navigate their way around the financial incentives available for film-making — and work out which tax breaks and relief schemes complement each other.
One panel designed to connect producers with international markets will feature a distribution debate in association with Screen Australia called 'Know Your International Audience'. Distributors from English-speaking markets will talk about the kinds of films and stories that are working in their territories.
Creative Scotland will stage a day of events and talks on Tuesday, May 22.
» For more on events at the UK Film Centre in Cannes visit weareukfilm.com
British Council: Pump Up The Volume
British Council makes all the right noises for UK film in Cannes, promoting top talent across the world
The UK's cultural relations body British Council is active in 110 countries and takes film festivals such as Cannes very seriously. As Will Massa, senior film programme manager, says, the mission of British Council's film programme is to connect UK films and film-makers with new international audiences. "Our relationship with Cannes is year round and starts months before the festival when the three sections [Competition, Directors' Fortnight and Critics' Week] come independently of one another to London," he says.
This is part of our key initiative, the Selector Screenings, which brings programmers from 14 of the world's major festivals (including Cannes, Berlin, Venice and Toronto) to London to scout new British films. Recent titles such as The Selfish Giant and Catch Me Daddy (which were both supported by the BFI) and The Last Days On Mars were selected for Cannes after being spotted at the British Council screenings in London.
In Cannes, British Council is part of the We Are UK Film collective, sharing the UK Film Centre with the BFI and the other leading UK film agencies. This year, it will be hosting a panel event exploring how the major festivals use Cannes, followed by a targeted mixer event where emerging UK directors and producers who are making films through low-budget initiatives including iFeatures (a collaboration between Creative England, the BFI, BBC Films and Creative Skillset) and Film London's Microwave will have the chance to meet representatives from the world's festivals where their work may one day be shown.
Together with the BFI, British Council administers a travel grant fund enabling the teams behind shorts selected for Cannes to attend the festival. It also promotes their work at the festival and runs an online UK Shorts Portal through which buyers and festival programmers can view the films.
The British Council team will be spending Cannes taking meetings with international festivals and sniffing out new opportunities for UK film. These could take the form of archive-based seasons or chances for leading industry figures to attend far-flung festivals.
As a founding member of European Film Promotion, British Council is also involved in organising such initiatives as Producers On The Move in Cannes and Shooting Stars at the Berlinale, and is a partner of the government-backed GREAT campaign designed to promote the UK internationally, alongside the BFI and other partners in We Are UK Film.
Says Massa, summing up the council's aim to pump up the volume about UK cinema throughout Cannes: "We make as much noise as possible about the UK talent responsible for films that are screening across Cannes and we work hard to flag films to festival programmers around the world that we think should be of interest to them."