Margot Robbie talks to Screen about feeling unworthy for the role of Queen Elizabeth in Mary Queen Of Scots, sharing just one scene with co-star Saoirse Ronan and how her production company is finding its voice with female-led stories.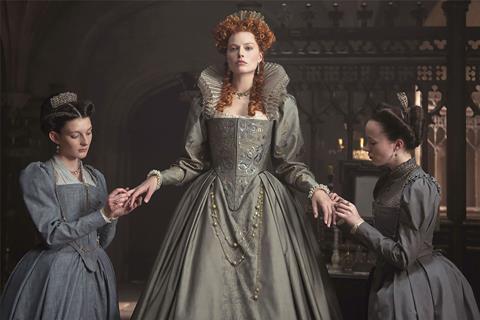 Queen Elizabeth I has been portrayed by actresses as varied and iconic as Bette Davis, Helen Mirren, Glenda Jackson and Cate Blanchett. So when Margot Robbie received a letter from director Josie Rourke inviting her to play Elizabeth opposite Saoirse Ronan in Mary Queen Of Scots, she turned her down, despite loving the script and wanting to work with both Ronan and Rourke.
"It's terrifying to take on a role that so many incredible actresses have played before, the last time by my absolute acting idol Cate Blanchett," admits Robbie. "That, on a surface level, was enough to scare me off. Delving a little deeper, I just didn't know how to play a queen. At first glance, I couldn't find any common ground. I couldn't find a way into the character, to understand what she was experiencing.
"I thought I wasn't really worthy of this role. I thought they should be getting an actress who's gone to drama school and studied Shakespeare and literature and history."
History girls
But Rourke, making her feature film debut after a successful theatre career as artistic director of the Donmar Warehouse in London, was not interested in just putting the facts on screen — she was intent on portraying a pair of powerful young women struggling in a male-controlled world.
"Mary Stuart was 19, Elizabeth was in her 20s, they're running empires, but they're just young women with desires and fears," says Robbie. "That made sense to me. That I felt I could do. I could definitely play a young woman. And I still warned [Rourke], 'If you think of someone better for the role, that's fine.'
"I had a lot of research to do to provide the context of the period, which is fascinating. I didn't think I was ever interested in the Renaissance period and Elizabethan era. But it was a wild, wild time. I fell in love with the period and with Elizabeth. She's a very tragic character, to me."
The role required Robbie to undergo a physical transformation, courtesy of hair and make-up designer Jenny Shircore, who won an Oscar for her work with Blanchett on Elizabeth. By contrast, Robbie's queen is seen ravaged by smallpox.
"On the page, it didn't present itself to be quite [the] drastic aesthetic transformation it ended up being," says Robbie. "But we definitely needed to see her in the height of her illness and close to death when infected with smallpox. A lot of people are left permanently disfigured from it, so I understood why she ended up packing on all this white make-up and had these crazy wigs; she lost her hair, her face was pockmarked and scarred.
"This is our interpretation of events, but that really helped me understand why she became this mask-like, almost inhuman, figure by the end of the film. Not to mention wearing that much prosthetics, bald caps, wigs, corsets, garments; it's incredibly restraining and claustrophobic. I felt kind of trapped within this image she'd created, which was perfect for the character."
Robbie and Ronan only share one scene together, a moment Rourke equates to the coffee shop encounter in Heat between Robert De Niro and Al Pacino. The scene was shot over two days. They were Robbie's last two days on the film and Ronan's first, and neither actress had seen the other in character.
"They went to great lengths to make sure we never saw each other in hair, make-up, costume, until the moment, with cameras rolling, that the characters do," Robbie reveals. "It was a very strange, overwhelming, emotional moment, like nothing I've ever experienced before."
Since her breakthrough role opposite Leonardo DiCaprio in The Wolf Of Wall Street, the Australia-born, Los Angeles-based Robbie has enjoyed a meteoric rise to stardom, earning her first Oscar and Bafta nominations as ice skater Tonya Harding in last year's I, Tonya, directed by Craig Gillespie.
In addition to starring in a possible Harley Quinn/Suicide Squad spin-off — Birds Of Prey (And The Fantabulous Emancipation of One Harley Quinn) — in 2019, Robbie is now making Jay Roach's untitled Roger Ailes project with John Lithgow and Nicole Kidman, and stars as Sharon Tate in Quentin Tarantino's Once Upon A Time In Hollywood. "It was incredible. Kind of like a bucket list dream for me to even see a Tarantino set," she says.
I, Tonya was produced through Robbie's Los Angeles-based production company, LuckyChap Entertainment, which she runs with her husband Tom Ackerley, a former assistant director. "I love every aspect of filmmaking and as an actor you're only privy to the actual production," she says. "You don't get to be there for the development and the pre-production and the post-production and the marketing and the distribution, and I really enjoy all those. I love producing.
"A lot of the projects on our slate are not starring vehicles for me but there are a few things I am attached to."
The company is also developing adaptations of two US thriller novels: Gin Phillips' Fierce Kingdom and Matt Ruff's Bad Monkeys.
"The company is growing at quite an exciting rate," says Robbie. "We start shooting our first TV show early next year, and we've made it a focus to tell female stories with as many female filmmakers as possible, and a lot of first- and second-time male directors.
"It's changing, but it did used to be a bit frustrating to pick up a script and always want to play the male character. We made it a real goal to make sure people pick up scripts and think the female character is the most exciting one."