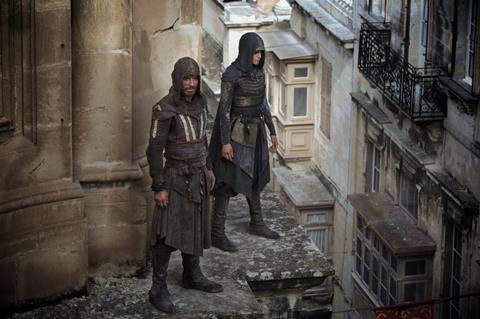 The Mediterranean island republic of Malta is an established international production hub, specialising in exterior filming. Among its primary assets is Malta Film Studios, which has two large exterior water tanks and is on the shortlist of any major international shoot looking to film water-based scenes in a controlled environment.
The country's major production so far in 2018 has been the Sky Germany series Das Boot, a TV sequel to Wolfgang Petersen's iconic 1981 Second World War story of the same name that followed the crew of a German U-boat waging war against the Allied forces in the Atlantic. Like Captain Phillips before it, the Das Boot project filmed scenes in Malta's water tanks and out on the open ocean (see case study page 26). Directed by Andreas Prochaska, the international cast was led by James D'Arcy, Lizzy Caplan, Vincent Kartheiser and Tom Wlaschiha.
Paramount's Libya-set war movie 13 Hours, directed by Michael Bay and starring John Krasinski and Pablo Schreiber, was also shot in Malta in 2015. The production used various locations across the island nation to stand in for Libya.
In 2017, the island hosted productions including 20th Century Fox's Murder On The Orient Express, directed by Kenneth Branagh and starring Judi Dench, Johnny Depp and Daisy Ridley, and Lionsgate and CBS Films' American Assassin, directed by Michael Cuesta. Recent TV productions to shoot partly in Malta include Netflix's Sense8 and Italian broadcaster Rai's I Fantasmi Di Portopalo.
20th Century Fox's Assassin's Creed also used Maltese capital Valletta and various other locations to double for 15th-century Spain in 2015. That shoot featured tightly choreographed stunt work across city rooftops to recreate the distinctive action of the hugely popular video-game franchise. Valletta's historic labyrinth of high-sided narrow streets was a major appeal to the film's producers, who needed to mount heavy wire rigs on the city's rooftops to capture the parkour-style chase sequences the script demanded.
Scenes for Assassin's Creed were also shot at the historic Fort Ricasoli next to Malta Film Studios. The structure is closed to the general public and frequently used as a multipurpose film set.
Malta Film Commission is the first point of contact for filming on location in the country. A new commissioner, Johann Grech (no relation to his predecessor Engelbert Grech), was appointed to lead the organisation in late 2017.
As a former head of government marketing for the office of Malta's prime minister, the hope is the commission now has the opportunity to forge even closer ties with the government. As a result, there is every likelihood the country will become more available to filmmakers than ever before.
Malta is already widely known as a suitable double for Middle Eastern locations, with the region's classic architecture in the historic city of Valletta and former capital Mdina, as well as in the surrounding countryside. To the north, St Julian's is more modern and a centre for tourism.
Plans are now being considered for studio development on the island to provide sound-stage facilities and boost Malta's all-round and versatile appeal.
The lowdown
Financial incentives
Malta has a base filming incentive as a rebate worth 25% of eligible local spending for films and high-end TV productions, miniseries, animation and documentary. An additional 2% is available for productions that specifically showcase Maltese cultural elements. The minimum spend is $120,000 (€100,000). Post-production is also an eligible cost, capped at $186,000 (€150,000). The incentive takes the form of a cash grant once filming is complete. Full details maltafilmcommission.com/malta-film-fund/financial-incentives.
Infrastructure and crew
It may have a population of just 400,000, but Malta has a skilled English-speaking crew base that can comfortably handle two large-scale productions at any one time. The country's water tanks are internationally renowned and are situated on the coastline to offer filmmakers a natural horizon. Producers have access to associated resources to create the necessary ocean weather conditions, such as wave and wind machines, tip tanks and rain towers. The country is known to be especially strong when it comes to set construction. It is also easy to find crew and local heads of department across the board, with labour and facilities typically costing around 30% less than in mainland Europe. Post-production is also a growing sector on the island, with several local companies becoming established over the last year, including its main post facility Stargate Studios. When it comes to road closures and locations clearance, decisions are made quickly, thanks to Malta Film Commission's strong relationship with the country's government authorities.
Size matters
Malta is only 27 kilometres long and 14 kilometres wide. It takes 45 minutes to drive from one end of the island to the other, allowing crews to shoot at multiple locations in a single day. The capital, Valletta, is a 20-minute taxi ride from the airport and all the major hotels are within a short drive of the airport, each other and the island's restaurants and nightspots. The country is well connected to mainland Europe by air and to the US via stopovers in mainland Europe. Malta's compact size means all parts of the island are easily accessible by road. Past productions have also ferried equipment to beaches and coves from nearby unit bases.
First person to email: Johann Grech, Malta film commissioner (johann.grech@mfc.com.mt)