Israel's minister for culture and sport Miri Regev jeered during speech.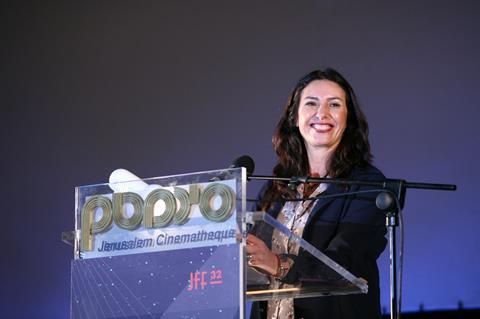 Speaking at the opening night of the 32nd Jerusalem Film Festival (July 9-19), Israel's minister for culture and sport Miri Regev - who has been widely criticised on home soil for attempting to politicise Israeli culture - was booed by some sections of the audience at several intervals during her speech.
After initially calling for a dialogue around the topic of culture, Regev then proposed to "redefine and update the priorities of the cultural world in Israel", which drew loud jeers.
Regev concluded her speech by promising a larger budget devoted to promoting Israeli culture, which she referred to as her "national mission", a suggestion that is likely to appeal to her prominent support base outside of the major cities. This declaration stemmed the jeers and received muted applause.
In response to the crowd's reaction, Regev later wrote on Facebook: "It's a shame that the creative community chose to respond like that at such a festive event. I will say my piece, even if they try to shut my mouth."
Controversy
Last night's speech followed recent controversy over documentary Beyond The Fear, a depiction of Larisa Trembovler, the Russian-born Israeli who divorced her husband after falling in love with Yigal Amir, the man who assassinated prime minister Yitzhak Rabin in 1995, while he serves a life sentence.
Regev had threatened to cut off funding to the Jerusalem Film Festival if the film wasn't pulled. Beyond The Fear was screened the night before JFF's official opening in a separate venue from the Cinematheque - the Mishkenot Sha'ananim cultural institution. It also remains part of the festival's documentary competition.
Blooming of Israeli culture
Regev was preceded on stage by Israeli president Reuven Rivlin, who used his speech to address the minister's concerns. Promising a "discourse on full expression", Rivlin suggested that the government and bodies such as the film festival needed "to sit together and understand how we can join forces for the greater good of the blooming of Israeli culture".
Rivlin, a noted supporter of artistic freedom in Israeli culture, spoke about his desire to make the Israeli film industry an ambassador to the world and to promote Israeli films internationally regardless of their content.
Opening film
The festival opened with an outdoor screening of Nanni Moretti's Cannes award-winner My Mother (Mia Madre) in the Sultan's Pool amphitheatre.
In attendance was John Turturro, who stars in the film alongside Moretti and Margherita Buy and was presented by the festival with an honorary award, as was noted Israeli film critic Uri Klein.
Tributes were held throughout the evening for Lia Van Leer, the founder of the Jerusalem Cinematheque and the film festival, who died aged 90 in March.