Titles in the Feature and Documentary Film competitions unveiled.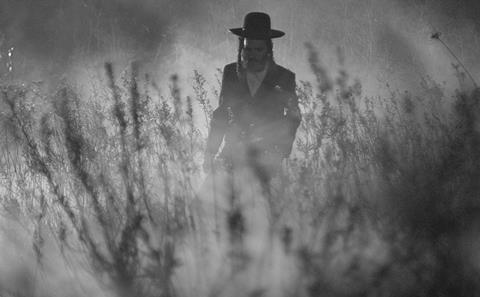 Scroll down for full list
The programme of Israeli films at the 35th Jerusalem Film Festival (July 9-19) has been revealed, including Feature and Documentary Film competitions.
The winner of the Haggiag Competition for Isreali Feature Films will take home the biggest prize in any Israeli film competition: $32,000 (120,000 NIS).
Prizes are also awarded for best first feature, actor, actress, cinematography, editing, screenplay, music and the audience choice award, as well as the Van Leer Competition for Israeli Documentary Films.
Other competitions include the International Spirit of Freedom competition and the Jewish Experience competition.
The festival will feature more than 200 Israeli and international films.
Full line-up
Synopses provided by Jerusalem Film Festival
Haggiag Competition for Israeli Feature Films
Tikkun (dir. Avishai Sivan; pro. Ronen Ben-Tal, Avishai Sivan, Moshe Edery, Leon Edery)
Cast: Aharon Traitel, Khalifa Natour, Riki Blich, Gur Sheinberg
Haim-Aharon, a Hassidic yeshiva student, collapses and loses consciousness. Paramedics attempt to resuscitate him unsuccessfully. Under his father's hands, Haim-Aharon comes back to life, but he is not the same. His father agonizes, concerned that in intervening in the resuscitation, he acted against God's will.
AKA Nadia (dir. Tova Ascher; pro. Estee Yacov-Mecklberg)
Cast: Neta Spiegelman, Oded Leopold, Ali Suliman
Can a woman reinvent herself without having to deal with her past? More than 20 years after leaving behind her Arab identity, Maya's past comes to light. Now she will find out whether a society that refuses to forgive the other for his otherness, will allow her to have a part in the life she herself created.
The Man in the Wall (dir. Evgeny Ruman; pro. Tami Leon, Avraham Pirchi, Chilik Michaeli)
Cast: Tamar Alkan, Gilad Kahana, Eli Gornstein, Yoav Donat, Ruth Rasiuk, Roi Miller
On a rainy winter's Friday night, Rami takes the dog out for a walk never to return. His wife has no idea where he could be. Different people arrive at the apartment over the night, each for his reasons. Can any of them be the key to solving this mystery?
Jeruzalem (dir./pro. Yoav Paz, Doron Paz)
Cast: Yon Tumarkin, Yael Grobglas, Tom Garziani, Danielle Jadelyn Star
An American student tours the Old City of Jerusalem with her friends. It is the High Holy Days, and the tourists enjoy the ancient city's atmosphere. On Yom Kippur eve, however, things start to go wrong: mysterious figures raid the streets and people are murdered throughout the city. Can they survive the night?
Wedding Doll (dir. Nitzan Gilady; pro. Nitzan Gilady)
Cast: Asi Levi, Moran Rosenblatt, Roy Assaf, Arie Tcherner
Hagit lives in a town in the desert. She is a young woman with a slight mental retardation who works at a toilet paper production plant and whose greatest dream is to get married. Hagit strives to be independent, and maintains a relationship with the son of the production plant's owner. She hides this from her mother and believes that they will get married one day. When it is announced that the plant is about to close, their lives are shaken.
Why Hast Thou Forsaken Me (dir. Hadar Morag; pro. Yael Abecassis, Hillel Rozman, Eli Meirovich)
Cast: Muhammad Daas, Yuval Gurevitz
A rejected boy from the fringes of society finds a strange and enigmatic man who reigns over the back alleys of a filthy city. Stubborn and tenacious, the boy moves under the man's wing. In their struggle for self control, their attempts at restraining themselves get out of hand.
Wounded Land (dir. Erez Tadmor; pro. Shemi Shinfeld, Amitan Manelzon, Moshe Edery, Leon Edery)
Cast: Aharon Traitel, Khalifa Natour, Riki Blich, Gur Sheinberg
Police officer Kobi Amar and his Region Commander Yehuda Neumann have been partners at the Haifa police force for years, but now, they face a critical turning point in their relationship and those of their families when one is forced to turn against the other. More so, the tumultuous events of the night place Kobi and Neumann's moral and professional values at stake, as well as their long dedicated friendship.
Van Leer Competition for Israeli Documentary Films
Strung Out (dir. Nirit Aharoni; pro. David Mandil)
Strung Out reveals the world of women who in their youth were driven to heroin use, prostitution and a life on the streets. Their children were taken away from them, and they are prisoners of the vicious cycle of addiction, on the verge of death. The situations depicted in the film offer answers to questions about the director's past as a child who was taken from her young, drug-addicted, prostitute mother.
Thru You Princess (dir. Ido Haar; pro. Liran Atzmor)
Samantha, a nurse residing in a harsh poverty-ridden neighborhood of New Orleans, did not know of her part in Kutiman's successful ThruYOU project that collected dozens of musical YouTube videos created by amateur musicians throughout the world. All of them have different cultural backgrounds, but they all share a common musical vision.
Vita Activa, the Spirit of Hannah Arendt (dir./pro. Ada Ushpiz; pro. Ina Fichman)
This is an intellectual and personal biography of German-born Jewish philosopher Hannah Arendt. The movie tracks the relations between her life and philosophy through rare archival materials, demonstrating the banality of evil. Her relevance to current Israeli and global reality is evident in each and every one of her statements.
Beyond the Fear (dir. Herz Frank, Maria Kravchenko; pro. Sagi Tzirkin, Guntis Trekteris, Vitaly Manski)
The documentary Beyond the Fear was filmed over the course of a decade, and reveals for the first time unique archival materials, news reports, 'sightings' and intimate dialogues with the wife of murderer Yigal Amir – Larisa Trembovler – as well as rare recordings of conversations between Amir and his only baby son.
Pennies (dir./pro. Badran Badran; pro. Yoed Iron)
Rather than be at school, two children from a Palestinian village near Tul Karem have to beg for money in Israel. While Hamam (8) tries to avoid hard work, his older brother Yehya (14) dreams of a better fate.
Hotline (dir./pro. Silvina Landsmann; pro. Pierre-Olivier Bardet)
The Hotline for Refugees and Migrants is a human rights NGO located in Tel Aviv. The hotline assists refugees, migrants and foreign workers in all matters related to their status and to incarceration. Their regular work takes them to prisons, courts and different immigration authorities. The movie follows the hotline's activists on their day-to-day job.
Mr. Gaga (dir. Tomer Heymann; pro. Barak Heymann)
In his long career as a choreographer and dancer, Naharin developed a unique dance language, the Gaga language, which is characteristics not only of his work, but of his entire approach to art and life. This movie tries to decipher the ecstatic interaction between Naharin and the stage, him and his dancers and his works and the audience.
Israeli Films in other Festival sections
The International Competition – In the Spirit of Freedom
Mussa (dir. Anat Goren; pro. Daniela Rachminov-Sidi, Anat Goren)
Mussa is the son of African refugees. He lives in the Tel Aviv Central Bus Station, but goes to school with children of well-off families in Ramat Aviv Gimel. He speaks Hebrew, but prefers to remain silent. In six years, his classmates and teachers have never heard his voice.
The Jewish Experience Competition
Burden (dir. Offer Avnon; pro. Offer Avnon)
Burden is mostly made up of the mixing of interview segments and photographed places and events. On my way I cross the supposed boundary between the personal and the public, searching for representations of the observations and feelings arising from stories told by the individual, the things told through him by the group he belongs. My return to Israel and my hometown of Haifa, after many years of being away, allowed me to see things not "as they are" but as hiding a secret, being both familiar and foreign to me.
Special Screenings – Israeli Documentary Cinema
Jerusalem Boxing Club (dir. Helen Yanovsky; pro. Shalom Guttman, Helen Yanovsky)
Gershon Luxembourg runs the Jerusalem Boxing Club at a public bomb shelter, which over the years has become a home for training boxers, mostly teenagers. In the training arena, in competitions and on the road in between, we discover the complex lives of the boys and of Gershon himself.
Living in Illusions: The Wonderful Tale of Chicko and Diko (dir. Tzvika Binder; pro. Shula Spiegel, Dana Eden)
The incredible, unbelievable and magical tale of the rise and demise of the magician duo Chicko and Diko. In the eighties they were huge stars with a regular TV segment, thousands of shows and a thriving and profitable empire of magic. Their sudden and tragic fall surprised everyone.
Zelda – a Simple Woman (dir. Yair Kedar; pro. Yair Kedar, Michael Weiz, Gili Nadav)
She published her first book of poetry only at the age of 53, a modest religious woman who mostly stayed at home, while around her a group of fans and admirers formed. 30 years after her death, through archival footage from the seventies, unpublished diaries and conversations with Zelda's inner group, a fascinating portrait is drawn of the poet who called herself a simple woman.
HAGIGA – the Story of Israeli Cinema (dir. Arik Bernstein, Shai Lahav, Yair Raveh and Noit Geva; pro. Alma Productions)
Premiere screening of two episodes out of a first-of-its-kind television retrospective of Israeli cinema, encompassing hundreds of interviews, dozens of shooting days over the course of more than two years, and more than 250 films. The series includes countless interviews, conversations and scenes with key figures of the film industry. The interviews are accompanied by rare archival materials, home movies never before broadcast, surprising "making of" segments from the films and a variety of other nostalgic materials, sure to excite anyone who grew up on Israeli cinema.
Special screening in the Jewish Experience competition
Shtisel - Season 2, Episode 1 – Lemons (dir. Alon Zingman; writ. Yehonatan Indursky, Ori Alon; pro. Dikla Barkai)
Premiere screening of the first episode in the second season of award-winning series Shtisel, which continues telling the big and small, and heartbreaking, stories of one Haredi family in present-day Jerusalem.