Festival veteran discusses this year's "pop mix" and a "very challenging" year.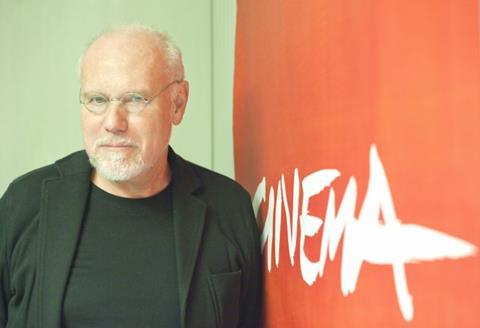 Rome Film Festival (Oct 16-25) artistic director Marco Mueller hails this year's line-up as a "pop mix", which combines eclectic genres and nationalities, despite significant festival budget cuts.
"We have a very interesting pop mix," says the respected veteran, who will depart the festival after this, his third year in charge.
"We move between an unusual Italian comedy [Alessandro Genovesi's opener Soap Opera], amazing genre films, a large presentation of Latin American cinema – in a strong year for the region, Asian films and some of the key English-language films of the coming awards season."
Line-up
This year's line-up comprises 24 world premieres, including Aleksey Fedorchenko's drama Angels Of Revolution, Christoph Hochhausler's German thriller The Lies of the Victors and Afghan/German director Burhan Kurbani's We Are Young. We Are Strong.
English-language titles in the line-up include the European premiere of Stephen Daldry's Trash, Oren Moverman's Time Out of Mind and crowd-pleasers Gone Girl and Nightcrawler.
The slate also showcases a compact but varied range of Italian cinema.
"We insist on the diversity of Italian cinema," explains Mueller. "You expect Italian cinema to be predictable but a lot of twists and turns are still possible."
By way of example, he references Italian and Japanese-language drama Last Summer, from writer-director Leonardo Guerra Seràgnoli, Italian comics artist Igort and Japanese writer Banana Yoshimoto. Rinko Kikuchi stars.
Also among Italian films on the slate are Pasquale Scimeca's first film in four years – Biagio, and Claudio Noce's Alps-set thriller The Ice Forest, which marks Emir Kusturica's first lead acting role.
Challenges
Mueller's tenure in Rome has been characterised by annual reconfiguration, often coming from on high, including date changes and a hefty budget reduction over his three years in charge.
"One of the highlights of the festival is that we managed to be here at all this year, considering the budget cuts and spending review," he says.
"We could only start work [with certainty of the festival taking place] from mid-June onwards. It has been very challenging."
The festival's budget has reportedly fallen from a whopping $21m in 2006 to around $7m [itself not an unhealthy sum] this year.
Direction
In 2012, his first year at the helm, Mueller stressed the paramount importance of world premieres. While he still recognizes their necessity, Rome's backers have been keen to take the festival line-up in a more popular direction, including doing away with the competition formula for most strands in favour of a Toronto-style People's Choice Award.
"This is the first year the Italian Cultural Ministry is granting us a sizeable subsidy – more than €1m," explains Mueller.
"The subsidy is based on the assumption that we've understood a system of Italian festivals based around Venice being focused on auteur cinema, the Turin festival having reinforced competitive sections and Rome as a place to show original but popular cinema where we can prove that films can have a life after a festival. The public voting reinforces that."
The Italian festival "system" described by Mueller also recognizes that Rome's lineup will continue to be wrapped around an intrinsic industry offering in the shape of the festival's Business Street.
"At the government level there is an agreement that the festival should take place in October and be a celebration of cinema surrounding the market and project workshop. Rome's business element is the best way to differentiate it from Venice, for example."
Perhaps now, finally, Rome has found a more permanent voice and position in the calendar, temporally and philosophically separate enough from Venice and Turin, but close enough to MIP to attract buyers and sellers to the Business Street. Promisingly, this year has seen a 25% increase in market participants.
Future
As for the widely respected Mueller, whose Rome mandate ends on Dec 31, his future will likely remain in the festival sphere.
"I will go and do something different based on my experience," he adds.
"I've been in the festival world for 35 years apart from my two years as a producer. Now I have got the experience of a metropolitan festival under my belt too."