Topics included the impact of online streaming platforms and how to make your digital release stand out from the crowd.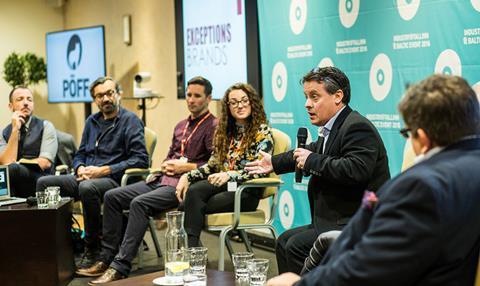 This year's Europa International conference – held for the first time at Estonia's Black Nights Film Festival (Nov 11-27) - took on the subject of emerging film market trends, with a heavy emphasis on the role of online streaming.
Founded at the Berlin Film Festival in 2011, Europa International is a network of European sales agents that aims to improve and increase the international distribution of films.
Taking place on Saturday morning (Nov 19), the invited speakers were: Brian Newman (Sub-Genre), Michael Gubbins (SempoMedia), Miss Laney (BitTorrent), David White (Shift72), Jaume Ripoll (FilmIn), Mirva Huusko (NonStop Entertainment), Barry Rebo (Ymagis), and Ivo Andrle (AeroFilms).
Representatives of local and international sales agents and distributors were present to hear the eight panellists discuss current and emerging trends in the film market. Titled 'Set The Trend', the session saw debate around the impact of digital platforms on distribution, how to approach a VoD release and the role of film festivals is in the digital world.
There was a noticeably sombre note to proceedings, perhaps inevitable given that 2016 has witnessed the bankruptcy of Dutch sales agent Fortissimo Films and UK indie distributor Metrodome Group, as well as the Brexit referendum and the recent election of Donald Trump in the United States presidential race.
But moderator Brian Newman, founder of business development consultancy and production outfit Sub-Genre, attempted to keep discussion forward-thinking and focussed on key information for sales agents and distributors in the digital world.
David White, CEO of technology outfit Shift72 (which provides secure VoD platforms) and an expert voice when it comes to digital marketing, insisted that "sales agents need to be really aware of online."
He highlighted the fact that many people releasing their films on online platforms were unaware of how to get the most of their potential audience. Using the example of movie posters, White illustrated that a majority of movie marketing campaigns release similar posters to films occupying the same genre, meaning that very few stand out from the crowd. "Look at what everyone is doing in your genre, how do you differentiate?"
Data currency
Missy Laney from BitTorrent – which now operates a platform that allows content makers to upload their films and receive a share of advertising revenue – emphasised that "data is a new currency" when it comes to online platforms. She added that because giant organisations such as Netflix, iTunes and Amazons have significant data about their customer base they find it easier to tailor content to suit those audiences. "Whoever has that is going to have a link up on everything," she said.
Michael Gubbins of SampoMedia, a consultancy that helps to connect creatives with audiences, added: "We are seeing this emerging digital divide; people who do have data and people who don't. The reason Amazon backs arthouse films is that they understand what people buy, they have huge data."
Gubbins went on to explain that the data available to those companies allowed them to better understand audiences, and that he believed film production and sales outfits were often in the dark. "The gene pool is too small in the industry. We're starting to look at that but we haven't broadened it out enough yet to ask ourselves, 'what are the audiences out there?' There are whole worlds out there that we can tap into," he said.
He went on to suggest that both parties could benefit from increased collaboration.
"Sales agents know films, they bet on films, they understand films; out of experience they know what films might work. VoD companies know audiences. We need to use that wealth of knowledge to come together. I think there's a lot of room to manoeuvre," he suggested.
Festivals
On the place of film festivals in the digital world, audience member Nadia Dresti of Locarno Film Festival suggested that there are simply too many films available, and it was no surprise that many failed to break out in such an overcrowded marketplace. "We all know that there are too many films that are made," she said.
Multiple panellists disagreed that there was too much content. "Everyone has a right to make the films, the more that get made the better," commented Michael Gubbins, though no one disagreed that film festivals faced a significant challenge when it came to programming.
A further audience member suggested that the panel had failed to address the fact that "the online audience is very different to the cinema audience". He said that the disparity between the two meant VoD audiences would not necessarily cannibalise theatrical, drawing on the example of the book publishing industry, which has seen a significant rise in e-books, though a majority of purchases remain in actual book form.
"The data doesn't show that theatrical is dying," added Missy Laney, with speakers in agreement that both theatrical and online still offered opportunities for distributors.