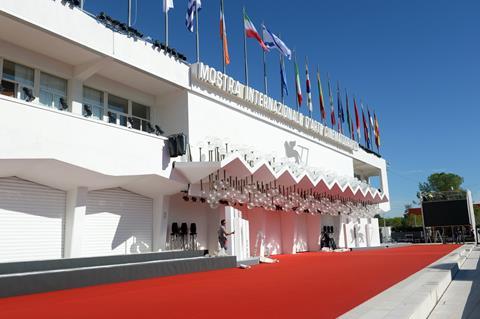 A steady stream of cinema professionals have been disembarking at the Venice Lido over the last 48 hours, getting in position for the Venice Film Festival which officially kicked off its Covid-era 77th edition on Wednesday evening (September 2).
It marks their first foray onto the international festival and market circuit since the Covid-19 pandemic stopped the film industry in its tracks this spring.
With cases on the rise again across Europe, there is a sense of trepidation mixed with optimism among attendees as they arrive, kitted out with face masks and hand sanitisers.
"Of course, coming here is riskier than sitting in my study at home, but from a psychological point of view being able to return to some sort of normality in our working year can only be good for the soul," Jonathan Rutter, director of film at London-based Premier PR, told Screen on the eve of the festival.
"Venice has always been my favourite festival and for months I have been looking forward to sitting in the garden of my hotel, the Quattro Fontane, with a double espresso. This morning I did that, and feel all the better for it."
Viviana Andriani, co-chief of Paris-based PR company Rendez-vous, is equally relieved to be back at a physical event, even though she was actively involved in promoting films virtually at the online Marché du Film back in June.
"It's going to be completely experimental. I'm sure there will be hiccoughs but we'll just deal with it. It's just great to be back at a physical event again where films are showing on the big screen, it's a positive sign for recovery," she commented.
One of the practical challenges will be maintaining hygiene protocols at press junkets.
"We'll be asking journalists to keep their masks on during roundtables and one-on-ones and I think the talent will probably keep their masks on too. I don't think that's exaggerated. Our aim is to keep everyone safe," she said.
Junket venues will also need to be scrupulously cleaned between each interview session. Andriani said venues across the Lido appeared to be ready for this challenge.
"I received a message from The Tennis Club, where we are holding a number junkets, detailing the hygiene measures they have in place and it's pretty comprehensive."
Another big question is how many journalists will actually turn up.
"My sense is that there are 60% of the journalists who attend in a normal year and then it's only those based in Europe," said Andriani. "Activity is down around 40% in terms of interview requests."
As the festival opened, she was focusing on organising interviews in situ rather than setting up video calls for journalists not physically present in Venice.
Physical attendance by film business professionals is also expected to be down this year but sales agents will be out in force nonetheless. Some even suggest there could be more physical deals on the Lido this year due to the fact no-one will be physically jetting off to Toronto as Venice enters its second week.
"I think we could already see at the virtual Cannes that there was an eagerness to get back to business and to meet again, even if it was online," said Jean-Christophe Simon, CEO of Berlin-based Films Boutique, which is selling Competition titles And Tomorrow The Entire World and Dear Comrades. "I think people are going to be even happier to do business face to face at Venice."
Guillaume de Seille, who co-produced and is selling Kazakh Horizons title Yellow Cat under the banner of his Paris-based company Arizona Productions, is happy to be back on the festival and market trail.
"We can't kickstart our business sitting at home," he said. "Going from three trips a month to nothing during six months has been hard. I'm looking forward to seeing films and colleagues, and in particular their smiles, which won't be easy with a mask."
"I've been missing people and human contact rather than the circuit," said Yohann Comte, co-chief of Paris-based Charades, which is handling Golden Lion contenders The Macaluso Sisters and The World To Come as well as Venice Critics' Week title Shorta. "I'm looking forward to the pleasure of being able to hold a meeting on a terrace and seeing films shine thanks to the limelight of Venice."
These sentiments were echoed by Venice veteran Hengameh Panahi, founder and president of Paris-based sales company Celluloid Dreams.
"I've missed the real connection with our distributors, festivals directors, filmmakers and producers which is an important part of our activity," she said.
The company is selling Golden Lion contenders Miss Marx, starring Romola Garai as Karl Marx's youngest daughter, and buzzy Iranian title Sun Children as well as The Book Of Vision which premieres in Venice Critics' Week.
Getting to Venice
Like many attendees, Paris-based Panahi has taken the precaution of having a Covid-19 test before setting off even though it is not required for those arriving from most European countries.
"No quarantine measures are required for travellers within the European Union. But I've done a test. For my talents coming from Iran, it's more difficult," she said.
Guests arriving from outside Europe's Schengen free travel zone are required to fulfil a stricter set of hygiene protocols. They have to take a Covid-19 test no more than 72 hours before setting off followed by a second test on their arrival and a third test if they stay longer than five days.
A number of directors and talents from outside Europe have flown into the region some time in advance in order to meet quarantine requirements.
"Andrei travelled to Italy some time ago," said Films Boutique's Simon, referring to Andrei Konchalovsky, the Russian director of Dear Comrades.
Australian writer/director Roderick MacKay, whose debut feature The Furnace premieres in Horizons tomorrow (September 4), made one of the longest and most convoluted journeys to get to the festival. He left Australia in the third week of August and then self-isolated in Italy for 14 days ahead of his premiere to adhere to Covid regulations.
"Not only has he had to go through all the testing and quarantine to get there but he's also going to be in quarantine for two weeks when he travels back. He really wanted to make the journey and to support the film," said Brian Beckmann, CFO at LA-based Arclight Films, which is handing sales on the "Western-style film" set against the backdrop of the goldrush in Western Australia in 1890.
MacKay will be accompanied by the film's lead actor Ahmed Malek who is travelling over from his native Egypt. "We had to scramble to get his visa in place in time for him to get to Venice but we managed to pull it off," said Beckmann.
None of the Arclight team will be able to make it physically to Venice to support the film, due to the ongoing lockdowns and travel restrictions in the US but Beckmann said the company is excited to see the film debut in "a physical screening."
"With Tenet doing such a great job overseas, you know, it's been a good week for cinema in general, just as we slowly open back up again. The US is still in lockdown and we're still probably a month away from any real major theatrical releases. Seeing Venice take place is a great thing," he said.
Another major question mark swirling around the festival is whether and how the absence of big US titles and stars in the 63-film selection will impact the overall event.
"Of course, it won't be the same as in the last few years. Venice has become the place to launch English-language awards contenders, and there are definitely fewer of those here this year, and not all of those screening have talent in attendance," said Rutter.
"But that's not to say it still can't be an effective festival. And with fewer of those high-profile films here this year, there will be more chance for other titles to breathe."
Panahi is also not concerned.
"It depends on the quality of the films and their filmmakers more than their nationalities. And of course we all want diversity as well," she said. "The American stars are and have been an attraction for sure to attract media and professionals but they are not travelling now so it's difficult to promote a movie based on their presence."
Israeli industry veteran Katriel Schory, who has flown in from Tel Aviv to serve as a member of the Horizons jury, suggests the presence or non-presence of stars is irrelevant this year.
"Personally, I'm not sure you need the stars this year, although of course there will be some, like Tilda Swinton and Cate Blanchett," he commented. "What's important is that Venice going ahead is a clear sign of the restarting of our business, of our industry. It's about hope and it's about optimism and giving a good feeling to the business – whether there are big stars is not the main element of Venice this year."
Additional reporting by Matt Mueller.