Filmart is the centre of the world for global buyers and sellers focused on Asian content. As it enters its 19th edition, Louise Tutt examines its enduring appeal.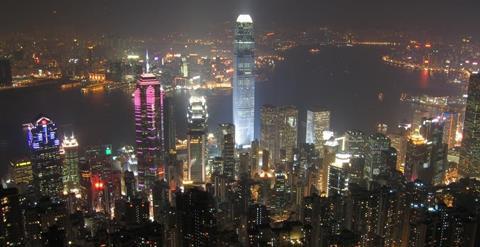 Technology may have made the world smaller, and online viewing platforms and Skype should in theory have limited the need for buyers and sellers to troop around the world each year to expensive trade fairs and film markets. But Hong Kong Filmart (March 23-26) is one of those events people want to attend in person. If you need to do business with the fast-emerging Southeast Asian markets, it makes sense to go to Filmart.
One of the companies you would not be able to meet anywhere else is Singapore-based producer and distributor Clover Films. It distributes 25 Asian titles a year for Singapore and 12 for Malaysia, and produces two to three features a year. "We have not visited Berlin or Cannes for the past five years and do not intend to do so as Filmart serves all our purposes," says Lim Teck, managing director of Clover Films. "Filmart gives us the opportunity to meet sellers of Asian content as well as buyers of our productions."
For many years, access to the huge mainland China market has been the headline reason many international — particularly western — buyers and sellers attend. But China's strict distribution quotas on foreign films that are not official co-productions means much of the actual business done at Filmart with Chinese companies tends to be TV and library content acquired by broadcasters and online companies such as Youku and iQiyi.
In fact, where working with China is concerned, Filmart can be more about intelligence gathering and making contacts. So nascent is China's entertainment market that Filmart attracts many would-be Chinese investors and film producers, new to the film business, who are keen to introduce themselves to international sales agents.
"Lots of new Chinese companies have started attending Filmart so it's become the place to meet new people for me," says Emico Kawai, head of international sales at Japanese studio Nikkatsu, who attends under the UniJapan banner. "But not much business may come from that. It's more about introducing our product or the company itself."
Filmart has established itself as a vital Asian market for Asian film companies buying and selling film, TV, digital entertainment and animation. Strategically placed between the European Film Market (EFM) in Berlin around six weeks earlier and Cannes six weeks later, it gives the opportunity for bigger Asian sales companies to focus on those regional relationships.
"Asian buyers are our biggest buyers, particularly those from Chinese mainland, Japan, Taiwan and Hong Kong," says Jamie Shin, assistant manager, international department, at South Korea's United Pictures.
Many smaller Asian buyers and sellers do not attend EFM in particular, due partly to its proximity to the Chinese New Year holiday.
"Filmart is the first market in the year for us and has become very important," says Amy Iamphungphorn, executive director and head of international sales at Thai studio Five Star Production. "It has films and TV together so we can sell a lot of our content all at once."
Five Star, which sells mainly its own productions, is renowned for its horror titles. But censorship and quotas make it virtually impossible to sell horror theatrically into China itself, although there are opportunities to sell the less violent horror titles to online mainland buyers.
"I go to Filmart because of all the other Asian countries we can sell to," says Iamphungphorn. "Our biggest buyers are Japan, Korea, the Chinese- speaking territories of Hong Kong and Taiwan, and Russia and the CIS, which is always looking for 3D horror titles. The growing market for us is Indochina, the territories of Cambodia, Myanmar, Indonesia and Vietnam."
Five Star always brings new product to Filmart, as it will to Cannes. For Iamphungphorn, Filmart is too short and she always finds herself overbooked. "We don't attend TV markets so we have a lot of business to do at Filmart."
The big draw
According to the Hong Kong Trade Development Council (HKTDC), which organises Filmart as part of Hong Kong's umbrella event Entertainment Expo, more exhibitors (over 770) and visitors (about 7,000) than ever will attend Filmart. Returning group pavilions from countries including Canada, US, UK, France and South Korea are taking more exhibition space than ever and a growing industry events schedule will feature more than 70 programmes including six conferences focusing on film, TV, digital entertainment and music.
Through its 44 branch offices around the world, including 13 in China, HKTDC has reached out to new buyers from emerging markets for Asian films including India, Indonesia, Russia, South Africa and United Arab Emirates. "One of the key deliverables is bringing quality buyers to our show. That is critical to our exhibitors," says Jenny Koo, director, service promotion for HKTDC. "While we have to keep our loyal buyers returning each year, we have to identify new buyers from new distribution platforms or channels and enlist them to attend."
Action packed
For Hong Kong companies such as Universe Films Distribution, Filmart is the time to meet those key Southeast Asian buyers. This year, Universe's senior distribution manager Alice Leung hopes to use Filmart to pre-sell the company's new $30m action title to key territories such as Malaysia, Singapore, Taiwan and, hopefully, India. "Indian buyers are quite picky and looking for big action titles with a big cast," says Leung.
The untitled project, to be directed by Benny Chan, is being made as an official Hong Kong-China co-production. Although Hong Kong companies can easily visit their counterparts in Beijing and Shanghai throughout the year, Leung believes Filmart plays a vital role in bringing together the two, still very distinct, markets. "Filmart is becoming more of a brand-building event for the Hong Kong studios," she says. "Chinese companies come to introduce themselves to Hong Kong buyers and sellers and studios, to a very local market."
And significantly, Hong Kong provides an enduring allure. When asked if Filmart is a pleasant place to do business, Tow Yung Kow of Malaysian distributor Golden Screen replies simply: "Oh yes."
He is one of many who point to the appeal of this relatively safe and compact city. "Frankly speaking, it's very easy to go," says Nikkatsu's Kawai.
"There's great food, glamorous premieres, fun parties and the market is well-contained and convenient at the convention centre," points out Clover Film's Lim Teck.
"Work-wise and entertainment-wise, it's all great in Hong Kong," smiles Iamphungphorn.
Perfect Partners: HAF 2015
Projects from some of Asia's leading film-makers have been selected for the 13th Hong Kong-Asia Film Financing Forum. By Liz Shackleton
Terence Chang, Philippe Bober and Naomi Kawase are among the producers of the 30 projects selected for this year's HAF (March 23-25). Bober, one of Europe's most respected producers and distributors, is teaming with award-winning Chinese director Lou Ye to produce Riddle from Zhou Hao, whose debut The Night screened at Berlinale 2014.
Chang, the longtime producing partner of John Woo, is co-producing coming-of-age drama That Summer, to be directed by new mainland Chinese talent Zhou Quan. Meanwhile, Kawase is serving as producer on a project to be directed by Cuba's Carlos Machado Quintela, which is being made in collaboration with Nara International Film Festival.
The HAF line-up also includes five projects from Hong Kong film-makers of different generations.
Following Doomsday Party, Ho Hong is returning to HAF with suspense drama Lost In Border, while Gilitte Leung is attending for the first time with inspirational sports drama Breathing. Among other established industry figures nurturing projects from new talents are Subi Liang, Pang Ho Cheung's producing partner, who is producing Luk Yee-sum's directorial debut, Lazy Hazy Crazy; and Academy Award-winning documentary film-maker Ruby Yang, who will co-produce Stephen Gurie Woo's documentary The Last Stitch.
Award-winning Hong Kong New Wave director Yim Ho will present big-budget epic Nanking Xmas.1937, which will be produced by industry veteran Ng See-yuen and is one of the biggest projects selected for HAF.
The line-up also includes the three finalists of the HAF/Fox Chinese Film Development Award: Leon Sun's drama My Last Wish; suspense drama Unexpected And Ambiguous from Zhou Hongbo; and Yu Sen-I's comedy My Beauty Queen Mom, which has also been selected for the main HAF line-up.