Hong Kong International Film Festival's Roger Garcia tells Liz Shackleton about the efforts made to woo younger audiences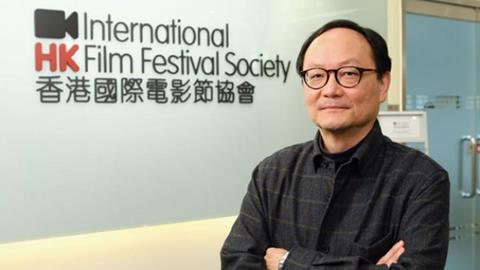 As executive director of the Hong Kong International Film Festival Society (HKIFFS), Roger Garcia oversees both the festival and the Hong Kong Asia Film Financing Forum (HAF).
Along with the Busan and Tokyo film festivals, HKIFF is also a joint partner in the Asian Film Awards Academy, which organises the Asian Film Awards (AFA) and is embarking on a year-round programme of activity.
HKIFF aims to showcase Chinese and Asian cinema as well as bring the best of world cinema to Hong Kong. This year the festival opens with Taiwan-born film-maker Sylvia Chang's Murmur Of The Hearts and closes with local director Philip Yung's Port Of Call. The line-up also includes Abderrahmane Sissako's Oscar-nominated Timbuktu and recent Berlin winners such as Jafar Panahi's Taxi (see sidebar).
But in a city of super-fast broadband speeds, where residents are glued to their smartphones and cinemas have to battle sky-high rents, Garcia knows he can't take cinema audiences for granted. He has made it a personal mission to contribute towards development of the territory's cinema-going culture, not just during the two weeks of the festival but year round.
In 2013, the festival launched HKIFF Cine Fan, a monthly repertory programme that has screened showcases based around themes such as Russian studio Mosfilm, actor Marlon Brando and film-makers Chris Marker and Jacques Demy.
What's new at HKIFF this year?
RG I've been occupied by audience development and community outreach for the last few years. It's really important because we're working in an environment where people are not going to the cinema as much as they used to. We need to develop an audience at a young age that will form the habit of continuing to go and support that communal viewing experience.
With support from Create Hong Kong, the Arts Development Council and other sponsors and partners, we are putting on 11 free community screenings at HKIFF this year and also making an effort to have more Chinese subtitling on our films. In the past, we had only around 25% Chinese subtitling in our programme and this year we're making an effort to push that to 50%. It's quite a challenge but we need to have audiences discover other types of film-making from different countries and Chinese subtitling does help in that regard.
We're also offering student tickets at $3 (hk$25) across the board, except for films that are classified out of their age range. We're showing a lot of good films and want to make the whole thing more accessible and affordable to everyone.
What has the reception been to Cine Fan since you launched it two years ago?
RG It's exceeded our original targets. We were hoping for an admissions rate of 45% to 50%, which is reasonable for a rep programme showing 18 to 30 films a month. But we've been reaching an admissions rate of 65% to 70%. Some of the better-known films such as Apocalypse Now and 2001: A Space Odyssey have been extremely popular — we sold out four houses for 2001. These films are available on DVD so this demonstrates to me that people do like to see movies in theatres.
How do you feel about the state of Hong Kong cinema? Is it being eclipsed by the rise of the mainland film industry?
RG It's a bit of an unpredictable future but it's important for us to maintain an industry in Hong Kong and encourage young people to enter that industry. Our films still have the ability to travel overseas and we have versatile film-makers like the Pang Brothers who have made films in Hollywood, Thailand, China and Hong Kong. Our film-makers also win awards overseas.
We also have Pang Ho Cheung and Dante Lam who are making films in mainland China but that doesn't mean they won't make films in Hong Kong as well. What we need to do is tell young people that Hong Kong cinema is not dead and there are opportunities here to cut your teeth on a first feature and make films that relate to Hong Kong people. If they think Hong Kong cinema has no future, that's a real disincentive to go off and make films. We need to correct the picture. It's not as bad as some people make out.
Are there specific measures that need to be taken to support Hong Kong cinema?
RG I'd like to see more independent film-makers. Film industries really start to move forward when you have activity in both commercial and non-commercial film-making. The indies are like an R&D unit that feeds young, imaginative film-makers into the mainstream. Johnnie To has been helping to do that through the Fresh Wave initiative and we do have some forms of funding through the Film Development Fund. But you can't artificially force these things, they need to find their own momentum.
And maybe we need to rethink Hong Kong's role in cinema anyway. We are an [international] financial and trading centre and should really try to develop more as a centre of film financing and packaging. People could come here with projects and try to get them financed without coming under all the constraints of shooting in China. If we had a successful film fund in Hong Kong, then that would be another vehicle for investment from China and other parts of Asia.
How are the Asian Film Awards evolving since the AFA Academy was established last year?
RG We are gradually developing the structure, image and brand of the Asian Film Awards and that's been helped by setting up the Academy. We're also developing the Academy's year-round activities and have received some local funding for that as the secretariat is based in Hong Kong.
We're also developing a programme where we can send young professionals overseas for exposure and networking. The idea is that we send them to other places in Asia or Europe or the US so they can understand how things like music recording or production design are done in other countries.
We're also looking at putting together a package of half-a-dozen films from the AFA that we can send to different places around the region. There are many places where people may not have the opportunity to see films from the Philippines or Japan. Or they've seen Hong Kong kung-fu movies but not the rom-coms. Again it's an audience development exercise. There are emerging economies like Myanmar and Cambodia that haven't had the opportunity to see a broad range of films.
Films at HKIFF 2015
In addition to Philip Yung's Port Of Call, which closes this year's HKIFF, the festival features the world premieres of Hong Kong films including Lau Ho Leung's Two Thumbs Up, starring Francis Ng, and Fruit Chan's documentary My City, about well-known local writer Xi Xi.
The festival is also screening a retrospective of films from this year's Filmmaker In Focus, Taiwan-born actress and director Sylvia Chang, including That Day, On The Beach (1983), Queen Of Temple Street (1990), Tempting Heart (1999) and her most recent work Murmur Of The Hearts (2015), which opens the festival.
HKIFF has also collaborated again with Youku on omnibus film Beautiful 2015, which this year includes short films from Iran's Mohsen Makhmalbaf, Taiwan's Tsai Ming Liang, China's Huang Jianxin and Hong Kong's Yim Ho.
In addition to Jafar Panahi's Golden Bear winner Taxi, the line-up also includes several other Berlin winners such as Jayro Bustamante's Ixcanul (Ixcanul Volcano), Radu Jude's Aferim!, Malgorzata Szumowska's Body, Sebastian Schipper's Victoria and Alexey German Jr's Under Electric Clouds.
Several Oscar-nominated films will also play at the festival, including Wim Wenders' documentary The Salt Of The Earth, Abderrahmane Sissako's Timbuktu and Tomm Moore's Song Of The Sea.
The festival also features a sidebar of German cinema; a retrospective of Japanese director Mikio Naruse, marking the 110th anniversary of his birth; and a series of masterclasses with Makhmalbaf, the UK's Peter Greenaway and Portugal's Pedro Costa. Makhmalbaf will also serve as jury head for the Young Cinema Competition.
Tsui Hark's 3D action adventure The Taking Of Tiger Mountain, which recently grossed more than $140m in China, will be screened at the awards gala night.