Sales agents from South Korea are in town with a line-up of intriguing character-driven dramas, period action titles and offbeat stories. Jean Noh profiles a selection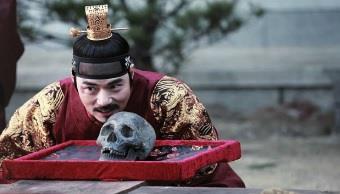 Assassination
Dir Choi Dong-hoon
Choi Dong-hoon's much-anticipated follow-up to The Thieves is an action drama set during the Japanese occupation of Korea in the 1930s. Assassination follows a band of Korean resistance fighters who escape from prison in Shanghai on a covert mission to kill a Japanese army commander. In post-production, the film stars Gianna Jun, aka Jun Ji-hyun (The Berlin File, The Thieves), Lee Jung-jae (The Face Reader, The Thieves), Ha Jung-woo (The Terror, Live, The Berlin File), Oh Dal-soo (The Attorney, The Thieves) and Cho Jin-woong (Roaring Currents, A Hard Day).
ContactShowbox/Mediaplex, Eugene Kim sales@showbox.co.kr
Planck Constant
Dir Cho Sung-kyu
Desire is the theme of the fantastical Planck Constant, which weaves together a series of stories about a man (Kim Jae-wook) who visits the same hair salon every day in order to see the assistant about whom he fantasises. Cho Sung-kyu's credits include The Winter Of The Year Was Warm and Santa Barbara.
Contact Mirovision, Sylvie Kim 
 ekim0602@gmail.com
Salut d'Amour
Dir Kang Je-kyu
Having made a name for himself with My Way and Taegukgi: The Brotherhood Of War, Kang Je-kyu has turned his hand to a family drama. Salut d'Amour stars veteran actor Park Geun-hyung (Return Of The Mafia, TV's Empire Of Gold) opposite Youn Yuh-jung (The Taste Of Money, Boomerang Family) with Cho Jin-woong (A Hard Day), Han Ji-min (Detective K: Secret Of The Virtuous Widow) and K-pop group EXO member Chanyeol. The film is about a lonely grocery store worker who falls in love only to make a shocking discovery that threatens his happiness. It is set for local release April 9.
Contact CJ E&M, Yoonhee Choi 
 yoonheec@cj.net
Shoot Me In The Heart
Dir Mun Je-yong
The directorial debut of Mun Je-yong, assistant director on Tazza: The High Rollers and All For Love, Shoot Me In The Heart stars Lee Min-ki (For The Emperor) and Yeo Jin-goo (Hwayi: The Monster Boy). It is about two 25-year-olds who meet in a psychiatric hospital, trapped there with abusive staff and noisy patients. Together they hatch endless plans to escape. Yoo Oh-seong (Friend: The Great Legacy) and Kim Jung-tae (Mourning Grave) co-star.
Contact 9ers Entertainment, Angela Kim angela@niners.co.kr
The Silenced
Dir Lee Hae-young
Park Bo-young and Uhm Ji-won star in this psychological thriller, in post-production, about a sickly young woman who is transferred to a strange boarding school to recover her health. She soon discovers students are disappearing and her body is mysteriously changing. Lee Hae-young's credits include Like A Virgin and Foxy Festival.
Contact Lotte Entertainment, Jiwon Lee geewon@lotte.net
The Treacherous
Dir Min Kyu-dong
Min Kyu-dong (All About My Wife) directs a period drama about the famous tyrant king, Yeonsan-gun, who exploited his people for his own carnal pleasures. In post-production, the film stars Ju Ji-hoon (Antique, The Naked Kitchen), Kim Kang-woo (The Taste Of Money, Cart) and Lim Ji-yeon (Obsessed).
Contact Europe: Finecut cineinfo@finecut.co.kr
Contact Outside Europe: Lotte Entertainment,Jiwon Lee geewon@lotte.net
The Wait (working title)
Dir Mo Hong-jin
Mystery thriller The Wait stars up-and-coming actress Shim Eun-kyung (Miss Granny), Kim Sung-oh (The Man From Nowhere) and Yoon Je-moon (Boomerang Family). Shim plays a woman whose father was killed 15 years ago. Now the serial killer is due to be released from prison. The Wait, in production, is backed by investor/distributor Next Entertainment World (NEW) and is set for local release this summer.
Contact Contents Panda, Dana Kim
 dana@its-new.co.kr
Wonderful Nightmare (working title)
Dir Kang Hyo-jin
Kang Hyo-jin follows Dirty Blood and Twilight Gangsters with this family drama with a twist. Uhm Jung-hwa (Dancing Queen) stars as a career-obsessed woman about to start work as a lawyer in the US. Killed in a car accident on the eve of her departure, she wakes in heaven to find she has died by mistake. To cover the error, she is asked by the heavenly authorities to live for a month as a woman who died the same day: a mother to a difficult teenage daughter and a precocious six year old, but the cold lawyer struggles to adjust to the new life. Song Seung-heon (Obsessed) co-stars.
Contact M-Line Distribution, Rachel Joo rachel@mline-distribution.com ns