Artistic director Hong-Joon Kim and staff are at Filmart in Hong Kong scouting for the first edition of the Chungmuro International Musical Film Festival (CHIMFF), set to launch July 6-11 in Seoul.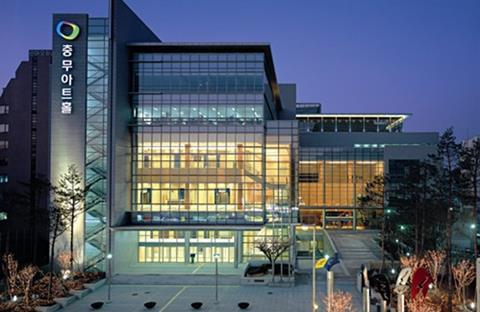 In the heart of the city where the South Korean film industry was first located, Chungmu Art Centre (aka Chungmu Art Hall), known for its innovative performing arts events, is to serve as the main location. Further screenings will be held at Dongdaemun Design Plaza (DDP).
"Of course, musical films will be our main content, but we are aiming for a convergence in cinema and performance art, so we are also looking for fiction and documentaries as well as performances that can go with screenings that reflect this," said Kim, who previously headed the Chungmuro International Film Festival and the Bucheon (then Pucheon) International Fantastic Film Festival.
In the age of film viewing on multiple devices, "we want to go back to the communal experience that theatres can give to audiences," added Kim.
CHIMFF plans to programme around 30 films in 12 sections including retrospectives and forums.
Junggu Cultural Foundation is organizing and sponsoring the event.