Dirs: Bryan Carberry, Clay Tweel. US. 2015. 82mins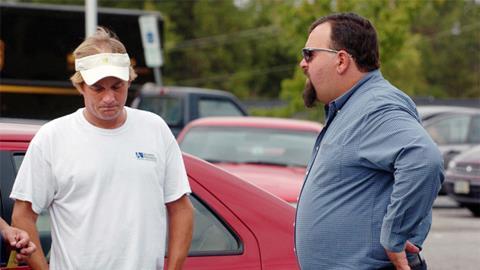 The battle over a body part starts off as farce but eventually dovetails into tragedy in Finders Keepers, an engaging documentary that's perhaps too enchanted by its own "stranger than fiction" oddness to delve deeply enough into the human drama on display. Still, let it be said that directors Bryan Carberry and Clay Tweel have hit the mother lode, unearthing a rich tale of two colourful North Carolina men whose legal wrangling over one of their amputated legs becomes a springboard for social commentary about our fame-mad times, as well as a moving portrait of broken lives and uneasy second chances.
The strength of Finders Keepers comes from the filmmakers setting us up to expect one sort of movie, only to discover that Carberry and Tweel have surprises up their sleeves.
Premiering at this year's Sundance Film Festival and playing as part of True/False, Finders Keepers has been picked up for US distribution through The Orchard, which is reportedly planning a fall release. The luridness of the true story — who owns the rights to an amputated foot? — will attract indie audiences, and strong reviews should only further cement viewer interest. The fact that the filmmakers find a happy ending for this potentially grisly tale could aid word of mouth, too.
The documentary recounts the bizarre showdown between John Wood and Shannon Whisnant, which began in 2007 when Shannon won the rights to the contents of a nondescript North Carolina storage locker. Inside the storage facility, he finds a grill that inexplicably contains a severed human leg and foot. They belong to John, who lost them in a plane crash three years earlier. (The hospital decided to honour his strange request to preserve them after operating on him.) Wanting to hold on to the amputated body part for personal reasons, John lobbies to win back ownership of his leg, setting in motion a custody battle that attracts the world's attention.
It's best not to reveal precisely why John's leg was in a storage locker — or what personal reason he has to save the body part. The strength of Finders Keepers comes from the filmmakers setting us up to expect one sort of movie — a Fellini-esque comedy about Southern bumpkins — only to discover that Carberry and Tweel have surprises up their sleeves.
At first, though, the movie does luxuriate in their subjects' copious local colour. With his bushy beard, beer gut and delusions of grandeur, Shannon could be any redneck featured on lowbrow reality programs like Duck Dynasty. Likewise, John's Southern accent and unsophisticated speaking style make him seem uncouth. But appearances are deceiving: John is from a wealthy local family, and Shannon's refusal to give John back his leg stems from a childhood animosity. The men we see in Finders Keepers didn't start out that way, and the directors do a thorough job speaking with family members, spouses and friends to understand the hardships that have brought them face-to-face in what will eventually become a lawsuit that's settled in the tackiest of ways possible.
Subtly, Finders Keepers argues that John and Shannon's custody battle gained incredible media attention, both in America and around the globe, because it's the sort of story that plays into smug cultural stereotypes of poor white Southerners. Watching the television coverage of the men's dispute, one can't miss the condescension and sensationalism at play, with most observers reducing John and Shannon to clichés, caring more about the outrageousness of the story than who these men are. This proves heartbreaking since Shannon, we'll soon learn, desperately craves the limelight, hoping that he can parlay his notoriety as "The Foot Man" into permanent stardom.
Unfortunately, the very thing that Carberry and Tweel condemn — the cheap sensationalism of what is actually a very human drama — undercuts Finders Keepers. Although there's no questioning the compassion the filmmakers ultimately show their subjects, the documentary can be awfully glib in its portrayal of John, Shannon and those around them. For a film that decries the phoniness of reality television, Finders Keepers strains in its later stretches to manufacture a neat resolution to its subjects' storylines. And in general, the interviews with Shannon tend to overemphasize his foolishness, whether through an unflattering camera placement or by going for an easy laugh. Without a doubt the man is dreadfully unaware of his lack of star quality. But because Finders Keepers does seek to humanize Shannon, explaining the painful upbringing that made him the stardom-obsessed adult he is, the sincerity of that mission can feel disingenuous when it's placed alongside some cheap digs at his expense.
Of the two men, John emerges as the more tragic, haunted, sympathetic figure, his later transformation as unexpected as it is cheering. Finders Keepers puts too pretty a bow on his final moments. (His battles with personal demons probably aren't as conquered as the film might want us to think.) But for a story about a man losing and maybe regaining part of himself, the resolution can be seen as wishful thinking for someone who certainly deserves a little good fortune for once.
Production companies: World Record Headquarters, Exhibit A, Community Films, Firefly Theatre & Films, Different by Design
US distribution: The Orchard, www.theorchard.com
Producers: Ed Cunningham, Seth Gordon, Bryan Carberry, Adam Gibbs
Executive producers: Lizzie Schwartz, Carl Swan, Pam Thomas, Matt Smulker, Jared Hess, Mary Rohlich, Steven Klein, Joe Piscatella, Chad Troutwine, Walker Deibel, Lauren Selig, Victorhouse Films, Mike Eskenazi, Noni & Drew Senyei, Kent & Jenny Warren, George & Andrea Carberry, Emmett & Elaine Cunningham, Andrew & Margaret Gordon
Cinematography: Adam Hobbs
Editors: Clay Tweel, Bryan Carberry, Tchavdar Georgiev
Music: Dan Romer and Osei Essed
Website: www.twitter.com/LegInGrill