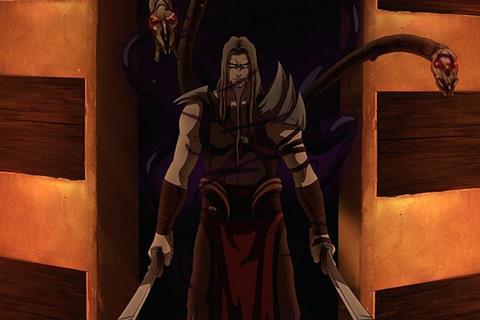 Iran's largest independent animation studio, Hoorakhsh Studios, is launching its first feature film, The Last Fiction, as a world premiere out of competition in official selection in Annecy.
The Last Fiction is notable as Iran's first entirely locally made animated feature, made in the country with all Iranian artists. It also marks the first fully Iranian feature to premiere at Annecy, the world's top animation film festival.
The film's three screenings at Annecy, kicking off with the world premiere today, have already sold out.
The Last Fiction has been in production for eight years, self-funded by Hoorakhsh.
The 2D animated film created more than 1,000 jobs, including 500 artists and animators. One million work hours went into the film.
The average age of the film's workers was 25, and the producers proudly noted that 60% of the workers on the film were women.
The film is the debut feature of Ashkan Rahgozar, who is the co-founder and CEO of Hoorakhsh Studios, which was established in 2005.
The Last Fiction is an adaptation of one chapter of the epic Persian poem The Book of Kings (also known as Shahnameh), written by Ferdowsi between 977 and 1010. This Farsi masterpiece is based on ancient mythology, about the universal battle between good and evil.
The voice cast includes top Iranian actors such as A Separation's Leila Hatami, Parviz Parastui (Today) and Ashkan Khatibi (So Close, So Far).
Producers are Ehsan Rahgozar and Arman Rahgozar, who co-founded Hoorakhsh with Rahgozar; executive producers are Ehsan Rasouloff, of Tehran's Mohsen gallery, and UK-based international acquisitions, development and production consultant Lorianne Hall (who is attending Annecy's Mifa market to meet with potential sales companies and other partners).
The Farsi-language film is subtitled in French and English and an English dubbed version of the film is also being prepared.
Next projects
Hoorakhsh is already in pre-production on its second feature, Juliet & The King. Rahgozar will again direct, and the project will be set up as an international co-production. The family-friendly comedy is inspired on the real Iranian king Naser al-Din Shah Qajar, who in 1873 visited Paris and was enraptured by an actress performing in Romeo & Juliet. He invited the actress, Francoise, to restage the play in his palace in Iran.
Hoorakhsh, founded in 2005, now works with more than 100 young artists. The company has produced 2D computer generated animation both for promotional and commercial purposes, short films, TV series, video games and music videos.
The company also previously co-hosted the Tehran Cartoon Sessions conference in 2017.
Annecy's Artistic Director Marcel Jean said: "The Last Fiction is a completely astounding offer from Iran: a film of epic ambitions, chock fill of action scenes, drawing us into a mythical world where good and evil lock horns."
The 58th Annecy International Animation Film Festival runs June 11-16 with MIFA running June 12-15.