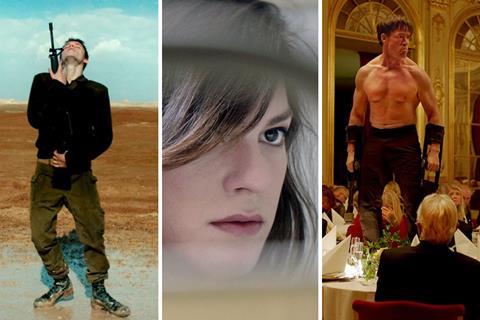 Ruben Östlund's Palme d'Or winner The Square from Sweden, Samuel Maoz's Israeli submission Foxtrot (pictured) and Sebastián Lelio's A Fantastic Woman from Chile are among the nine features on the Oscar foreign-language shortlist announced by the Academy on Thursday (December 14).
Senegal's historic first submission, Alain Gomis' Félicité, made it on to the shortlist. However Robin Campillo's BPM (Beats Per Minute) missed out, as it did earlier in the week in the Golden Globe nominations. Angelina Jolie's First They Killed My Father representing Cambodia also failed to make the cut.
The shortlist includes Fatih Akin's In The Fade for Germany starring Cannes best actress winner Diane Kruger, Andrey Zvyagintsev's Russian submission Loveless, and John Trengove's South African selection The Wound.
The films, listed in alphabetical order by country, are:
A Fantastic Woman (Chile), Sebastián Lelio;
In The Fade (Germany), Fatih Akin;
On Body And Soul (Hungary), Ildikó Enyedi;
Foxtrot (Israel), Samuel Maoz;
The Insult (Lebanon), Ziad Doueiri;
Loveless (Russia), Andrey Zvyagintsev;
Félicité (Senegal), Alain Gomis;
The Wound (South Africa); and
The Square (Sweden), Ruben Östlund.
The Phase I committee comprising Los Angeles-based Academy members screened the original submissions in the category between mid-October and December 11.
The top six choices, augmented by three additional selections voted by the Academy's foreign language film award executive committee, make up the shortlist.
Academy members eligible to participate in the nominations round of voting in New York, London, Los Angeles and, for the first time, the San Francisco Bay Area, will screen the nine shortlisted films in theatres from January 12-14.
International members who live outside the UK will be invited to opt-in to stream the nine films on the Academy's member site. Members must see all nine films before casting their ballots.
The Academy will announce the nominees on January 23, 2018. The 90th Academy Awards take place on March 4, 2018.