Dir: Lenny Abrahamson. Ireland/UK. 2013. 95mins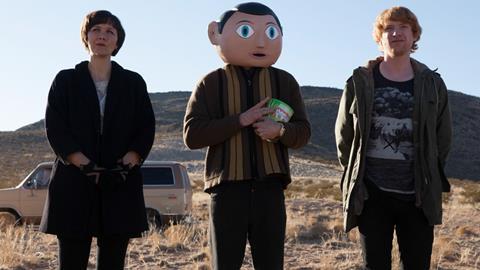 An unapologetically idiosyncratic glimpse into creativity, ambition and mental illness, Frank falters more than it soars, but its portrait of a band led by a deeply odd frontman seems to have all the makings of a cult item — a deserving fate for a movie about a determinedly avant-garde group. Starring Michael Fassbender in a performance where his face is hidden inside a giant fake head, this comedy from director Lenny Abrahamson (What Richard Did) struggles to find its groove, but even then there's some fascination in watching this film follow the beat of its own unusual drum.
Retreating behind that fake head, Frank is clearly troubled, but only as the movie rolls along do we finally get the full sense of that hidden anguish.
Frank world-premiered at Sundance, and from there it should attract buyers thanks to the participation of Fassbender, although the fact that one barely sees his face in the film could prove a marketing challenge. The mixture of genres — musical, quirky comedy, melancholy drama — may also throw some viewers, but Frank seems geared for midnight-movie fans and other lovers of left-of-the-dial strangeness.
Loosely inspired by musician-comedian Chris Sievey's Frank Sidebottom — a fictional character with a comically large artificial head — Frank tells the story of Jon (Domhnall Gleeson), a budding musician who lucks into becoming the keyboardist for an experimental pop band called The Soronprfbs, who are led by a man who goes by Frank (Fassbender). Brandishing his fake-head persona, Frank has never revealed his face to his bandmates, including his close confidant and creative partner Clara (Maggie Gyllenhaal), a severe woman who takes an instant disliking to young Jon.
The film divides roughly into two parts. In the first section, Jon, Frank and the rest of The Soronprfbs (including their manager, played by Scoot McNairy) begin developing their sound, which includes camping out in the woods for 18 months to painstakingly work on their new album. After that, Frank finds the band journeying from Ireland to the South By Southwest music festival in Texas in the hopes of breaking big.
Frank's opening half is the less interesting segment, with Abrahamson unable to find much new to say about the delicate chemistry of band line-ups, the challenges of coming up with good songs, or the comic peculiarities of demanding artists. (With that said, the mere sight of Frank's oversized fake head, and its creepily blank expression, adds a nice deadpan commentary to everything that takes place.)
While Frank is presented as an oddball genius and an enigmatic creative force, there isn't enough evidence in the film to back up the other characters' belief in his talent. Strange he may be, but he doesn't seem particularly gifted: Although his songs aren't supposed to be conventional pop ditties, their avant-garde leanings aren't particularly gripping — or even laughably pretentious. Instead, the songs fall into an uninteresting middle ground where it's hard to know what to make of the material or the musicians crafting it.
Abrahamson has better luck once The Soronprfbs head to South By Southwest. It's here that the satire becomes sharper and the poignancy more acute — the raised stakes bring out compelling new dimensions in these characters. At the same time, the director and his screenwriters Jon Ronson and Peter Straughan begin to upend music-movie clichés by asking what this band's definition of "success" would be and why they'd even want to achieve it in the first place.
In truth, Jon is the film's main character, and while Gleeson does what he can with the role, there's a limit to how invested we'll be in a person who seems so consumed with being discovered while simultaneously exhibiting very little of the talent that such a feat would require. One of Frank's central jokes is that Jon is ultimately better at the idea of creating a band than in giving it an artistic vision, but Gleeson doesn't have enough comic presence to make his character's delusions of grandeur tragic or sharply funny.
By contrast, Fassbender has made his career harnessing his devilish looks and carnal intensity. So he's given himself an interesting challenge in Frank, where he can't rely on either considerable strength. Retreating behind that fake head, Frank is clearly troubled, but only as the movie rolls along do we finally get the full sense of that hidden anguish. Those revelations aren't particularly novel, but it does allow the actor to show a hushed vulnerability he's rarely exhibited.
Production companies: Film4, BFI, Protagonist Pictures, Bord Scannán na hÉireann/Irish Film Board, Element Pictures, Runaway Fridge Films
International sales: Protagonist Pictures, www.protagonistpictures.com
Producers: Ed Guiney, David Barron, Stevie Lee
Executive producers: Tessa Ross, Katherine Butler, Andrew Lowe, Nigel Williams
Screenplay: Jon Ronson and Peter Straughan, based on the original newspaper article by Jon Ronson
Cinematography: James Mather
Production designer: Richard Bullock
Editor: Nathan Nugent
Music: Stephen Rennicks
Main cast: Domhnall Gleeson, Maggie Gyllenhaal, Scoot McNairy, Michael Fassbender