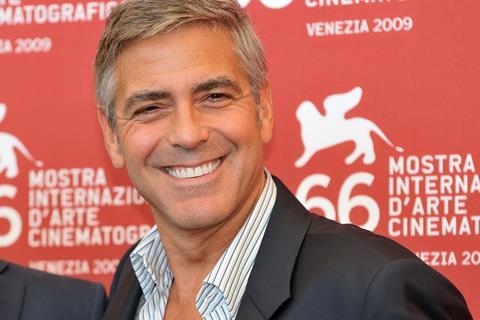 Paramount Television has signed George Clooney and Grant Heslov's Smokehouse Pictures to a two-year first-look deal covering television, digital and episodic projects.
Paramount, Smokehouse and Anonymous Content are currently in post-production on Catch-22, the six-part series for US streamer Hulu based on the Joseph Heller novel and directed by Clooney (who also co-stars), Heslov and Ellen Kuras.
Smokehouse has made features including Good Night And Good Luck, The Men Who Stare At Goats, Argo and Our Brand Is Crisis.
Paramount Television's slate includes Tom Clancy's Jack Ryan for Amazon and Maniac and 13 Reasons Why for Netflix.
Paramount Television president Nicole Clemens said: "We are thrilled to expand our relationship with Smokehouse. Our experience with them on Catch-22 has been an absolute joy. They are first-class filmmakers and producers with a nose for unique stories with deep thematic resonance. We look forward to this new partnership together."
Clooney and Heslov added: "We couldn't be more excited to be working with Paramount TV. Nicole and her team are great partners and our experience on Catch-22 has been nothing but terrific."