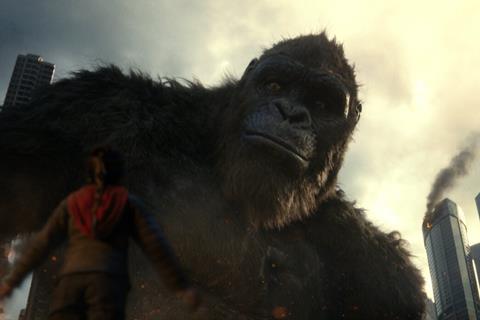 Godzilla vs. Kong added $11.6m on Friday as box office climbed by 73% from Thursday to reach $27.9m.
The film is on course to far exceed initial estimates that put the five-day weekend in the $30m range.
APRIL 2 REPORT: Godzilla vs. Kong added $6.7m in North America on Thursday (April 1) after a 30% drop to reach $16.3m from its first two days in cinemas.
The Warner Bros-Legendary tentpole scored the highest North American opening day in the pandemic on Wednesday and expands on Friday from 2,409 sites to 3,064.
Heading into Easter weekend it is forecast to finish the five-day weekend on at least $30m.
The film also screens on HBO Max as part of WarnerMedia's day-and-date release strategy for the 2021 Warner Bros release slate.
The studio will update the global box office on Sunday following last weekend's impressive international debut.
Theatrical prospects in Europe have been tempered by the pandemic. Godzilla vs. Kong launched on premium VoD in the UK where cinemas remain closed. France's president Emmanuel Macron has said cinemas may reopen in mid-May, and there are restrictions in Italy and Germany, among other places.
Adam Wingard directed the monster mash-up starring Alexander Skarsgard, Rebecca Hall, Millie Bobby Brown, Brian Tyree Henry, Kyle Chandler, and Demián Bichir.