The Revenant and The Martian shared top honours at the 2016 Golden Globe Awards for drama and musical or comedy respectively as the former also earned best director and dramatic actor and the latter best actor in a musical or comedy.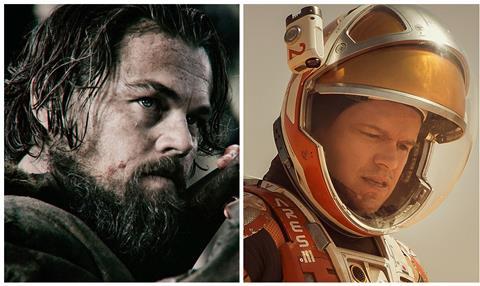 Scroll down for full list of winners
Todd Haynes' Carol headed into the ceremony at the Beverly Hilton on Sunday evening with the highest number of nominations - five - and left empty-handed. Similarly The Big Short, nominated for four, failed to translate a single nod into a trophy at the Hollywood Foreign Press Association's annual shindig.
Away from the business of winning awards, arguably the most anticipated part of the evening was the inevitable encounter between show host Ricky Gervais and Mel Gibson, making his return to the limelight after years in the wilderness following a series of anti-Semitic and misogynistic remarks and erratic behaviour.
Introducing the Australian, whom he roasted while emceeing the show several years ago, Gervais, tongue firmly in his cheek, referred to previous bad blood between the pair. "I'm sure it's embarrassing for both of us and I blame NBC for this terrible situation."
Gibson took to the stage to introduce footage from Mad Max: Fury Road and the men hugged. Gibson said: "I love seeing Ricky once every three years because it reminds me to get a colonoscopy."
A subsequent exchange was bleeped out but, according to reports, Gervais asked Gibson: "What the fuck does sugar tits even mean?" in reference to a phrase Gibson is on record using to address a female police officer after he was pulled over for a DUI in 2006.
Big wins for The Revenant, The Martian
The night ended when Harrison Ford presented Alejandro G Iñárritu with the best dramatic film award for The Revenant. The filmmaker collected the best director award earlier in the show.
The Martian was named best musical or comedy. Ridley Scott accepted the award and said "Screw you" as music began to play while he thanked a long list of collaborators.
Scott rounded off by saying: "Finally, I know my [late] brother Tony would have been here tonight for sure and I know many of you knew him and loved him. I love you, Tony."
Earlier in the show, Iñárritu said he was "seeing god" as he accepted the best director prize from Morgan Freeman. In his acceptance speech he cited lead man Leonardo DiCaprio and said, "The best experience of my life."
Brie Larson won best actress in a drama for Room – her first Golden Globe win in what is expected to be a rehearsal for the Oscar ceremony in February.
DiCaprio completes hat-trick
The corresponding dramatic actor prize went to DiCaprio for The Revenant. This is the actor's third Golden Globe win after the dramatic prize for The Aviator in 2005 and comedy or musical honours for The Wolf Of Wall Street in 2014.
He has been nominated four times for the Oscar but never won. Many believe this will be his year.
Addressing the Native American element of the story in The Revenant, DiCaprio said: "It is time we recognise your history and we protect your indigenous lands from corporate interests and people out there to exploit them."
Earlier in the show Matt Damon was named best actor in a musical or comedy for The Martian while Jennifer Lawrence earned her third Globe for Joy in the best actress – musical or comedy category.
Lawrence paid fulsome praise to writer-director David O Russell, who directed the two other films that earned her Globes – American Hustle (supporting) and Silver Linings Playbook (lead, musical or comedy).
Damon last won a Globe in 1998 for writing the screenplay for Good Will Hunting with his good friend Ben Affleck.
Steve Jobs, Stallone score Globes
Speaking of screenwriters, Aaron Sorkin won Sunday's best screenplay prize for Steve Jobs.
Kate Winslet took the first award of the night the best supporting actress category for Steve Jobs. She has won two Globes before: for best performance by an actress in a mini-series or a motion picture made for television in 2012 for Mildred Pierce and for best performance by an actress in a motion picture - drama in 2009 for Revolutionary Road.
Sylvester Stallone earned a standing ovation when he took to the stage to accept best supporting actor for Creed and said. "I want to thank my imaginary friend Rocky Balboa for being the best friend I ever had."
However, he forgot to thank Creed director Ryan Coogler and star Michael B Jordan. Show guests tweeted that he returned to the stage during the commercials to make amends.
International, animation and music prizes
Hungary's Son Of Saul was named best foreign language film and Inside Out won best animated film.
Ennio Morricone has won the best score Golden Globe for The Hateful Eight. Quentin Tarantino accepted the award for the composer and noted this was the first award Morricone had ever won in the US for a score.
Writing's On The Wall from Spectre (music and lyrics by Sam Smith and Jimmy Napes) won best song.
TV winners
In the TV realm, Amazon Studios enjoyed a good night for Mozart In The Jungle. The show won best television series - musical or comedy and best actor in television series - musical or comedy for Gael Garcia Bernal.
Lady Gaga won best performance by an actress in a limited series or motion picture made for television for American Horror Story: Hotel.
Denzel Washington brought the Beverly Hilton audience to their feet as he accepted the Cecil B DeMille Award for career achievement.
The winners appear below in bold.
Golden Globes 2016
Best Motion Picture – Drama
The Revenant
Carol
Mad Max: Fury Road
Room
Spotlight
Best Performance By An Actress In A Motion Picture – Drama
Brie Larson, Room
Cate Blanchett, Carol
Rooney Mara, Carol
Saoirse Ronan, Brooklyn
Alicia Vikander, The Danish Girl
Best Performance By An Actor In A Motion Picture – Drama
Leonardo DiCaprio, The Revenant
Bryan Cranston, Trumbo
Michael Fassbender, Steve Jobs
Eddie Redmayne, The Danish Girl
Will Smith, Concussion
Best Motion Picture – Musical Or Comedy
The Martian
The Big Short
Joy
Spy
Trainwreck
Best Performance By An Actress In A Motion Picture – Musical Or Comedy
Jennifer Lawrence, Joy
Melissa Mccarthy, Spy
Amy Schumer, Trainwreck
Maggie Smith, The Lady In The Van
Lily Tomlin, Grandma
Best Performance By An Actor In A Motion Picture – Musical Or Comedy
Matt Damon, The Martian
Christian Bale, The Big Short
Steve Carell, The Big Short
Al Pacino, Danny Collins
Mark Ruffalo, Infinitely Polar Bear
Best Motion Picture – Animated
Inside Out
Anomalisa
The Good Dinosaur
The Peanuts Movie
Shaun The Sheep Movie
Best Motion Picture – Foreign Language
Son Of Saul (Hungary)
The Brand New Testament (Bel-Fra-Lux)
The Club (Chile)
The Fencer (Finland / Germany / Estonia)
Mustang (France)
Best Performance By An Actress In A Supporting Role In Any Motion Picture
Kate Winslet, Steve Jobs
Jane Fonda, Youth
Jennifer Jason Leigh, The Hateful Eight
Helen Mirren, Trumbo
Alicia Vikander, Ex Machina
Best Performance By An Actor In A Supporting Role In Any Motion Picture
Sylvester Stallone, Creed
Paul Dano, Love & Mercy
Idris Elba, Beasts Of No Nation
Mark Rylance, Bridge Of Spies
Michael Shannon, 99 Homes
Best Director – Motion Picture
Alejandro G. Iñárritu, The Revenant
Todd Haynes, Carol
Tom McCarthy, Spotlight
George Miller, Mad Max: Fury Road
Ridley Scott, The Martian
Best Screenplay – Motion Picture
Aaron Sorkin, Steve Jobs
Emma Donoghue, Room
Tom McCarthy and Josh Singer, Spotlight
Adam McKay and Charles Randolph, The Big Short
Quentin Tarantino, The Hateful Eight
Best Original Score – Motion Picture
Ennio Morricone, The Hateful Eight
Carter Burwell, Carol
Alexandre Desplat, The Danish Girl
Daniel Pemberton, Steve Jobs
Ryuichi Sakamoto and Alva Noto, The Revenant
Best Original Song – Motion Picture
"Writing's On The Wall" — Spectre
Music/Lyrics by: Sam Smith, Jimmy Napes
"Love Me Like You Do" — Fifty Shades Of Grey
Music/Lyrics by: Max Martin, Savan Kotecha, Ali Payami, Ilya Salmanzadeh
"One Kind Of Love" — Love & Mercy
Music/Lyrics by: Brian Wilson, Scott Bennett
"See You Again" — Furious 7
Music/Lyrics by: Justin Franks, Andrew Cedar, Charlie Puth, Cameron Thomaz
"Simple Song #3" — Youth
Music/Lyrics by: David Lang
Best Television Series – Drama
Mr. Robot, USA Network
Empire, Fox
Game Of Thrones, HBO
Narcos, Netflix
Outlander, Starz
Best Performance By An Actress In A Television Series – Drama
Taraji P. Henson, Empire
Caitriona Balfe, Outlander
Viola Davis, How To Get Away With Murder
Eva Green, Penny Dreadful
Robin Wright, House Of Cards
Best Performance By An Actor In A Television Series – Drama
Jon Hamm, Mad Men
Rami Malek, Mr. Robot
Wagner Moura, Narcos
Bob Odenkirk, Better Call Saul
Liev Schreiber, Ray Donovan
Best Television Series – Musical Or Comedy
Mozart In The Jungle, Amazon Studios
Casual, Hulu
Orange Is The New Black, Netflix
Silicon Valley, HBO
Transparent, Amazon Video
Veep, HBO
Best Performance By An Actress In A Television Series – Musical Or Comedy
Rachel Bloom, Crazy Ex-Girlfriend
Jamie Lee Curtis, Scream Queens
Julia Louis-Dreyfus, Veep
Gina Rodriguez, Jane The Virgin
Lily Tomlin, Grace And Frankie
Best Performance By An Actor In A Television Series – Musical Or Comedy
Gael García Bernal, Mozart In The Jungle
Aziz Ansari, Master Of None
Rob Lowe, The Grinder
Patrick Stewart, Blunt Talk
Jeffrey Tambor, Transparent
Best Television Limited Series Or Motion Picture Made For Television
Wolf Hall, PBS
American Crime, ABC
American Horror Story: Hotel, FX
Fargo, FX
Flesh & Bone, Starz
Best Performance By An Actress In A Limited Series Or Motion Picture Made For Television
Lady Gaga, American Horror Story: Hotel
Kirsten Dunst, Fargo
Sarah Hay, Flesh & Bone
Felicity Huffman, American Crime
Queen Latifah, Bessie
Best Performance By An Actor In A Limited Series Or Motion Picture Made For Television
Oscar Isaac, Show Me A Hero
Idris Elba, Luther
David Oyelowo, Nightingale
Mark Rylance, Wolf Hall
Patrick Wilson, Fargo
Best Performance By An Actress In A Supporting Role In A Series, Limited Series Or Motion Picture Made For Television
Maura Tierney, The Affair
Uzo Aduba, Orange Is The New Black
Joanne Froggatt, Downton Abbey
Regina King, American Crime
Judith Light, Transparent
Best Performance By An Actor In A Supporting Role In A Series, Limited Series Or Motion Picture Made For Television
Christian Slater, Mr. Robot
Alan Cumming, The Good Wife
Damian Lewis, Wolf Hall
Ben Mendelsohn, Bloodline
Tobias Menzies, Outlander