Dir: Olivier Dahan. France. 2014. 103mins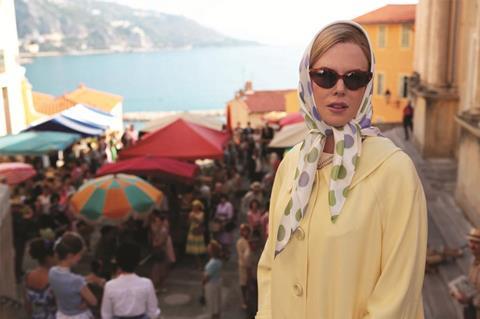 Olivier Dahan may well be correct in his belief that Harvey Weinstein can't improve Grace Of Monaco, but it's hard to imagine how the TWC chief could make it that much worse. A schmaltzy, soft-focus rear-end to last year's car crash biopic Diana, Grace Of Monaco is puzzlingly misjudged, a minor royal Euro-pudding which lands awkwardly in sub-Roman Holiday territory amidst a product placement blitz of diamonds and up-dos, chandeliers and yachts, soft-focus close-ups and bleachy Riviera hues.
Lacking the Hello magazine set's seal of approval may hurt Grace Of Monaco's initial theatrical prospects, although it has a certain camp appeal which could revive its fortunes in later iterations.
As with Diana, sympathy goes out to the Antipodean actress left holding the baby. As Grace Kelly, the retired Hollywood movie star struggling to find meaning in her life as Monaco's monarch, Kidman valiantly strains to for the right notes, but the project also seems a poor judgment call despite the presence of La Vie En Rose's Dahan at the helm. The script, credited to producer Arash Amel, feels misguided, while Kidman herself is a good 15 years older than Grace was in 1961/2 when the film is set.
However, Grace Of Monaco will need Kidman's enduring movie star appeal when it arrives in European cinemas after its high-profile opening slot at the Cannes Film Festival (the film does not have a US release date, having been pulled from TWC's schedule last November).
The royal family of Monaco have already indicated their displeasure at Dahan's "real-life fairytale", which takes place in the tiny Riviera tax haven after the 1956 "wedding of the century" when Irish-American actress Kelly married Prince Rainier III of Monaco (their first date was a publicity set-up at the Cannes Film Festival). Lacking the Hello magazine set's seal of approval may hurt Grace Of Monaco's initial theatrical prospects, although it has a certain camp appeal which could revive its fortunes in later iterations.
Kelly, an Oscar-winning actress and Hitchcock's enduring muse, remained an object of global fascination until her death in a car crash in Monaco in 1982. This is all a long time ago, however. Grace Of Monaco needs to make a persuasive case to younger audiences, but Dahan's film is distracted by the need to pack in ultra-tight-close-ups of Kidman's eyes, blowing out the rest of her head into a focus-less puff, and ultimately the film along with it.
Grace Of Monaco starts out with a minor-scandal in 1961/2 when Alfred Hitchcock offered Kelly, by then the mother of two young children Caroline and Albert, the comeback role of Marnie. Rainier (played by Tim Roth), who refused to allow Kelly's films even play in Monaco, permitted a dalliance between the director and his favourite ice-cool blonde, but the role was ultimately rejected (and went to Tippi Hedren).
An unhappy Grace finds Monaco annoying and claustrophobic, full of boring rules and protocol. She's not very popular and speaks her mind, even though there doesn't always seem to be a lot going on in there. When De Gaulle threatens a blockade unless Rainier taxes Monaco's citizens and returns the revenue to Paris to fund the war in Algeria, she tosses her lacquered curls and tells his representative that "colonialism is SO last century".
Dahan isn't so much interested in a story here, as how a lonely and isolated princess might discover her purpose in life: this involves Grace, assisted by the Palace curate "Tuck" (Langella), taking French and etiquette lessons from Sir Derek Jacobi and figuring out that, even with a cranky husband, she "believes in love".
Given the message, it's hard not to confuse this with The Princess Diaries, the Grimaldi castle melding with the purple-prosed Disneyland version. Dahan even resorts to squirmy fairytale sequences when Grace/Kidman rehearses the Marnie role to the mirror or delivers "regal" emotions to sets of flash cards..
Apart from Langella and Jacobi, Paz Vega also drops by to play Maria Callas, delivering an aria whenever the film needs a lip-sync lift, with a suntanned Robert Lindsay as Aristotle Onassis. There's also Milo Ventimiglia, Geraldine Somerville, and Parker Posey in the odd role of an uptight palace assistant called "Madge". Sometimes it's tough to figure out whether this is being played straight, and about the only person to blithely cruise through it is Tim Roth as Rainier, who largely keeps to himself (a feat in a two-shot).
Shot in France and Belgium, Grace Of Monaco uses period recreations and old newsreel footage alternated with a style meant to be suggestive of 1960s European film-making, particularly the bleached-out colours. Great attention is given to costume and hair, in particular, with the sets coming a distinct second. Albert II of Monaco is thanked in the credits, although the feeling does not appear to be mutual.
Production companies: YRF Entertainment, Stone Angels
International sales: Lotus Entertainment, www.lotusentertainment.com
Producers: Arash Amel, Pierre-Ange Le Pogom
Screenplay: Arash Amel
Cinematography: Eric Gautier
Editor: Olivier Gajan
Production designer: Dan Weil
Music: Christopher Gunning
Main cast: Nicole Kidman, Tim Roth, Parker Posey, Frank Langella, Paz Vega, Robert Lindsay, Derek Jacobi, Geraldine Somerville, Roger Ashton Griffiths