Paramount's animation jumps two places to overhaul Skyfall; Momentum's Seven Psychopaths debuts with $1.8m (£1.1m), including previews.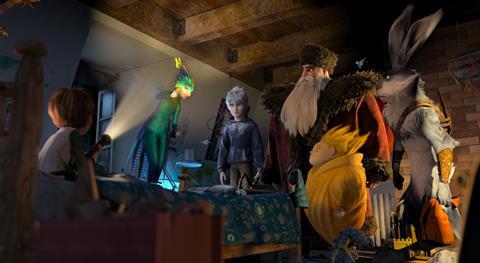 In the calm before the Hobbit storm, Rise of the Guardians posted a sturdy hold to climb to the top of the UK box office in its second week.
Paramount's 3D animation added $2.6m (£1.6m) from its 497 sites to record only a 19% week-on-week drop. After ten days in play, Rise of the Guardians stands at a solid $6.5m (£4.1m) but, like the rest of the market, is likely to suffer this weekend with the arrival of The Hobbit: An Unexpected Journey.
A potential boost for Peter Ramsey's animation could come, however, when schools break up for the festive season.
Following its record-breaking week last week which saw it overtake Avatar to become the biggest film of all time in the UK, Skyfall now has its sights set on the £100m barrier.
Its seventh week saw just a 37% drop for another weekend take of over £1m, with $2.3m (£1.4m) grossed from its 533 sites through Sony. The latest Bond mission has now amassed a peerless $154.4m (£96.2m).
The week's highest new entry came in the form of Momentum's Seven Psychopaths.
Martin McDonagh's follow-up to the critically acclaimed In Bruges took $1.8m (£1.1m), including $493,000 (£307,000) in previews, from its 399 sites to chart third. That result is ahead of In Bruges' $552,000 (£343,760) debut although it opened on considerably less sites (70), going on to record a strong $7.9m (£4.9m) overall haul.
For eOne, The Twilight Saga: Breaking Dawn - Part 2 and Nativity 2: Danger in the Manger! stand at $53.6m (£33.4m) and $7m (£4.4m), respectively.
Lionsgate's Great Expectations added a non-final $541,000 (£347,000) for $2.2m (£1.4m) after ten days in play.
In its second week, Sightseers expanded to 119 sites and grossed $164,000 (£102,014) through StudioCanal, to stand at $718,000 (£447,443) after two weeks, director Ben Wheatley's best UK performance to date.
For Warner Bros., awards contender Argo has taken $7.9m (£4.9m) after five weeks, while Miley Cyrus vehicle So Undercover opened with $160,000 (£99,000) from 285 sites to mark director Tom Vaughan's weakest-ever debut in the UK, behind the previous low of $212,000 (£131,759) for Extraordinary Measures in 2010.
That debut was still ahead of Universal's The Man with the Iron Fists which managed $80,000 (£49,000), albeit from a significantly smaller release at 103 sites, and Paramount's The Oranges which opened with a non-final $30,000 (£18,513) from its 106 sites.
Artificial Eye's well-received I, Anna debuted with $29,000 (£17,844), including previews, from its limited ten screen opening.
This week sees saturation releases for Warner Bros.' much-anticipated The Hobbit: An Unexpected Journey and Disney's Tinker Bell: The Secret of the Wings. Fox's awards contender Life of Pi receives a West End release before its nationwide release on Dec 20, while Sony's Smashed, Dogwoof's Oscar shortlisted Chasing Ice and StudioCanal's Code Name: Geronimo are among the films receiving a limited release.