Dir: Danfung Dennis. US-UK. 2010. 86mins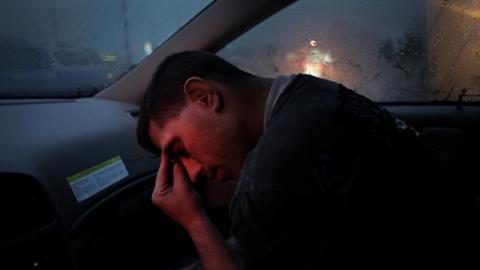 Photojournalist Danfung Dennis' Hell And Back Again is the latest documentary to follow Western soldiers in Afghanistan, after last year's Sundance entry Restrepo and Danish Cannes winner Armadillo. With a few scenes of stunning cinematic visuals and you-are-there-immediacy, the doc is nevertheless more appropriate for broadcast, film festival and museum play, as it favors a dreamlike atmospheric quality over the compelling narrative arc required of most theatrical nonfiction fare.
Hell And Back Again deserves props for presenting a powerful and unflinching view of U.S. military deaths in Afghanistan.
That's not to discount the ambitious and intriguing structure of the movie, as it intercuts between on-the-ground combat footage on the frontlines and a wounded, shell-shocked 25-year-old Sergeant named Nathan Harris, who is trying to adjust to life back home in North Carolina.
Danfung's visual and aural strategy sometimes pays off, producing a highly subjective, even hallucinatory vision of one man's lived contradiction, trapped between war and peace, the intense and the prosaic, the sounds of gunshots and screaming military commands bouncing inside his head (as heard on the soundtrack) verses his wife ordering fast food items at a drive-through window.
But other times, the conceit feels over-determined and even a bit unfair. When Sgt. Harris is having a perfectly reasonable conversation with his doctor about pain medication, the sounds of the discussion drain from the soundtrack and are replaced with the noise of battle. But there's nothing integral to the scene that suggests Harris is recalling the war.
The other problem with the "flashback" sequences set in Afghanistan is that many of the scenes don't directly involve the protagonist. While the footage may be from his Echo Company – Danfung was embedded with the U.S. battalion – the scenes are given little context with respect to Harris' particular involvement. One memorable sequence invokes a real-life Apocalypse Now, as grunts hunker down in the trenches, while a lone soldier stands up, aimlessly firing his machinegun in a hazy cloud of dust. But Harris isn't readily apparent inside the action. The same goes for repeated shots of a gunner inside a helicopter, which eerily recalls familiar images from the Vietnam War, but gives little perspective on Harris's condition.
This lack of connection to Harris is the film's ultimate flaw, despite the film's stylistic efforts to get inside his head. While Danfung includes some brief illuminating scenes of the soldier at home – his obsession with his handgun is particularly scary – we gain only a glimpse into his relationship with this young blonde wife, Ashley, and what truly motivates him beside his former desire to "kill people" and what he's been undoubtedly fed by senior officers (he talks about "freedom" like an American propaganda newsreel)
Still, , which is a much-needed antidote to the US media's coverage of the war. Danfung shows us multiple casualties and a harrowing mass funeral for 13 fallen soldiers, where the company chaplain can't contain his overwhelming sorrow. But the movie ends with more of a whimper than a bang, providing viewers only a superficial peek into Harris's life and his horrible plight.
Production companies: Impact Partners, Thought Engine, Sabotage Films, Channel 4, BRITDOC Foundations
International sales: Cinetic Media, www.cineticmedia.com
Producers: Mike Lerner, Martin Herring
Executive producers: Dan Cogan, Karol Martesko-Fenster, Gernot Schaffler, Thomas Brunner, Maxyne Franklin
Cinematography: Danfung Dennis
Editor: Fiona Otway
Music: J. Ralph