The life of a tortured Italian artist is brought touchingly to life by director Giorgio Diritti in the first film to play at Berlin's Competition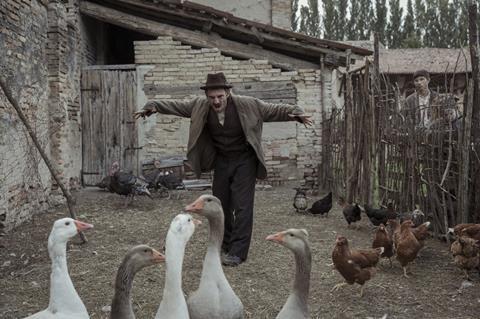 Dir: Giorgio Diritti. Italy. 2020. 120mins
Though little-known outside of Italy, Antonio Ligabue (1899-1965) was the country's most famous outsider artist, a set-upon loner with severe physical and mental disabilities who achieved fame in the final years of his life for his Van-Gogh-like self-portraits and vivid paintings of wild animals. Featuring a remarkable, visceral performance by Elio Germano as the troubled artist, late-starter director Giorgio Diritti's fourth dramatic feature is a touching, poetic, funny-sad portrait of a man who was literally saved from a lifetime of mental institutions by art, as well as a tribute to the fast-disappearing rural culture of the Po Valley floodplain that was Ligabue's adopted home.
Elio Germano delivers a tour de force performance that is sure to garner awards kudos in the weeks and months after Hidden Away's Berlin competition premiere.
The film's one main flaw is its indulgent running time. Unlike the film's protagonist – who smashes up his paintings and sculpture in a rage whenever anyone criticises them – Diritti seems to find it difficult to kill his darlings (a tendency perhaps confirmed by the 'with Giorgio Diritti' co-editing credit). Meandering like the river that runs through its ravishing landscapes, Hidden Away is beautiful, tender and a little tedious at one and the same time. But for patient viewers, the rewards will outweigh the downsides, and Hidden Away could even inveigle its way into a few international arthouse berths, as it isn't really necessary to know anything about the artist to appreciate the film.
In this respect, the decision not to use opening or closing captions to fill us in on Ligabue's life, or to up the emotional ante by telling us about his posthumous fame and the price his works fetch today, feels appropriate. Sometimes all that exegesis can alienate rather than bring the viewer closer. Here, we're simply thrown into a story that embraces its subject's point of view while keeping a respectful distance – something eloquently rendered in the opening shot of Ligabue in a Fascist-era asylum, one eye peeping out of a hole in a rough blanket like a wary Cyclops.
In its first half hour, the film hops impressionistically between biographical timelines, interweaving the artist's miserable childhood in Switzerland with his dour, German-speaking foster parents, and the even more difficult struggle for survival he faces after being forced to return to the homeland of a natural mother he never really knew – the agricultural Po Valley flatlands around the town of Gualtieri, north-west of Bologna. We're forced to reach for clues – a framed photo of Mussolini on a sanatorium wall, hairstyles and car models – to date sequences, but that's all part of the method and appeal of a film that is more about the war inside 'Toni' Ligabue's head than the two world wars that pass by off-screen.
With his haunted, angry, whipped-dog expression, his jutting lower lip and moustache like a nest of caterpillars, Toni is an outcast, known as 'The German' by the locals who at best grudgingly tolerate him (his shack by the river is frequented only by the local men, who drop Toni a coin in order to spend time with a painting of a naked woman he has hung there). A feral soul with a furtive, dashing gait, Toni seems at home only with animals, while people menace and confuse him. This starts to change – and the sense of relief after years of suffering is palpable – when Toni is given board, lodging and studio space by a sympathetic local artist who has spotted the self-taught painter's gift.
Though he eventually becomes a feted outsider artist, whose earnings allow him to indulge his passion for red motorbikes, this is no simple tale of redemption: Toni's 'discovery' by the art world is shown to be veined with condescension and fuelled by the money-making 'mad artist' narrative. And he himself is no saint: he puts down Mozzali (Andrea Gherpelli), a sculptor who becomes his closest friend, as an inferior artist, fit only for cemetery monuments (a fine, touching, underplayed late scene will show Mozzali making Toni's funeral mask).
Guided by Diritti and DoP Matteo Cocco, the camera stays firmly with its difficult, haunted protagonist, alternating claustrophobic interior scenes (shot with with vintage 1960s Leica lenses) with extreme long shots in which Toni merges with the poplar-studded Po Valley landscape. But much of the credit for the empathy this tortured but driven soul generates should go to a performance by Elio Germano that brings Toni's damage to the surface without sugar-coating, and overlays it with humanity. It's a tour de force turn that is sure to garner awards kudos in the weeks and months after the film's Berlin competition premiere.
Production companies: Palomar, Rai Cinema
International sales: Rai Com, intlsales@rai-com.com
Producers: Carlo degli Espositi, Nicola Serra
Screenplay: Giorgio Diritti, Tania Pedroni, in collaboration with Fredo Valla
Production design: Ludovica Ferrario
Editing: Paolo Cottignola, with Giorgio Diritti
Cinematography: Matteo Cocco
Music: Marco Biscarini, Daniele Furlati
Main cast: Elio Germano, Oliver Ewy, Leonardo Carrozzo, Pietro Traldi, Orietta Notari, Andrea Gherpelli, Denis Campitelli, Filippo Marchi, Maurizio Pagliari, Francesca Manfredini