Trevor Groth has been named director of programming for the Sundance Film Festival in the wake of John Cooper's appointment as festival director.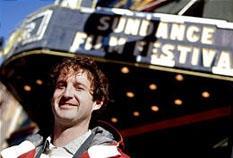 Effective immediately, Groth will lead the six-person programming team responsible for curating the festival's on-screen and off-screen events.
Groth is a Salt Lake City native and 16-year veteran of the festival and has served as senior programmer handling both narrative and documentary feature selection and leading the festival's short film section.
Groth worked for the Sundance Institute's film-maker labs and development programme while a student in film school at the University Of Utah and joined the programming staff in 1993, rising to senior programmer in 2003.
He has championed such films as Hard Eight, Pi, Memento and Napoleon Dynamite and as head of the short film section Groth was among the first to showcase the shorts of Todd Field, Spike Jonze and Peter Sollett, among others.
Since 2002 he has served also as artistic director for The CineVegas Film Festival and been a guest curator for the Australian Film Institute and served as consultant on a number of productions.
"I don't know of anyone in this business so wildly creative yet unassuming and completely affable," Cooper said. "Trevor possesses excellent taste in film and with it a keen eye for finding those rare diamonds in the rough. He has long championed the offbeat and the experimental, but as a means of drawing in audiences, not alienating them."
"It is a terrific privilege to work alongside such an amazing group of people as well as discovering innovative film-makers and connecting them with audiences," Groth said. "I look forward to continuing both of these and to unearthing new trends in film, video and beyond."