Local titles drove up the Japanese box office by 5.7% in 2009 as the number of international releases dropped dramatically.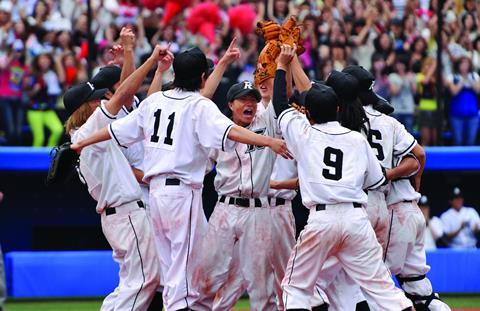 Japanese box-office revenue hit its second highest level of all time in 2009, passing the $2bn mark for the first time in three years. Overall box-office revenue for the year rose by 5.7% to $2.3bn (¥206bn) from $2.1bn
(¥194.8bn) in 2008, according to the Motion Picture Producers Association of Japan (Eiren). Admissions rose by 5.5% to 169.3 million compared to 160.5 million in the previous year.
The average ticket price increased slightly to $13.46 (¥1,217) from $13.42 (¥1,214) in 2008. However, the standard walk-in price remains at $19.90 (¥1,800) for adults, making Japan the most expensive country in the world to see a movie.
Local films still account for more than half of the market at 56.9%, although it has fallen back from 59.5% last year; while Hollywood product and other international releases increased their share by 2.9%. Revenue from local films totalled $1.3bn (¥117.3bn), while international titles rose to $981.1m (¥88.7bn), up from last year when Hollywood recorded its lowest earnings this decade.
Warner Bros' Harry Potter And The Half-Blood Prince easily took the top spot for foreign releases, contributing $88.5m (¥8bn) to Warner Bros' total $193.3m (¥17.5bn) take as the territory's second most successful US studio. Red Cliff Part 2 ($61.4m), co-distributed by Toho-Towa and Avex, nudged out the first instalment in the series to become the most successful Asian release ever in Japan. Fox International's December release of Avatar (not included in year-end rankings) is set to be the first US film to cross the $100m mark since Walt Disney SMPI's Pirates Of The Caribbean: At World's End in 2007.
The number of films imported into the territory dropped dramatically by 74 titles to 314, versus 448 local releases, an increase of 30. Last year, saw a number of local distributors go bankrupt leading to an overall decrease in acquisitions.
Toho was the territory's highest grossing distributor for the seventh consecutive year with earnings of $724.3m (¥65.5bn), its second best year ever. It released eight of the year's top 10 releases, led by overall box-office champion Rookies ($94.6m). Toei and Sony Pictures Releasing International (SPRI) both recorded their best year in the territory. Toei's strong performance, which saw a 50%-plus rise in revenue to $198.8m, was driven by hits The Summit: A Chronicle Of Stones and the latest Kamen Rider film.
SPRI had major success with Michael Jackson's This Is It and 2012, as well as decent contributions from Quantum Of Solace,Angels & Demons and Terminator Salvation. Shochiku's earnings remained relatively flat at $173.61m (¥15.7bn), boosted by Departures' post-Oscar extended run.
Japan's total screen count increased 1.1% to 3,396, slowing from a typical 3.6% year-on-year construction rate throughout the rest of the last decade.
Japan box-office Top 10, 2009
Title (origin)
Distributor
Gross
1
Rookies (Jap)
Toho
$94.6m (¥8.6bn)
2
Harry Potter's Half-Blood Prince (UK-US)
Warner Bros
$88.5m (¥8bn)
3
Departures (Jap)*
Shochiku
$71.2m (¥6.4bn)
4
Red Cliff Part 2 (Chi)
Toho-Towa/Avex
$61.4m (¥5.6bn)
5
Pokemon: Arceus And The Jewel Of Life (Jap)
Toho
$51.6m (¥4.7bn)
6
Michael Jackson's This Is It (US)**
SPRI
$57.5m (¥5.2bn)
7
20th Century Boys: The Last Chapter (Jap)
Toho
$48.8m (¥4.4bn)
8
Wall-E (US)***
WDSMPI
$44.2m (¥4bn)
Evangelion: 2.0 You Can (Not) Advance (Jap)
Klockworx/Khara
$44.2m (¥4bn)
10
2012 (US)
SPRI
$42m (¥3.8bn)
*Sept 2008 release, earned ¥3.4bn in 2009. **Includes Dec 19-Jan 24 2010 re-release gross. ***Dec 5 2008 release. Source: Screen International