Polish director Bartosz Prokopowicz discusses his autobiographical love story Chemo.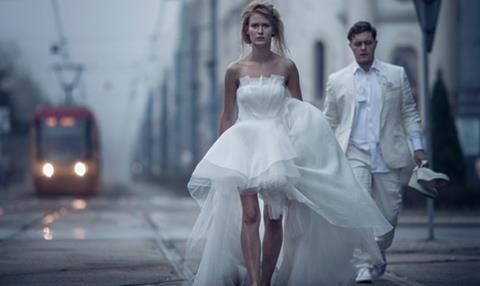 Due to screen at the 15th T-Mobile New Horizons Film Festival in Wrocław following its world premiere in Karlovy Vary, Chemo is the affecting story of Lena (Agnieska Zulewska), a wild, free-spirited girl who meets the suicidal Benek (Tomasz Schuchardt). A complex relationship ensues between the two, one that becomes ever more difficult once Lena reveals that she has cancer.
Arriving at the New Horizons festival with positive reviews out of Karlovy Vary, Polish director Bartosz Prokopowicz's film balances light and dark, absurdity and harsh realism. Prokopowicz talks to Screen about the autobiographical elements of his deeply personal feature debut.
Chemo is based on personal experience since it was inspired by your own wife, Magdalena Prokopowicz. Why did you decide to turn the story into a film?
I'm a film-maker so it came up naturally in some sense. When my son was born and it turned out he was healthy I thought for the first time that maybe this is a good story for my debut. I tried to write a script based on some autobiographical events but I had no distance, I was in the middle of Magda's battle with cancer and of course I failed.
A few years later, in different circumstances, I tried once more. But then I decided not to write the script, but let someone else do it and set up the style and general language of the story. I tried with a few scriptwriters but I didn't feel it, and then Kasia Sarnowska wrote the treatment and I knew that it was the direction to follow: black humor, a lot of surrealism, ideas that were not so obvious.
Being such a personal tale, was it difficult to direct?
"I had to think about death with ease. Otherwise I would go mad."
I don't know, because I haven't done any films which are not personal so far. I can say without doubt that my experiences taught me a lot and maybe I used this knowledge unconsciously. On a conscious level I shared my experiences, but I did not put them as the only right one. I was open to the ideas of my crew and the actors.
The film starts off with a magical realist air and gets darker and darker as the story progresses. What were you looking to achieve with the look of the film?
I followed the emotions of the characters and I tried to mirror them in the look of the film. It was quite natural. At the beginning, I used handheld camera – organic, very subjective, a third hero of the story – to catch the audience's attention and curiosity.
I wanted to create an impression that the viewer is a participant in the action. In the third act of the movie, when things become more dramatic and the tension between Lena and Benek grows, the camera becomes more and more static and objective. In some sense it is dying with Lena.
There are strongly comedic elements of the film. How did you balance those?
I used comedic element to nail the pressure. I wanted to avoid pathos. I wanted to let off the steam. You can see it in the form of the movie and its own distinct narrative. I had to think about death with ease. Otherwise I would go mad. You can adapt my way of thinking or reject it. I hope the movie clearly shows that.
Can you discuss the casting of Agnieszka Zulewska and Tomasz Schuchardt as your leads?
It was a long casting period, with a wide range of young Polish actors invited. When I started this process, I had a totally different image of Lena in my head, but when I saw Agnieszka Żulewska for the first time I knew it was her. She came in with all her charisma and started talking using Lena's language, which is of course literary, unique and not always natural. My head just started popping with new ideas.
Regarding Tomek, I knew him before and had him in mind. When I saw him with Agnieszka, I had a moment of real happiness - my crazy couple was there.
How are you hoping Chemo will be received by people in similar situations?
"People with cancer are often deprived of the right to die."
Magda never tried to hide her illness and make it a taboo, she always talked about it with ease. We tried to keep the movie in high spirits as well. Magda helped other ill people be present in the mainstream again. She made them human beings again and I hope Chemo gives them the same energy.
According to that, we designed Lena as a fully-fledged member of the society – we didn't sideline her because of her illness. We wanted to break the stereotype of a person suffering from cancer: bald, skinny, rejected, with no right to love, have a child, live life but also to die.
People with cancer are often deprived of the right to die. People keep telling them that they have to win the fight. Because of that these people are depersonalized and given a huge burden to carry. I hope Chemo will take one stone from their backpack.
Chemo premiered at Karlovy Vary and you're about to have your Polish premiere at New Horizons. What are hoping for with the reaction?
In Karlovy Vary the film had a great reaction from the audience and there were also some nice press reviews, especially from abroad. I try not to focus on what is going to happen because I can not influence it. I did my job, the movie now belongs to the viewer.
What do you plan to work on next?
I started work on a project based on the life and output of Agnieszka Osiecka, a famous Polish poet. In style it is going to be similar to Chemo: light, crazy but touching on serious matters.