Robin Campillo's own Aids activism informed his Oscar hopeful BPM (Beats Per Minute).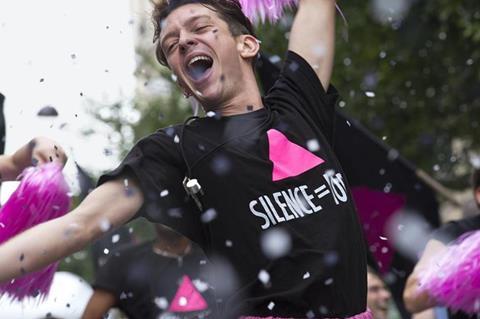 French director Robin Campillo was a 20-year-old film-school student when the first images of the US Aids crisis started to appear in French newspapers in the early 1980s. "I was a young gay man with dreams of working in cinema," he recalls. "These brutal images from the United States and headlines announcing homosexuals would be wiped out by the virus left me in shock. I was paralysed with fear."
Some 30 years later, his third feature, BPM (Beats Per Minute), which captures the early days of the epidemic in France through a portrait of Aids awareness group Act Up Paris, is a front-runner in the Academy Awards foreign-language film category as the French submission, following its grand jury prize in Cannes in May. Campillo's energetic tribute to the grassroots body has also captured the public's attention in France, where it has drawn a healthy 800,000 spectators since its August release via Memento and bolstered membership of Act Up Paris, which to this day still fights for the rights of HIV-positive people.
Start of an obsession
It has been a long journey for Campillo to get to this point, not least because he abandoned his filmmaking dreams for more than a decade as he digested the implications of the virus. "Cinema seemed so irrelevant," he says. "None of the directors I admired had ever had to deal with something on the scale of what was unfolding before my eyes. I couldn't see how it could be done.
"There's only one New Wave film about illness, Agnes Varda's Cleo From 5 To 7. In a way, it captures how I was feeling at the time. This woman, who starts to read meaning into everything around her as she awaits the results of a cancer test — that was me over a period of several years."
Campillo completed his studies at prestigious French film school IDHEC in Paris (since renamed La Fémis) in 1986. But while classmates such as his good friend Laurent Cantet continued to pursue their filmmaking dreams, Campillo walked away from the industry. He instead took a job as a video editor for the news desk of French state TV channel France 3. It was here that he learned about Act Up Paris, which launched in 1989, taking inspiration from the original branch of Act Up created in New York in 1987. "They would pull off some sort of action every two or three months and I ended up editing packages about these events," he recounts.
One day Campillo cut an interview with Act Up Paris co-founder Didier Lestrade on how Aids patients and their carers had suffered in silence for the best part of a decade in France. "He talked about how their plight was being ignored by society and the state. It chimed with me, it was exactly what I felt," says the filmmaker, who joined Act Up Paris in 1992 and gradually regained his creative mojo in the process. "I was no longer simply a victim. Being part of the campaign, getting involved in the discussions, actions, writing texts, creating posters, all the things that we did, reignited my creativity."
What Campillo went through in the early days of the HIV and Aids crisis would colour much of his work. He explains how his 2004 debut feature The Returned (Les Revenants), in which the deceased inhabitants of a small French town come back to life and try to reintegrate into the lives of friends and relatives who have moved on, was a reflection of how he felt in the 1980s. "It captures this sensation of not being dead but not being completely alive, of living in a sort of hinterland, a no-man's land," he says. "I withdrew from life. I'd stopped having sexual relationships in 1983. I was scared of either transmitting the disease or getting contaminated. I had no idea whether I was infected or not. I sort of lost my youth. I had friends who fell sick. I was living a nightmare. I distanced myself from my circle."
The feature spawned the cult French sci-fi series Les Revenants, which in turn became the US remake The Returned. "I haven't seen the series. It came out when I was bringing out Eastern Boys," says Campillo, referring to his second feature, which revolves around the relationship between a French businessman and a young male Ukrainian prostitute. Alongside starting to write and direct his own features, Campillo also collaborated with Cantet on screenplays for the latter's Time Out, Palme d'Or winner The Class, Foxfire and The Workshop.
Art from life
In the backdrop, he was also percolating ideas for a film directly capturing the early days of the Aids epidemic. After dabbling with various storylines, he came around to the idea of focusing on Act Up some eight years ago. It took a while to figure out the structure, combining the drama around Act Up's weekly meetings in an amphitheatre with scenes re-enacting some of the group's most daring actions.
Act Up Paris's membership also offered Campillo a panorama of diverse characters. Although its members hailed mainly from the gay community in the early days, it was open to all people affected by the HIV virus whatever their sexual orientation and walk of life, and whether they were infected or not.
The film is not a recreation of exact facts but Campillo admits that Nathan, one of the core characters in BPM (portrayed by Arnaud Valois), reflects his own experiences, both as a new member of the group and as someone who lost loved ones to Aids. "I wanted the spectator to go through what I went through when I arrived in the group and didn't know anyone, this sensation of arriving on a new island, a bit like Robinson Crusoe, and then encountering one new character after another," he explains. Another key character — Sean (Nahuel Perez Biscayart) — is loosely modelled on late Act Up president Cleews Vellay, who died of Aids in 1994 at the age of 30.
When Campillo finally sat down to write the screenplay some three years ago, the development and financing of the feature came together fairly rapidly. Hugues Charbonneau and Marie-Ange Luciani at Les Films de Pierre, founded in 2007 with the financial support of the late industrialist and philanthropist Pierre Bergé, oversaw the production. As well as having produced Eastern Boys, there was the added link that Charbonneau was a member of Act Up Paris. "It came together pretty rapidly even though it's not necessarily the easiest film to sell on paper," comments Campillo. "It's a fairly complicated storyline, there's a lot of political talk and a number of gay sex scenes."
Partners on the film include the National Cinema Centre, France 3 Cinema, Canal Plus, the regional Ile de France Fund and co-producers Page 114, Memento Films Production and FD Production. Charbonneau suggests the ease of getting backers on board was in part due to the lingering notoriety of the early days of Act Up Paris as a result of its headline-grabbing protests in the 1990s, such as covering the Obelisk in the Place de la Concorde with a huge pink condom. "Everyone has a memory of Act Up Paris," says the producer. "The shock tactics it adopted from Act Up in the US were unusual for France at the time. Everyone we went to see about the film pretty much said 'yes' straight off."
Casting choices
One of the most complicated aspects of the film was its casting, suggests Luciani. The film features a dozen key characters among some 70 speaking roles in total. "We had a lot of discussions about the cast," she says. "All the key characters are equally important in their different ways. We needed each performance, however small, to be authentic and spot-on."
They also thought long and hard about whether to privilege the casting of gay actors for the gay roles. "In the end, we did try to where possible. It was in keeping with the sense of engagement we felt in making this film," says Luciani. As well as Valois and Biscayart, other key roles went to Adele Haenel and Antoine Reinartz.
Campillo is now on the road with the picture, which since Cannes has played to packed screenings at the BFI London Film Festival, Toronto, San Sebastian, New York and Busan. International distribution is set for the US via The Orchard, Curzon Artificial Eye in the UK and Edition Salzgeber in Germany.
The filmmaker admits to being happily surprised by the success of BPM (Beats Per Minute), both on the festival circuit and at home.
Talking about the reception in France, he says: "What struck me was that the film had a different significance for the different generations that came to see it. I was also surprised by the number of youngsters who turned up. I got the sense that there is a feeling of political disempowerment among youngsters today and this tale of a movement attempting to bring about change grabbed their attention in a different way."