Geena Davis and ARC Entertainment's inaugural event is about to kick off in Arkansas with a focus on impacting the quantity and quality of females and minorities in entertainment.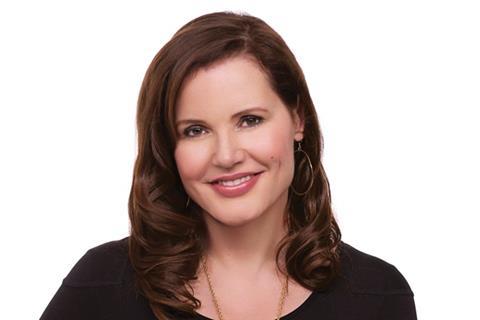 The festival will screen 75 films and guarantees distribution to a handful of winners. The roster of positive, entertaining cinema opens with the world premiere of War Room and closes with Universal's Pitch Perfect 2. Guests will include Robert De Niro, Catherine Hardwicke and Rosie O'Donnell.
Davis and ARC president Trevor Drinkwater talk about how the event came about, its ties to the non-profit, the Geena Davis Institute On Gender In Media, and its aims going forward. The Bentonville Film Festival runs from May 5-9.
How did this all start?
Geena Davis: Trevor and I started talking and I was like, 'Yes! Absolutely!' I had been hoping somebody would hold a film festival supporting more inclusion of women in front of and behind the camera so we thought, 'Let's do it ourselves.' It all came together very quickly and we got the support of some very big sponsors: Walmart was first, then Coca-Cola and we have many, many more. Amazingly it's all happening in a very big way in May.
Trevor Drinkwater: ARC Entertainment has worked with Walmart for over 20 years. About a year ago I was in a meeting with the buying staff at Walmart and they said their boss was putting pressure on them to focus on these four corporate initiatives, one of which is supporting women and minorities in business. Geena and I have been friends for some time and I had been following everything she was doing with her institute, so I thought this would be a great way to get Geena involved. Thankfully she thought it was great and that's how it happened.
What are the unique selling points?
GD: The most unique thing about the festival is that it's the first major festival to focus on woman and diversity. And we're offering guaranteed distribution to the winners in theatres and digital and TV and DVD. It's an extraordinary prize for three top films [winners of the Audience, Jury Selection and Best Family Film awards.] So we're beyond pleased that this is all happening.
TD: My thought was [that in order to] make a statement we wanted to make the festival commercially focused and have the winners get distribution. ARC can facilitate that but also felt companies like AMC Theatres and other important partners in the ecosystem would be interested in supporting this.
Give us a flavour of the programme
GD: There's a documentary category. We're not doing short films or foreign films this year but we anticipate doing more categories when we have more time to prepare next year. There's a special focus on family-appropriate films because we want to change what kids see. I have always felt if we can fix that it would be a huge step. Kids will feel very different about women and girls if they grow up seeing them perform equally important roles [as males].
The notice was too short for people to create films after we announced our existence this year, but I hope that by next year people will try to get their film in and think about hiring a female or minority filmmaker and adjust their cast to be shown at the festival. We want to have a direct impact on filmmaking.
Has the research from your institute already had an impact on what we watch?
As you know, I have been involved with trying to improve the images of woman and girls in entertainment media, especially in media aimed at kids. My institute sponsored the largest amount of research ever done on gender depiction in media covering a 20-year span. We work directly with content creators. Because I'm in entertainment I have access to everyone and know everyone, so we just go directly to them with our research and share it in a collegial way. We're having an impact. We surveyed everyone who heard our presentation in Hollywood and found that 68% said what they learned had impacted two or more of their projects. Forty-one percent said four of more of their projects.
The events and panels sound challenging. What have you lined up?
GD: 'Geena And Friends' is something I have thought about doing for a while. We'll take themes from films that are predominantly male and see what it's like to have women read the lines. We have all kinds of interesting panels [guests include Catherine Hardwicke, Davis' A League Of Their Own co-star Rosie O'Donnell and White House economics advisor Abigail Wozniak]. And we will talk about how entertainment media fails to reflect the wonderful diversity of the population.

Give us a snapshot of some of your institute's findings
Our research shows that if there's a filmmaker who's female, the number of on-screen females goes up, so it's very important to us to get more women behind the scenes and to get more work for female filmmakers. It's pretty abysmal: right now female directors are at four percent and it's never gotten over 10%. It's really shocking how stuck we see to be as far as advancing female filmmakers [goes]. We're hoping that the festival can have a big impact on that going forward.
Bentonville is the headquarters of Walmart but besides that, what made it the right place to stage a festival?
TD: I always knew Bentonville would be a great town to do this in because it's such a great American town. It's a very sophisticated town. People will be pleasantly surprised when they arrive. The question was could we get Hollywood and celebrities to support it and thankfully they have.