Get Out is the low-budget indie horror smash that grossed more than $250m worldwide. Can its writer-director Jordan Peele ride the wave all the way to the Oscars?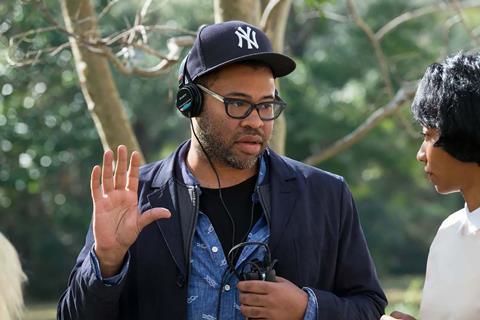 When Jordan Peele set about making the darkly satirical horror film Get Out, the road to Oscar glory was the last thing on the debut feature director's mind. After all, Academy voters hardly have a history of showering genre titles with affection — even the groundbreaking The Blair Witch Project (1999) failed to net a single nomination.
But caught up in the annual awards hoopla is exactly where Peele finds himself after helming the film, which centres on a young African-American man who visits his white girlfriend's family with horrifying results. The genre-bending feature scored five nominations and three wins (for screenplay, breakthrough director and audience award) at the Gothams and was named best directorial debut and best ensemble by the National Board of Review.
When Peele embarked on this unlikely journey, he was still known primarily as one half of comedy sketch duo Key and Peele, whose eponymous show aired for five seasons on Comedy Central. His debut feature as a screenwriter, Keanu, co-written with Alex Rubens, grossed a so-so $21m at US cinemas, and was negligible in foreign territories. With Get Out, Peele's first task was discovering what the core idea of the film would be — what the filmmaker calls the "driving engine". "I felt like the fear of being the outsider, the fear of unwanted attention, and ultimately the fear of race, or racial dynamics, is universal, but I haven't really seen that in a film before," he explains.
When it came to casting the leads, Peele zeroed in on UK actor Daniel Kaluuya — an alumnus of UK TV show Skins — and Girls' Allison Williams. "You need people who are at a point in their career where the associations with that person help support your vision, as opposed to detract," says Peele. "[Chris and Rose] are the two roles that if they are one note wrong the entire movie doesn't work."
Casting Kaluuya and Williams allowed Peele to delve further into the story. "Every person you consider in the role changes the character," he says. "I allow the person who gets the role to inform my next draft of the script. It's one of those phases where the words really start coming to life."
As an actor himself, Peele has particular insight into the varying processes that performers adopt during filming. He wanted each actor to have a working experience tailored to his or her creative process: "'Tell me how you work the best, how I can get the best thing out of you, and then I'm going to try to give you that process.' So, we did that."
Peele feels his directing debut was aided by his experience acting, producing and writing on Key & Peele. He did, however, have to conquer his rising apprehension in the lead-up to filming. "I had some misplaced fears," Peele explains. "Before I directed, I was obsessing with what my blind spot would be, 'What's this one thing that, because I haven't done it before, I'm going to get on this set and then get the dailies, and realise that the movie doesn't look good?'"
In the big leagues
While Get Out's recognition from the Gothams, National Board of Review and Independent Spirits (where it was up for five awards) should help the film win the attention of Academy voters, its nomination for best international independent film at the British Independent Film Awards puts it in very exalted company: not just alongside fellow US indie titles The Florida Project and I Am Not Your Negro, but also Andrey Zvyagintsev's Loveless and Ruben Ostlund's Palme d'Or winner The Square.
Accolades, however, were never the point. Peele set out to make a film that he had never seen before — a film that confronts racism in an engaging, entertaining and thought-provoking way. He also wanted to spark conversation and perhaps motivate introspection. "I wanted to challenge anybody who feels like they are not racist to really look at how they are defining the word 'racist'," he says.
"Some people think that a white supremacist is the definition of a racist person, but what I'm trying to point out with this movie is that there is a spectrum of actions that are all connected to the same sense of tribalism and otherness that is racism; and that there's a system in place at this point that perpetuates itself. We're not going to get anywhere if we don't include ourselves as possible racists."