The Australian high-altitude director's stirring counterpoint to Venice opener Everest tells the story of scaling the world's most famous peak from the point of view of sherpas - the ace mountaineers and ethnic Nepali guides.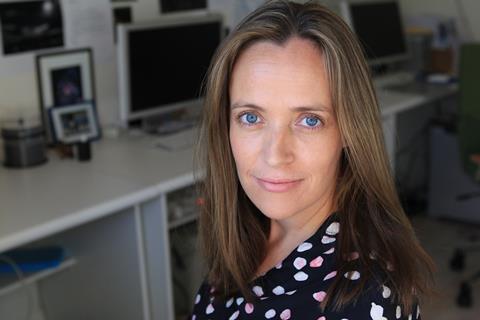 The film is informed in part by the infamous stand-off between sherpas and mountaineers in 2013 that illustrated the awakening of a collective spirit of defiance after years of subordination.
Peedom observes the fortifying of that spirit after a catastrophe on the mountain in 2014 left 16 sherpas dead and resulted in the cancellation of the climbing season.
The film premiered at the Sydney Film Festival and receives its North-American premiere at Telluride on Friday night before going on to screen in Toronto.
Felix Media's Bridget Ikin (An Angel At My Table) and John Smithson (Touching The Void, 127 Hours) of the UK's Arrow Media produced the Australia-UK co-production.
Discovery has acquired all world rights from Universal to Sherpa excluding Australasia and has set a US qualifying
theatrical run on October 2. Footprint Films / Transmission Films holds all Australasian rights.

What was your motivation to tell this story?
I got so sick of watching sherpas end up on the cutting room floor and people not seeing how they work. This was the motivation for it.
Tell us about that 2013 fight
It was the moment everyone realised. I had been talking about doing this film and when we were cutting our pitch trailer the fight broke out and we knew our instincts were right. I had been aware tensions were building and the sherpas were better educated and were being left on the cutting room floor and then things came to a head and we moved full steam ahead with financing and got ourselves there for the 2014 season.
What was the outcome of the incident?
What that fight proved is there's no room for independent climbers any more. They would rather avoid Everest. It's seen as a yak route, a bit of a circus.
So what kind of people climb Everest?
There are climbers of Everest who have never climbed another mountain. Because it's the highest people want to climb it and it captures the imagination. The climbers [on Everest who take part in expeditions] are increasingly inexperienced.
What was it like to be filming on the mountain after the 2014 tragedy, which prompted the sherpas to effectively unionise on the mountain and say, 'Enough's enough'?
At the very first protest meeting [after the fatal avalanche] I felt it wasn't appropriate for me to go there with the big camera. I had trained two sherpas to use cameras and we sent them down to film that first protest meeting. The word spread quickly we were the Sherpa film crew and they recognised who I was. There are 38 other expeditions on the mountain and I got to know them. By the end they were [doing whatever they could to ensure] I could get better shots.
What is your mountaineering experience?
I have been travelling to the Himalayas for almost a decade on various projects. I am not a climber per se, but ended up being drawn to that part of the world so I have done three expeditions. I don't see myself as a mountaineer but I have climbed most of the way as a high-altitude camera operator. My body can function quite well at that level so that's one of the reasons I fell into this.
Do you have experience of avalanches and was that the actual avalanche itself you captured on film?
You do hear a lot of avalanches at base camp, but this one wasn't good. There were some real heart-in-mouth moments waiting to see if everyone was OK but our sherpa team were all OK. The avalanche you see from the POV camera was from a smaller avalanche and that sherpa was fine. We used that shot to represent the bigger avalanche.
Russell Brice, the expedition leader profiled in Sherpa, makes for an intriguing character
Russell's a very complex character. He loves his sherpa teams so much and probably pays them more than sherpas [typically] get paid. He takes care of them and has respect for the sherpas and he was meaning to tell this story.
[After the 2014 disaster when the sherpas were debating among themselves whether or not to continue with the climbing season] what happens in the film is morally complex. What [Brice] has in mind is their and his economic future – if they don't climb they don't get paid. He's concerned for their prosperity and wanted to continue for that reason.
He also had that pressure because he had to cancel [his expeditions] two years earlier. What he wasn't able to realise is this is more than money for the sherpas. This event was so shocking to them it rocked them on a spiritual level. That's why they asked that just this once in 2014 they called it off [the season].
Had you know Phurba Tashi, the lead Sherpa guide profiled in Sherpa, before you shot the film?
I had known Phurba Tashi for a decade. I met him in 2004 and he is an extraordinary character – humble and a man of few words. I got to know him very well and my first child is named after him. It's an important relationship in my life. He's climbed Everest 22 times and is so well known in Nepal.
After the protests the government made concessions. Do they go far enough?
They [the sherpas] managed to make positive change. Initially the government offered $400 [per dead person in compensation to the family] and that was when grief turned to anger. There's definitely room for improvement. A big thing was respect. What the cancellation of 2014 proved was you cannot climb Everest without the sherpas.
How was Sherpa funded?
Bridget [Ikin] financed the Australian part and brought on Screen Australia, who were one of the main investors. John [Smithson] has contacts at Universal and they pre-bought the film and Discovery Channel just came on to handle broadcast rights.
What are you doing next?
I'm in the middle of producing Mountain with the Australian Chamber Orchestra. The film explores man's fascination for and interaction with mountains. It will premiere at the Sydney Opera House. I'm also developing a dramatic biopic about Tenzing Norgay.