Director Paddy Breathnach and producer Robert Walpole recall the 17-year process behind their Oscar foreign-language contender Viva.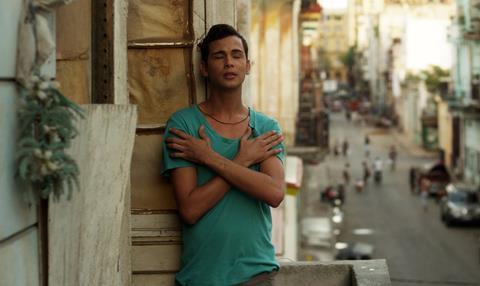 Following its premiere at Telluride Film Festival and two sold-out screenings in a 2000-seater auditorium at the Havana Film Festival, Viva - an Irish production telling the story of a young gay man in Cuba shot entirely in Spanish – has now found itself among the nine films shortlisted for the 2016 Best Foreign-Language film Oscar.
Screen spoke to director Paddy Breathnach and producer Robert Walpole about the 17-year process behind getting their unusual production made.
"People were in love with the concept but couldn't get their heads around the idea of two Irish producers, an Irish director and an Irish screenwriter doing a film in Cuba in Spanish," recalls Walpole, who says he and his Treasure Entertainment producing partner Rebecca O'Flanagan had little success when trying to raise money for the project.
"There were an awful lot of people saying, '[This] could be great, but it doesn't fit our model'. For many people even now, the idea of going to do a film in Cuba – you might as well be talking about doing a film on Mars. But when we believe in something we don't take no for an answer."
The film's genesis began in 1998 while Walpole and Breathnach were holidaying in Cuba shortly before the release of their debut feature, the Brendan Gleeson-starring I Went Down (the pair also later collaborated on 2007 comedy-horror Shrooms).
Walpole recalls how one evening he ventured out into the city's nightlife: "I went to a nightclub in the middle of nowhere. Suddenly, the lights turned off and I thought there'd been a power cut, until a spotlight came on and a drag performer came out. I had never seen anything like it, it was so emotive. Latin love songs sung without irony and with passion and desire.
"The next night, I took Paddy along," he continues. "We spent three days taking photographs of the performers and their friends and families; we felt there was a story in that."
Breathnach recalls the first drag night he and Walpole attended together: "We were watching this performance and there were two women beside us. When the performer came on, miming this passionate, romantic song, one of them started crying. I asked why she was crying, and she said, 'It's my brother and the only time he's happy is when he's on stage.' I immediately thought the world was very interesting."
The pair were both convinced that there was a film to be made, set in the drag scene of central Havana, but it would take another decade before they began seriously fleshing out the idea.
Mark O'Halloran was brought on board to develop the story, and the team used translators to make sure the dialogue was as authentic as possible: "We worked so hard on the translations; for Cubans, it's really on the cusp of their slang," says Walpole.
Once the script was completed the project began to take shape, but raising finance was still an issue.
While they had struggled to acquire extra money, Walpole and O'Flanagan had finance from the Irish Film & TV board in hand, and decided they needed to push ahead: "At a certain point we looked at each other across the desk and said, 'We have this small amount of money, let's do it.'"
In July 2014, they ventured to Cuba in search of co-producers. The people they met – one, who they hired as first assistant director, had previously been Fidel Castro's translator – would prove crucial for making the shoot run smoothly since none of the Irish team spoke fluent Spanish.
"Early on, I realised that a huge amount of your judgement [as a director] is not totally dependent on having great fluency in language. If you have the conviction, you can get yourself understood," says Breathnach.
Filming in Havana
At first, the team were concerned that filming in the country, which Walpole describes as "closed off", would prove difficult, but they found it a fairly smooth process.
"We had to go through a few bureaucratic hoops, but once you go through those it becomes very easy. They gave us two cops as part of our permission, and they were open to helping us by stopping traffic so we could film," remembers Breathnach.
Walpole recalls the slightly surreal process of filming in the Cuban capital: "There are certain things about the Cuban economy and the way Cuba works which means things are done differently; they don't do call sheets, and our main crew vehicle was a 1954 Chevrolet limousine, which 15 of us hopped into every morning and rattled off to set."
For the sake of authenticity, they filmed in one of the poorest neighbourhoods in central Havana, an experience that both Breathnach and Walpole agree was rewarding.
"It is the kind of neighbourhood that many people would be intimidated by but we found the people were very interested in us filming, it wasn't at all scary," says Walpole.
Shooting in the neighbourhood, which had no streetlights and roads littered with potholes, represented a challenge but created an exciting atmosphere and added to the film's authenticity, adds Breathnach: "When the sun goes down, it could get tricky, but it also comes alive then. It's when everyone comes out."
"We tried to go as natural as we could. We didn't have huge resources so the amount we could augment reality was limited."
After a 21-day shoot, principal photography wrapped on Viva. The film premiered at Telluride Film Festival in September, where it first accumulated its Oscar buzz. "After the screening in Telluride, I had a lot of people coming up to me saying I should make sure I was in on the Oscar process," recalls Breathnach.
In December, the team took the film to play at the Havana Film Festival, where it was screened in a 2000-seater auditorium. The queues outside were so large, the festival took the unusual step of screening the film again immediately afterwards.
Viva will now travel to the Sundance Film Festival in January. Before then, the US Academy will unveil the 2016 Oscar nominations on January 14. Breathnach and Walpole are keeping everything crossed.