The director of IFF Panama discusses her eye-opening documentary about the country's public transportation system.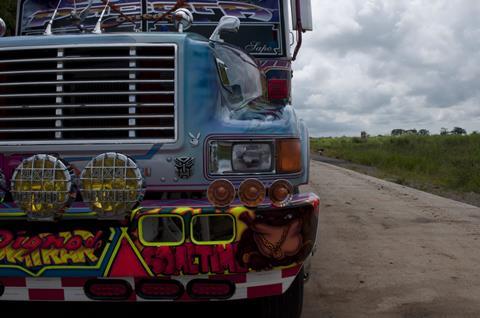 Despite a pledge by the former Panamanian president Ricardo Martinelli to upgrade the country's network, it remains oversubscribed and prone to accidents. Heilbron tells Jeremy Kay about the tragedy that haunts her and inspired the film. La Ruta (The Route) premieres on April 9.
Where did the idea for your film come from?
On October 2006, there was a horrible accident in a bus in which 18 people – children, women and men – were burnt alive due to deficiencies in the maintenance of the bus and deadly safety issues. Almost at the same time, the Panama Canal expansion was approved by the Panamanian nation in a plebiscite and the future of the country looked brighter than ever. Two years after the accident, the economy was booming, the country was flying high, Panama was on its way to becoming a nation of the 21st century – yet nothing was happening with the transportation issue. These victims died due to carelessness and [a lack of love]. I never forgot them – I couldn't – and I just wanted to say something about it.
What do you hope people take away from it?
The film is filled with images and sequences of moments in everyday life that most of us see, yet we don't really see. Perhaps for a moment, after watching this little film, there will be some pause when we glance at our surroundings, just perhaps.
Where did the financing come from?
Local and international film funds and a local TV station.
Where and when did you shoot?
I started shooting in 2008 and I shot until 2015 in diverse points of Panama City.
Who are your influences?
Tomás Gutiérrez Alea, Lars Von Trier, Robert Altman, María Luisa Bemberg, and Claire Denis

Where did you train or study film?
I did not study film. Except for workshops in Cuba and the US, I have learned on my own. My filming is so sporadic that I almost start from zero every time, which I actually like. The experience I have acquired is more internal than external and that brings a lot to the process. I surround myself with the smartest people possible. Technically everything has changed so much and so quickly.
What is the film industry infrastructure like in Panama?
It is starting with bumps and bruises like anything that wants to have a life of its own. It isn't easy and it won't be easy, but ten years ago, nobody would have believed what is happening today. In the last two-and-a-half years we have had over a dozen Panamanian films screen in our festival, the commercial screens and internationally and some have done quite well and received numerous awards.
What are you working on next?
It will take some time for me to do anything else because the Panama Film Festival, which I direct, takes a lot of my time, commitment and peace of mind. You need peace of mind to delve into the madness and obsessiveness required for any creative endeavour. In the future, I would love to work with my daughter, who is presently studying film.