The genre director known for horror titles The House Of The Devil and The Innkeepers has just wowed SXSW with his Western starring Ethan Hawke as a mysterious drifter and John Travolta as a ruthless, one-legged marshall.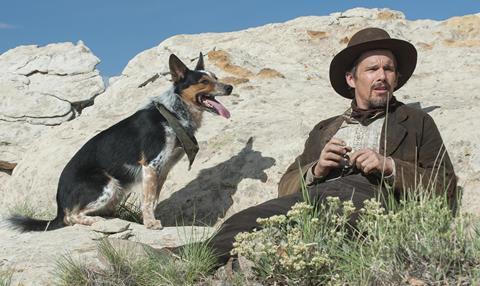 West talks to Tiffany Pritchard about partnering with Jason Blum's Blumhouse Productions on his seventh feature, which mashes absurdist humour and quick-witted dialogue with violent hysteria, and how he didn't want to repeat himself on "another low-budget horror film."
Focus World holds US rights and Universal Pictures International will distribute across the rest of the world.
You have been attending SXSW since 2005 with the world premiere of The Roost. How does it feel to be back at the festival?
I remember first coming here when I was only 23 years old with a backpack full of flyers. The Alamo Drafthouse welcomed me with a sold-out movie. It's like home returning here year after year, and luckily, it generally works out that I finish my films just before the festival. Between SXSW and Larry Fessenden, who took a risk in financing The Roost [and also plays Roy in In A Valley Of Violence], I wouldn't be sitting here now. I am forever grateful.
This is the first time you have worked with Jason Blum, who is known for producing indie hits Whiplash, Insidious and Paranormal Activity. What was his involvement with you in making this film?
We always talked about working together, but there was never the right project. So when I started thinking about making a Western [Blumhouse Productions] were my first call. Jason said he was interested, I wrote the script, and the money was there. He has this unique ability to pull budgets together for tier-one-level movies. He doesn't just talk about making movies, he actually makes them. And while we may not have a lot of money, they are relatively hands-off, letting you make the film you want to make.
Why did you decide to transition to the Western genre? And are you worried this may deter your loyal horror fans?
It wasn't a conscious choice to be different – it was just an idea in my head. If you like my movies, it's unlikely I'll have lost you. But if you don't like my movies, this might be the one you think, 'This is okay.' I like to flip archetypes on their head, and Westerns still have all these archetypes: all the characters are good at what they do, they like spinning their guns and saying all the right things. In real life, violence is always disastrous, and people often regret their actions afterwards. It's not often you get to see that in a Western. I wanted to show this reality where violence is scary, but also funny.
How did Ethan Hawke and John Travolta come on board, and what were they were like to work with?
I knew I wanted Ethan Hawke in the film, and since Jason had worked with him [on The Purge], he helped set up a meeting while he was doing Macbeth in New York. I told him the day he finished the play, I would have a finished script. If he didn't like it, I would send him something else another time. But if he did like it, we'd make it. So I wrote it in December, he read it in January, and were shooting in New Mexico in May.
Jason pitched the idea of John Travolta to me. We had dinner, and I was amazed how much he understood the tone of the film. It's like he was in my head. So I was thrilled when he came on board. The only thing that was tricky is he likes rehearsals, which is awesome; but schedules did not permit for a lot of extra time. I think we had enough days where no one felt surprised once we started shooting. We tried to make it seem like no one was working on a smaller movie.
You are known for working as a one-man-band - writing the script, shooting the film and editing. Why does that process work for you?
To me, writing and editing is the same as film-making. We might have someone doing steadicam, but most the time I also operate the camera. I know some people say if you are operating the camera, you can't see the whole picture. But when I get stuck watching what the operator is doing, I get distracted, thinking how I would do it differently. When I'm filming, I go where the performance is going, and I feel in the moment. It's not about the control, it's more that I want to feel like I made the movie. And I want everyone to feel they made it as well, like it's been hand-made by a collective of artists.
You have also noted a major part of this film is its musical score and cinematography. Can you talk about why you chose to shoot in 35mm and how you created the dramatic spaghetti Western-style score?
I wanted to create a classic Western movie. Visually speaking, 35mm is the best quality, and we needed this, particularly when shooting out in the desert [Cerro Pelon Ranch, New Mexico]. If we shot on digital, it would look like a behind-the-scenes movie, or a History Channel re-enactment. The only curveball is the hassle of taking the film to the labs [in Los Angeles]. We would FedEx the film in the day and the next evening have the rushes. It didn't slow us down, but either way, I don't like watching dailies. On a small film, it's not like you can go back and fix anything, so better to live in the moment.
On the musical side, Jeff Grace has done all my movies but one – he is a genius. I really wanted a big bombastic score that was identifiable. Something that didn't feel like realism, but instead more expressionistic. I remember telling Jeff the score is going to be the tone-setter of the movie. It is a remarkable achievement what he did for very little money. He didn't get any sleep either. We recorded in his little studio in New York with a cellist, a violinist and a guitarist. A couple of times I would have liked to get real horns in, but we are used to working within these constraints. Jeff managed to make it sound as if we had a large orchestra.
What are your upcoming projects?
I wrote a 1960s LSD hippie movie, a cross between Easy Rider and Picnic At Hanging Rock. It's another detour from horror, but after making seven features, you kind of run out of things you want to say. I never planned on being a horror director, that just sort of happened.
I'm also really excited about a TV series I created. The deal is almost done, and it's with a company that understands how to think outside the box. If it all happens, goodbye life. But it will be done very differently to other horror series. The long-form set-up will allow me to go off on tangents, and that is what interests me. I want it to be a show where people are at the water cooler saying, 'Did you watch that? That was so scary!'