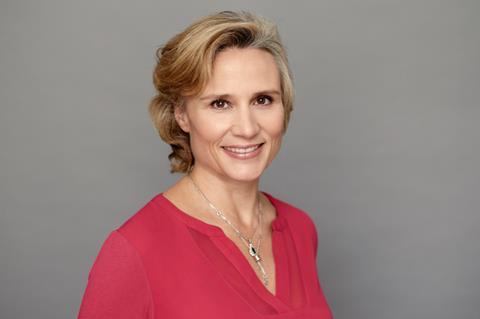 Former sales agent Daniela Elstner marks the first anniversary of her arrival as managing director of French cinema export agency Unifrance this month.
This debut year in the role has coincided with one of the most turbulent periods for cinema in its 120 years of existence thanks to the Covid-19 pandemic, which has disrupted shoots and closed down cinemas worldwide.
Elstner should have spent the past 12 months travelling the world with the Unifrance team, promoting French cinema and its talents. Instead, she has been grounded in Paris, working on-and-off from home.
Ordinarily, Unifrance would be hosting around 400 buyers and another 100 journalists in the French capital this week for its annual Rendez-Vous with French cinema and press junket event. However, with much of Europe living under strict Covid-19 restrictions and French cinemas shut since the end of October, its 23rd edition is unfolding online.
Running January 13-15, the Rendez-Vous kicks off this morning (Jan 13) with a series of virtual slate presentations by 35 French sales companies.
The market has been preceded by two days of physical industry screenings in Russia and a number of key European territories where Covid-19 restrictions permitted, as well as a day-long virtual conference entitled Beyond Borders 2021, exploring the challenges and opportunities around the international export of French cinema.
Unifrance's report on the international box office for French films in 2020 was unveiled at the latter event, revealing that admissions fell by some 70% amid the pandemic but that French cinema still had a presence worldwide nonetheless.
Screen caught up with Elstner on the eve of Wednesday's presentations.
One of the attractions of the Rendez-Vous for buyers is the trip to the French capital, the social events and the imaginative promotional events for upcoming films. Were you concerned there might not be an appetite for an online iteration?
It's not a normal year but we felt it was important to create something. We were worried that people wouldn't want to participate at the beginning of the year if it was online but in the end, everyone is here and we've been heartened by the level of interest, with some 800 buyers accredited from all over the world.
What's the mood among the sales agents?
Today the big question is when are the cinemas going to open and what's going to happen. Everyone is waiting but at the same time, there is this desire to keep things moving. That's why the morning of pitching is so important for us. It gives all the sellers an opportunity to present their line-ups, to exist, with each company managing their own approach.
It remains to be seen whether this results in sales but something will come out of the event I'm sure. People were pessimistic about the AFM, for example, and everyone who participated came away happy with the results. It's hard to predict anything these days.
What is the mood among the buyers?
I am less connected with the buyers than I was in the past with my new role but from experience, I know that when a buyer falls in love with a film or feels there is something they can do with it, they'll buy it, even if it's for a release in 12 months' time. Buyers don't like to miss out on an opportunity.
Does the disruption of the past year mean there are less French films available this year?
We're not seeing that. There are lots of films coming up and a number of big films in post-production will be launched at the Rendez-Vous, such as Little Nicholas' Treasure, which wrapped in the autumn and for which Charades will be showing the very first images. We're also hosting around 35 market premieres online, so we have a great mix of project launches and screenings, which is exactly what we wanted.
Has the changing format of the Berlinale and shifting online of its European Film Market impacted the Rendez-Vous?
Until December 20, the sales agents didn't know if Berlin would go ahead or not, so many were waiting, trying to figure out whether to register their films with the Rendez-Vous or not. Now there is this new formula, some companies have gone ahead with planned launches, others have decided to wait. The Rendez-Vous is a market not a festival, so sales agents aren't necessarily going to premiere a film here, although at the same time showing a film at the Rendez-Vous shouldn't impact a film's festival career.
Looking beyond the Rendez-Vous and Berlin, what are your hopes for Cannes? Do you think it will take place in May?
My main hope is that there is a physical edition and that it doesn't take place online. Whether it can take place in May that's another question, it will depend on the vaccination programme. It might be preferable to push the date back so more people can attend but I don't have any inside information on this. The main thing is that it takes place physically, whenever that may be.
Preliminary Unifrance figures for the international box office for French films in 2020 show a 70% drop in admissions. What's your reaction to this as the head of France's cinema export body?
The figures are nothing to be ashamed of and don't show the whole picture. The key thing is that French cinema has continued to exist worldwide over the past year. Where cinemas have been open, French cinema has had a presence.
The fact French cinema has continued to exist internationally in this moment of crisis also bears testimony to all the work France has done around its cinema and defending cultural exception over the years. The fact that Celine Sciamma's Portrait Of A Lady On Fire, for example, drew 150,000 spectators in Korea and that the distributor also decided to re-release one of her previous films Tomboy in this difficult year, is a sign of the vitality of French cinema and its place in the world and something to celebrate.
How has Unifrance carried on its mission over these months of lockdowns and travel restrictions?
We've been busy. At the beginning of the pandemic, we quickly transformed our online festival MyFrenchFilmFestival into an extended, free "Stay Home" edition, showing around 20 features from the past 10 editions as well as a selection of 50 shorts, subtitled in different languages. It worked well, particularly in Latin America, Japan and Europe.
From the end of May through to the beginning of July, we organised a series of international roundtables entitled "New realities of the film sector" which went down well. As it became apparent that it was impossible to understand what would happen next, we moved our focus onto French talent with our annual "10 to Watch "initiative, showcasing 10 rising acting talents.
We also managed to maintain a presence in Asia with our French Film Panorama in China, a showcase of new French films which is currently travelling around the country, screening physically in a number of cities. We did a series of recorded masterclasses to accompany the films, including a conversation between [Unifrance president] Serge Toubiana and Fanny Ardant to accompany Nicolas Bedos's La Belle Epoque and a masterclass by I Lost My Body director Jérémy Clapin on animation.
We also held a reduced physical edition of our annual Yokohama French Film Festival in close collaboration with local Japanese distributors, which kicked off with the Japanese premiere of Mama Weed in a theatre as well as a 100% electric car drive-in.
Unifrance also published a book entitled 25 Years Of French Cinema Overseas this year. Can you tell us about that?
It was spearheaded by Unifrance's deputy managing director Gilles Renouard and it came about because we now have 25 years of international box office data. The study analysed key territories where French cinema traditionally has a following, looking at the highs and lows over the years and the events that caused these trends.
We went beyond the last 25 years back to the early days of cinema and it was fascinating to see how French cinema travelled from early on. It was complicated around periods of the two world wars but afterwards, it started building again. The study took on a special resonance during the pandemic because it showed us that in the face of various challenges, cinema has always got back up and running again.