Jurassic World and Big Hero 6 proved the top grossers of the year.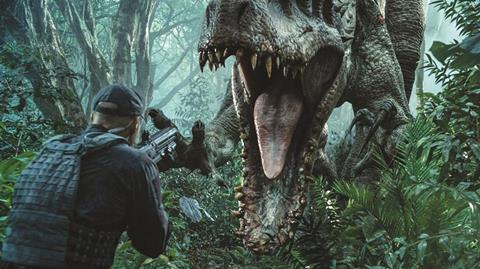 Scroll down for top 10 charts
Japan's box office increased by 4.9% to $1.83bn (Y217bn) in 2015, compared to $1.75bn (Y207bn) the previous year.
Jurassic World was the top earner of the year with $80.47m followed by Big Hero 6 with $77.51m.
The top-grossing local film was Yo-Kai Watch the Movie: The Secret is Created, Nyan, an animation based on a popular video game franchise, which took $65.86m for third place in the annual top ten.
Mamoru Hosoda's animation The Boy And The Beast, which Gaumont is handling internationally, came in fourth with $48.97m.
Overall, local films grossed $1.02bn (Y120bn) for a 55.4% share of the market, with imported films taking $817m (Y96.75bn) for a 44.6% share. However the market share of Japanese films has been declining since 2012 when it stood at 65.7%.
The total number of admissions also increased in 2015 – by 3.4% to 166.6 million, while the number of screens grew by 2% to 3,437. Japan continues to have one of the highest average ticket prices in the world – increasing from $10.85 (Y1,285) in 2014 to $11 (Y1,303) in 2015.
Released at the end of last year, Star War: The Force Awakens has already out-grossed the biggest film of 2015, taking $81.4m after six weeks on release.
JAPAN BOX OFFICE 2015 TOP TEN
1. Jurassic World – $80.47m (Y9.53bn) Toho-Towa (Aug 2015)
2. Big Hero 6 – $77.51m (Y9.18bn) WDS (Dec 2014)
3. Yo-Kai Watch the Movie 2: King Enma and the 5 Stories, Nyan! – $65.86m (Y7.8bn) Toho (Dec 2014)
4. The Boy And The Beast – $48.97m (Y5.8bn) Toho (July 2015)
5. Cinderella – $48.38m (Y5.73bn) WDS (April 2015)
6. Minions – $43.99m (Y5.21bn) Toho-Towa (July 2015)
7. Mission: Impossible - Rogue Nation – $43.40m (Y5.14bn) PPJ (Aug 2015)
8. Hero – $39.43m (Y4.67bn) Toho (July 2015)
9. Detective Conan: Sunflowers Of Inferno – $37.83m (Y4.48bn) Toho (April 2015)
10. Inside Out – $34.11m (Y4.04bn) WDS (July 2015)
Source: Motion Picture Producers Association of Japan (Eiren)
JAPAN BOX OFFICE 2015 LOCAL FILMS
1. Yo-Kai Watch the Movie: The Secret is Created, Nyan! – $65.86m (Y7.8bn) Toho (Dec 2014)
2. The Boy And The Beast – $48.97m (Y5.8bn) Toho (July 2015)
3. Hero – $39.43m (Y4.67bn) Toho (July 2015)
4. Detective Conan: Sunflowers Of Inferno – $37.83m (Y4.48bn) Toho (April 2015)
5. Doreamon the Movie: Nobita and the Space Heroes – $33.18m (Y3.93bn) Toho (March 2015)
6. Dragon Ball Z Resurrection F – $31.58m (Y3.74bn) Toei (April 2015)
7. Attack On Titan Part 1 – $27.44m (Y3.25bn) Toho (August 2015)
8. Flying Colors: How a Teen Girl Went from Academic Absurdity to an Elite University in One Amazing Year – $23.98m (Y2.84bn) Toho (May 2015)
=8. Love Live! The School Idol Movie – $23.98m (Y2.84bn) Shochiku (June 2015)
10. Assassination Classroom – $23.39m (Y2.77bn) Toho (March 2015)
Source: Motion Picture Producers Association of Japan (Eiren)
JAPAN BOX OFFICE 2015 IMPORTED FILMS
1. Jurassic World – $80.47m (Y9.53bn) Toho-Towa (Aug 2015)
2. Big Hero 6 – $77.51m (Y9.18bn) WDS (Dec 2014)
3. Cinderella – $48.38m (Y5.73bn) WDS (April 2015)
4. Minions – $43.99m (Y5.21bn) Toho-Towa (July 2015)
5. Mission: Impossible - Rogue Nation – $43.40m (Y5.14bn) PPJ (Aug 2015)
6. Inside Out – $34.11m (Y4.04bn) WDS (July 2015)
7. Fast & Furious 7 – $29.89m (Y3.54bn) Toho-Towa (April 2015)
8. Avengers: Age of Ultron – $27.10m (Y3.21bn) WDS (July 2015)
9. Terminator Genisys – $23.14M (Y2.74bn) PPJ (July 2015)
10. Ted 2 – $21.19m (Y2.51bn) Toho-Towa (August 2015)
Source: Motion Picture Producers Association of Japan (Eiren)