Exhibition director spoke to students the NFTS about the hurdles she faced in breaking out of television and into film.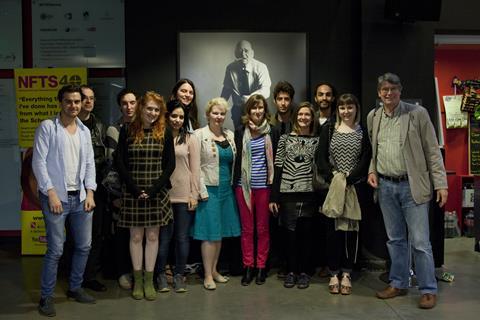 Working in television
After graduating from the NFTS, where she made the film Caprice starring an unknown actor, Tilda Swinton, Joanna Hogg then directed several music videos for artists such as Alison Moyet and began a successful career in television the 1990s
During this time, Hogg was commissioned to write and direct a programme segment for Janet Street Porter's Channel Four series Network 7, Flesh + Blood, direct episodes of London Bridge, Casualty and London's Burning and a special episode of EastEnders.
Speaking in conversation with NFTS director Nik Powell, Hogg said a lack of confidence had held her back from pursuing a career as a film director for many years.
Talking specifically about the treatment of women in television, Hogg said: "In television, women tend to do factual programmes so they get type-cast. Television series that I directed, like London's Burning, were normally directed by a man and television technical crews tend to be male.
"In the 1990s, I struggled with the attitudes of male crew-members who didn't like being told what to do by a woman. It wore me down. You had to go in with armour on, ready to fight battles. I'm careful now when I hire crew. I'm allergic to those attitudes."
Mentors
Hogg credits the producer Barbara Stone for giving her the confidence to make her first feature film, Unrelated, which received critical acclaim.
It premiered at the London Film Festival in 2007, winning the FIPRESCI International Critics Award, the Guardian First Film Award in 2008, the Evening Standard British Film Awards 'Most Promising Newcomer' Award in 2009, as well as being nominated for their Best Film Award and earning Hogg a nomination for the London Film Critics' Circle 'Breakthrough Filmmaker' Award.
Her second film Archipelago had its UK premiere at the 2010 London Film Festival where it was nominated in the Best Film category.
Characters and actors
Hogg is well known for using both professional and non-professional actors in her cast to create a sense of realism in their performances. In Archipelago she cast the landscape painter Christopher Baker and in Exhibition her two central characters are H, played by the British conceptual artist Liam Gillick, and D played by Viv Albertine, the musician (member of the punk band The Slits) who is also a writer and film director.
Hogg talked about her portrayal of women in the film Exhibition saying: "I wanted to show a female character who doesn't have children but who has a strong nurturing instinct. She puts this nurturing into the house and her husband, and becomes anxious when her husband leaves the house and when he puts it up for sale. But she is also an artist and needs to have space for her creativity.
"This becomes a challenge for her as she has to balance playing all these different roles."
Director Jane Campion, who this year headed the Cannes Film Festival Jury, raised the issue of why there were so few women film directors and spoke out about sexism in the industry.
Asked by students for her views on this, Hogg replied: "I think it's sad that there are still so few women directors in the industry and that this is still an issue."