EXCLUSIVE: Further cast attached to soccer drama include Gary Lewis, Michael Socha and Chloe Harris.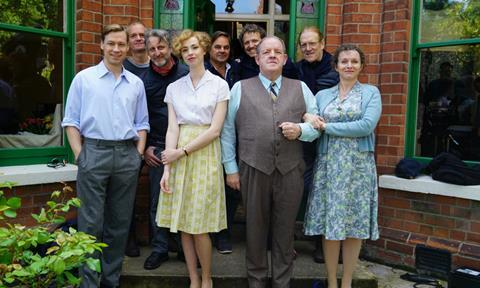 UK-Germany co-pro Trautmann, a biopic of legendary German goalkeeper Bert Trautmann, has rounded out its cast and begun filming in Northern Ireland.
Joining the recently announced John Henshaw (Looking For Eric) and Dervla Kirwan (Ballykissangel) are: Dave Johns (I, Daniel Blake), Harry Melling (Harry Potter And The Deathly Hallows: Part 1), Gary Lewis (Billy Elliot), Michael Socha (Being Human), Mikey Collins (Dunkirk), Chloe Harris (Call The Midwife) and Barbara Young (Coronation Street).
Germany's David Kross plays Trautmann and 2013 UK Star of Tomorrow Freya Mavor is the love of his life, Margaret, who was the daughter of his English coach.
The film tells the story of Bert Trautmann, the former Nazi paratrooper who became a goalkeeping legend at Manchester City, making 545 appearances and famously playing in the FA Cup final with a broken neck.
The first image has also been released (see above). In the picture from left to right: David Kross (Bernd Trautmann), Thomas Blieninger (line producer), Robert Marciniak (producer), Freya Mavor (Margaret), Steve Milne (producer), Marcus H. Rosenmüller (director), John Henshaw (Jack Friar), Chris Curling (producer), Dervla Kirwan (Clarice Friar).
The film is the first English-language feature for German director Marcus H Rosenmueller (Grave Decisions).
Beta Cinema picked up world sales rights and started presales in Cannes.
Trautmann is produced by Robert Marciniak, Chris Curling and Steve Milne with Lieblingsfilm, Zephyr Films, The British Film Company, Degeto Film, SquareOne Entertainment and Arri Media as co-financing partners. SquareOne will also release the film in German cinemas as its German Distributor. Degeto have secured the German Free-TV rights for the film.
The British Film Company backed Absolutely Fabulous The Movie and Dad's Army. Trautmann is their largest investment to date.
The film is supported by FFF Bayern, FFA, DFFF, Bayerischer Banken Fonds, and Northern Ireland Screen.