Dirs: Mark Osborne, John Stevenson. US. 2008. 95mins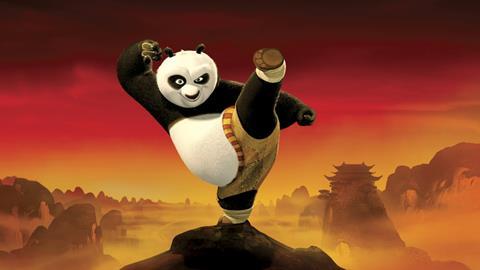 The world has already fallen in love with a grumpy green ogre (Shrek) and a lugubrious mammoth (Ice Age) so it should have no trouble clasping a podgy, self-deprecating panda to its collective bosom. Kung Fu Panda ticks all the boxes for must-see family entertainment and the cute factor is only enhanced by the vocal expertise of Jack Black and the fact that this particular rotund panda has delusions of martial arts grandeur. The film's status as the summer's animation front runner is only likely to be challenged by W.A.L.L.-E but until then this is the kind of surefire Hollywood package that will generate global returns on the level of Horton Hears A Who! and possibly beyond .
Dreamworks have gone all Oriental for their latest animated venture, embracing every imaginable cliche from dragons and firecrackers to peach tree blossom and pagodas. Eve n the familiar Dreamworks logo has been given a makeover. The storyline of finding the hero inside yourself is no less obvious but is given a sprightly freshness by the breathless pace, attention to detail and sheer good fun on offer. It might not be an instant classic but it is extremely entertaining and a definite crowd-pleaser.
Jack Black is perfectly cast as Po, a clumsy, overweight panda who works in the family's noodle restaurant and harbours a fan's enthusiasm for martial arts and its greatest practitioners - the legendary Furious Five-Tigress (Jolie), Crane (Cross), Mantis (Seth Rogen), Viper (Liu) and Monkey (Chan). When the time comes to select the Dragon Warrior, those five are overlooked in favour of Po, much to the astonishment of their Obi Wan Kenobi-style mentor Master Shifu (Hoffman). When the dreaded Tai Lung (McShane) escapes from prison after twenty years of incarceration, Po has to fulfill his destiny and save the day even with his bad back, lack of puff and low self-esteem.
Kung Fu Panda moves at such a cracking pace, there is little time to reflect on the failings of the story. Instead we are swept along by a mixture of silly shtick, slapstick comedy, Crouching Tiger-style action spectacle and Hans Zimmer's rip-roaring score. A number of the big name vocal talents involved, especially Jackie Chan, are reduced to minor supporting characters which may upset some fans but is unlikely to trouble the target family audience. Little demands are placed upon Angelina Jolie as the proud warrior Tigress but Jack Black is a blustering, frantic delight as Po and is beautifully matched by Dustin Hoffman who brings a dry, deadpan comic timing to the role of his longsuffering mentor. The heart of the film is built around the relationship that develops between these two and the highlights include a Rocky-style training session using food as a reward. Naturally, Po only starts to improve during a fiercely contested battle for the last dumpling on the plate.
The animation does find time to balance the breakneck forward momentum of the narrative with some beautiful scenes of misty mountains tops, trees with blood red foliage and dark, shadowy moments in the fortress where Tai Lung has been held. It is as if the spirit of recent Zhang Yimou spectaculars have info rmed this warm and very likable Hollywood fare.
Production company
Dreamworks Animation SKG
Worldwide distribution
Paramount Pictures
Producer
Melissa Cobb
Screen play
Jonathan Aibel
Glenn Berger
Story
Ethan Reiff
Cyrus Voris
Cinematography
Yong Duk Jhun
Production designer
Raymond Zibach
Editor
CK Norness
Music
Hans Zimmer
Main voice cast
Angelina Jolie
Jack Black
Dustin Hoffman
Jackie Chan
Lucy Liu
Seth Rogen
Ian McShane