Les Misérables has recorded Universal's biggest ever three-day opening in the UK at non-final $13.1m (£8.1m), which is also the biggest for producer Working Title and the biggest ever opening for a musical in the UK.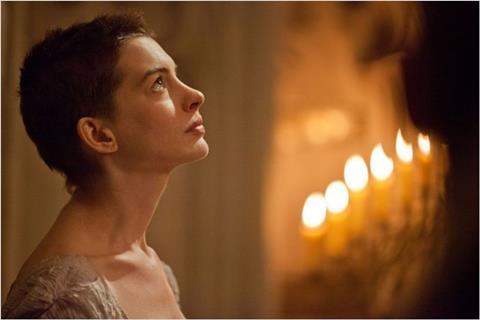 The people have sung. With a 37% market share, Tom Hooper's adaptation of Les Misérables has debuted top of the UK box office with a record-breaking non-final $13.1m (£8.1m) debut.
That result marks Universal's biggest ever three-day opening in the UK, topping the $11.5m (£7.1m) achieved by Bridget Jones: The Edge of Reason, as well as being the biggest debut for producer Working Title. It is also the best-ever opening for a musical in the UK, toppling Mamma Mia! which took $10.6m (£6.6m) of which $9m (£5.6m) came from its Fri-Sun weekend.
It also marks the biggest opening for Hooper in the UK by some margin. The King's Speech was his previous best at $5.7m (£3.5m), although it went on to enjoy a sterling run in the UK and grossed $73.8m (£45.7m).
Continuing to impress in an increasingly crowded market was Fox's awards contender Life of Pi.
Ang Lee's adaptation of Yann Martel's award-winning novel added $3.8m (£2.3m), a drop of just 31%, to climb to a strong $35.5m (£21.9m) after its fourth weekend.
The week's second highest new entry belonged to Warner Bros.' Gangster Squad which charted third after a solid $3.4m (£2.1m) debut, including previews.
That marked director Ruben Fleischer's best ever UK debut, toppling the $2m (£1.2m) achieved by Zombieland which is also Fleischer's strongest UK performer to date at $5.7m (£3.5m).
Warner Bros.' The Hobbit: An Unexpected Journey is now up to $78.2m (£48.5m) in the UK, following a $3m (£1.9m) weekend.
Peter Jackson's return to Middle Earth is still on a par with the highest earner of the Lord of the Rings trilogy, The Fellowship of the Ring, which stood at $77.9m (£48.3m), but it's worth bearing in mind that Fellowship recorded a fifth weekend of $7.4m (£4.6m).
As with last week, eOne's The Impossible fought a close battle with The Hobbit with a non-final strong second weekend of $3m (£1.9m). JA Bayona's tsunami drama has now crossed £7m in the UK and stands at $11.5m (£7.1m).
Including previews that accounted for 45% of its debut, Lionsgate's Texas Chainsaw 3D debuted with $2m (£1.2m) to chart sixth. That result is narrowly behind the $2.2m (£1.4m) notched by the 2003 remake, but is almost double that of the 2006 prequel The Texas Chainsaw Massacre: The Beginning which opened with $1.1m (£669,760).
Dropping just 31% from its opening Fri-Sun weekend was Momentum's Quartet. Following its strong midweek showing, Dustin Hoffman's directorial debut has now grossed $7.6m (£4.7m) in the UK after a $1.4m (£890,000) weekend.
Paramount's Jack Reacher crossed £8m in its third week and now stands at a sturdy $13.9m (£8.6m), while Rise of the Guardians is up to $18.8m (£11.6m) after seven weeks in play.
This week sees saturation releases for Sony's Django Unchained and Disney's 3D re-release of Monsters Inc. Fox's The Sessions and Momentum's V/H/S are among the films receiving a limited release.